Why it's time to broaden our definition of fine wine
Tim Atkin MW opened the Fine Wine 2010 conference in Ribera del Duero with a plea for a more open attitude to regions and grape varieties. Graham Holter reports in the second segment of a five-part series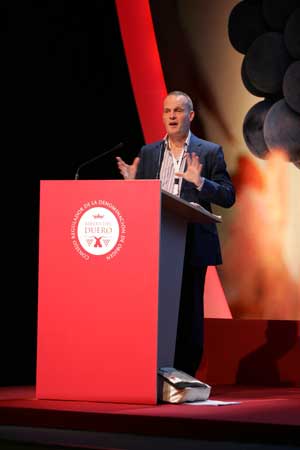 Tim Atkin speaks at the Fine WIne III Conference
All too often, argues Tim Atkin, wine has "forgotten where it lives." It is, he argues, "increasingly industrialised, homogenised and boring."
Opening Fine Wine 2010 in Aranda de Duero in April, Atkin told delegates: "If there's one wine that epitomises this it's Pinot Grigio. I'm waging a war against Pinot Grigio and I've been extremely unsuccessful." A glass with a hole in the bottom of it is one of the British Master of Wine's favoured tactics.
Atkin used his keynote speech to lambast dull wines and lazy critics, but he was also anxious to point out some positives.
"The average quality of the wine we drink is higher now than at any time in history," he said. "Wine is widely consumed worldwide and the knowledge of wine consumers is growing; but it's still very low.
"Palatable wine is made, I would say, almost anywhere. But at the same time we have global overproduction – something like 25 million hectolitres around the world that nobody wants to drink – and that's probably growing. The EU is trying to address this but in the rest of the world we pretty much have a free market.
"Competition is getting bigger than ever and this is driving prices down. Wine classically, and still rather dramatically, gives a rather low return on investment.
"We're seeing bankruptcies among small and highly leveraged small and medium sized wineries and we're living in an increasingly globalised market."
Atkin pointed out that there are "fewer and fewer places to sell wine" and "retailer consolidation is rampant": indeed, "about eight people in England control the wine business."
He called on the global wine trade to rethink its attitude to fine wine: where it comes from, and what grape varieties it's made from. But first he acknowledged the niche role it plays.
"Fine wine as I understand it is actually irrelevant to most consumers," he said. "People don't want complexity and they certainly aren't prepared to pay for it."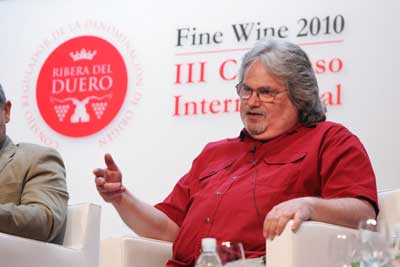 Jay Miller (pictured), who covers Spain for
Robert Parker's Wine Advocate
, took a break from tasting for a surprise appearance during the Fine Wine III Conference.
Fine wine is a term that was once restricted to Bordeaux, Burgundy, Champagne, maybe Alsace and maybe Germany, Hungary with Tokaji, Port, and Spain; but regions like Tuscany, Piemonte, Ribera del Duero and Rioja have joined them in more recent times, Atkin said. Merchants were once the arbiters of what was fine and what was not, but this is changing fast – though maybe not as fast as Atkin and other modernisers would like.
"Warren Buffett said once it takes 20 years to build a reputation and five minutes to lose one. Does this happen with wine? What is the new reality in the world of fine wine? It's still Bordeaux dominated, I think to an alarming extent.
"Germany is less highly regarded probably than it was 100 years ago. Fortified wines are struggling but Bordeaux is still in number one position. In the Liv-Ex Fine Wine Index, which takes the most sought-after 100 wines in the world, there is almost nothing from anywhere except Bordeaux.
"Wine is regarded increasingly as an investment opportunity. This is increasingly leading to counterfeit wines and the risk of people cheating.
"What else has changed? The power of the press, especially points out of 100. What worries me about wine writers today is the absence of context; the idea that a wine remembers where it comes from is all but overlooked, particularly by American journalists. They think it's enough to taste the wine in the bottle. I couldn't believe that Robert Parker only made his first trip to Spain last year."
Atkin noted that "the demand for top wines is larger than ever": even a humble off-licence in Kowloon had shelves heaving with first growths on a recent visit. But such stores, he argued, should be broadening their horizons and also stock wines from, say, Piemonte, Ribera del Duero and Priorat. "All these places are increasingly regarded as fine wine producing areas," he said.
"Bordeaux is the centre of the fine wine world. This is, if you like, the fine wine world in microcosm. There's been a lot of pre-vintage [2009] hype before even a grape had been picked. People were saying 'it's the greatest wine I've ever seen in my lifetime'. Bordeaux is the only place in the world that can have three vintages of the century per decade. The hype is produced not by the people who produce it but people who write about it. I think it's ridiculous for journalists to join in the hype."
Atkin expressed scorn for Robert Parker´s verdict on the 2009 wines, 21 of which the American critic scored between 98 and 100, describing it as "ridiculous". There were, he said, "hundreds of thousands of unsold 07s and 08s, and we may see people demanding people buy 07s and 08s to get their hands on the 09s."
He added: "Fine wine in Bordeaux in particular has become not something to drink but a source of investment. I think we've lost sight of what wine, especially fine wine, is all about. It's something you want to pull the cork from and enjoy with friends, not something you want to make 17.4 per cent profit on over the next year. Fine wine is increasingly traded like stocks. It could be pork bellies."
Atkin is a chairman of the International Wine Competition judges, and he told delegates that this year's gold and silver medal winners came from Greece, Switzerland, Portugal, England, Japan, Romania, Canada, Turkey, the Czech Republic, Ukraine, Mexico and Macedonia. So why is the fine wine world so conservative in its tastes?
"Instead of it just being about Bordeaux, or a few isolated producers in Europe and the New World, I would like to come up with a new definition of fine wine," Atkin said.
"Our interpretation of fine wine regions and grape varieties has barely evolved in the last 100 years despite the increase in quality worldwide." Too often a fine wine is judged purely on its price and reputation, he added.
"I want greater diversity of opinion. The great thing about Twitter and Facebook is everybody has an opinion; it's not just a few selected journalists. The journalists who do write about wine should base their opinions on research, not just samples. Visit the regions: it's not just about the liquid in the bottle."