Direct to Consumer Big for Small Wineries--Survey
But Wine Club, Web Sales Growth Slowed in 2009
April 26, 2010
As three-tier distribution has become increasingly difficult to obtain, wineries have become more focused on direct sales. That's hardly a new trend, but it is a trend that continues to gain strength, according to Wine Business Monthly's 2010 Direct to Consumer Survey. At the largest wineries, direct to consumer sales not surprisingly represent a somewhat smaller piece of the pie (see Chart 1).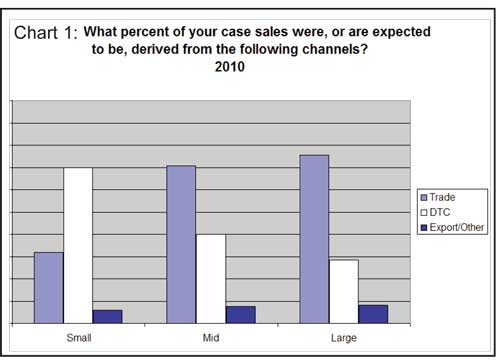 Two-Thirds of DTC Sales Flow out of Tasting Rooms
It stands to reason that the most successful wineries hone their expertise and leverage the traffic they get in the tasting room. Respondents to this year's survey indicated that the percentage of DTC sales they derived from the tasting room increased to 66 percent in 2010 from 59 percent in 2009. Wine club and ecommerce sales, though were flat as a percentage of direct sales (see Chart 2). Additionally, the survey found that 55 percent of those sales that are made through the tasting room are for carry out.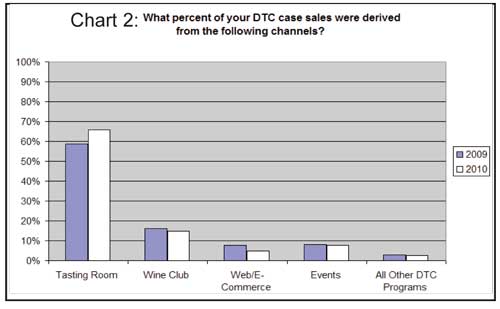 Wine Club, Web Sales Growth Slowed in 2009
As we've seen, two-thirds of all direct sales flow through tasting rooms, a number that has been growing. The survey asked wineries to describe their actual annual DTC sales growth by sales channel. Results again indicated that tasting room sales were growing faster than ecommerce or wine clubs. The number of people that said tasting room sales were growing was unchanged between 2009 and 2010 at 69 percent. The number of people who said their wine clubs were growing, however, fell by seven percentage points in between 2009 and 2010, easing to 51 percent. At the same time, the number of people saying their web/ecommerce sales were growing dropped from 58 percent to 51 percent between 2009 and 2010 (Chart 3).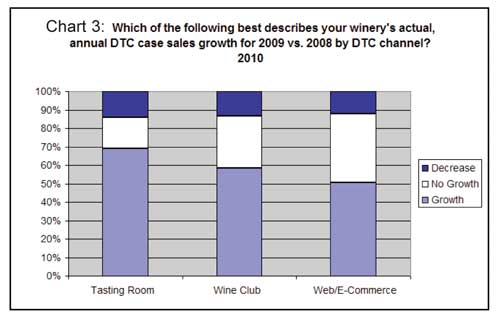 Results of the 2010 Direct to Consumer Survey appear in the May 2010 Wine Business Monthly. To subscribe and receive the May issue, click here.