Wines of Turkey Kicks off Promotional Campaign
On the heels of Prof. Patrick McGovern's new book Uncorking the Past (University of California Press) designating Turkey as the birthplace of wine, not Georgia as previously thought, Wines of Turkey kicked off its 'Discover the roots...' initiative this week in Istanbul in part to announce its hosting the 2012 OIV conference.

A blind tasting of 49 wines from 16 wineries gave Kavaklidere, consulted to by Bordeaux-based Stephane Derenoncourt and the only Turkish winery exporting to the USA (House of Burgundy in NY and Four Potomac Wines in DC), overall honors.

Wines of Turkey Director Taner Ogutoglu likened the seven wine journalists in attendance to "contemporary explorers." Judging were Brits Tim Atkin MW, Stephen Brook, Oz Clarke, Caroline Gilby MW, Susan Hulme MW, and Charles Metcalfe along with the sole American and writer of this feature, David Furer CWE.

"There's a lack of trust amongst Turkish wineries which we must overcome, and invest in promotional projects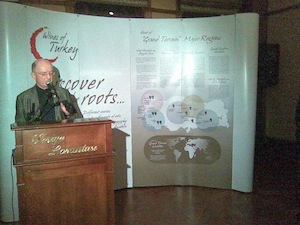 Oz Clarke Speaking at Wines of Turkey tasting
for a better future," Ogutoglu proclaimed overlooking the Bosporus Straits. Later TV presenter Clarke drew laughter from his attempt to pronounce the native red grape 'o?ku?zgo?zu?' prompting fellow author Metcalfe to suggest it now simply be dubbed, "the 'Oz' grape."

Mehmet Yorukoglu, president of House of Burgundy, has been importing Kavaklidere into the US since 1995. "At first my company's former owner wasn't thrilled but allowed me to import 700 cases which I sold before it landed."

Yorukoglu said he expects that number to climb to 12k for calendar year 2010. "We long ago broke out of selling only into the ethnic market and expect US buyers to be surprised by the quality and value not only from my supplier but from others in Turkey." Four wineries will participate under the WoT umbrella this month at Prowein with dedicated tastings scheduled for June in London and November in New York.

When a UC-Davis student in the mid-60s, Ahmet Kutman witnessed the progress made by Beringer and Mondavi realizing it was possible to produce good wines at larger quantities than his family's Doluca Winery had been making. Now the MD, he's built business in part by tapping into Turkey's booming tourist trade.

In 2007 the Turkish government divested itself of its immense winemaking operation. Buyer Texas Pacific

Group immediately brought aboard consulting winemaker Daniel O'Donnell, a key player at their Beringer refit several years ago. In addition to its two wineries and burgeoning vineyards O'Donnell looks to, the r enamed 'Kayra' also operates a WSET-certified wine education center in central Istanbul while importing its own-label 'Terra' line from France, Italy, and California.

With a population of 73 million Turkey ranks 55 in national wine consumption with an annual per capita level of less than 1 liter. Turkey exports 18% of its production with Germany its largest market. –