Highlights of Largest Ever Oregon Wine Symposium
The annual Oregon Wine Symposium was held Sunday 21 Feb through Tuesday 23 February at the Eugene Hilton. More than 990 people attended. Highlights of the Symposium included a technical tasting where many winemakers preferred "un-doctored wines," a presentation about wineries of the future, analytical looks at the supply-demand situation in Oregon, an overview of the state's changing weather patterns as well as of the challenging 2009 harvest, and a needed update on the research goals of the industry.
A line-up of wines doctored by Winesecrets or Vinovation was noteworthy, not so much because of the wines but because a large number of people in the audience (winery personnel) preferred the un-doctored wines. Clark Smith and Domingo Rodriguez showed a control wine and three different RO applications to smooth the wine and lower the alcohol. It was surprising how many preferred the control wine.
Professor Roger Boulton of UC Davis spoke about the winery of the future; issues faced in the design the new winery at UC Davis. Boulton described all the sustainable efforts being made, but was skeptical about many who use the term sustainable. "That's like being a little bit pregnant. A little sustainable doesn't count either," he claimed. He asserted that being carbon negative is the only way to proceed, to advance the atmosphere for long term benefits. Boulton mentioned some solutions for saving energy and water:
Capturing rainwater and reusing it over and over again with filtration Cleaning in Place (CIP)
Nanofiltration for green cleaning to lower water use low carbon on site energy capturing and reusing fermentation CO2
A session, "Charting our Course in Challenging Times.. .And Beyond" covered issues facing Oregon's producers. Ted Farthing of the Oregon Wine Board led off, and panelists Christian Miller of Full Glass Research, Chris Welch of Ciatti, and Rob McMillan of Silicon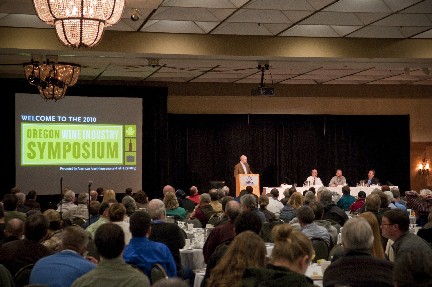 Ted Farthing of the Oregon Wine Board at the lectern at the Oregon Wine Symposium, photo by Andrea Johnson
Valley Bank each addressed issues and made suggestions: increase wine tourism, create more $15-20 Pinot brands, better define Pinot gris, grow the Riesling market, and continue to deliver the quality message. And, unite for the common good.
Greg Jones, Associate Professor of Geography at Southern Oregon University who specializes in wine and climate, gave a 2009 vintage overview and discussed the weather patterns likely for 2010. He said that weather patterns usually go in three-year cycles. Oregon saw three cool/wet vintages: 2007, 2008 and 2009; La Niña years. He said 2009 was 2-4 degrees below normal for the state, and that at harvest it was cold. The vintage saw great variability due to the heat spikes Oregon saw over the summer. Yields in 2009 were up almost 23 percent. Jones said water has become an issue: due to low snow pack, water is below 50 percent of normal in the Willamette Valley - surprising information that Oregon, the land of wet, is now in a drought situation. Jones said there are two likely weather scenarios for 2010; This El Niño year could bring a warmer summer with mixed wet and dry; or if there is warm water off the Pacific, it will be magnified. He said that historically would mean a warmer drier spring, slight to moderate risk of spring frost, slightly wetter early summer, greater chance for rain at bloom, and less week-to-week temperature variability.
David Adelsheim of Adelsheim Vineyards moderated a panel that focused on research. The Oregon Wine Board is required by statute to fund research; the $25/ton and $.67/gallon assessments help pay for grants, with most money spent on OSU-based research. Newly added to the research mix now are efforts by the USDA and Small Fruits Research groups, and a new network among western states to pool resources. Assembled on the podium were all the many people involved in wine grape research, and it made for a very full stage. Bob McGorrin, head of the Food Science & Technology Department at OSU gave an update on the search for the new director of the newly established Oregon Wine Institute. He said 12 candidates have applied. Todd Bastion, Director of Development for the College of Agricultural Sciences at OSU reported that almost $2,000,000 has been raised for the Institute since 2007, meeting the industry goal. A CD of the proceedings will be produced by the Oregon Wine Board and be available for distribution within the next month.