Largest-Ever Mog Removal System goes to Canoe Ridge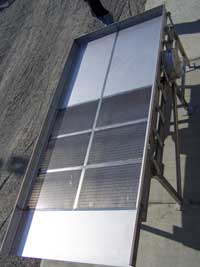 The 6'4" X 14' vibrating table has the familar Le Trieur interchangable seperating screens.
The Mog Monster is President Ed Barr's name for P&L Specialties latest creation. It is easily the largest, domestically built mog separator ever made. Designed and built at their custom fabrication facility in Windsor, California, the mog removal system was recently delivered to the Canoe Ridge crush facility in Paterson, Washington.
It is based on their newly patented Le Trieur separator, but this one is big. At six feet, 4 inches wide and 14 feet long, it is eight times larger than their standard machine. It is rated to process up to sixty tons of grapes per hour.
"We wanted to improve quality at a fairly large crush facility and needed someone who could custom fabricate," said Bob Bertheau, senior director of winemaking at the 7,500 ton per year crush pad. "We were familiar with the Le Trieur mog removal equipment and so we approached P&L to explore the possibilities."
Bertheau added, "75 percent of our grapes are processed in three weeks so we are designed for speed. This addition, however, is about improving quality on a large scale." Bertheau concluded, "Our vision is to make Canoe Ridge a premier red winemaking facility in Washington state, for both value and quality of red wines. We want it all; we have a great production crew, grape resources, and have upgraded the facility to accomplish our goals."
In design phase for two years, Barr's creation contains many of the Le Trieur features, including the six exchangeable screens of wedge-wire separators. Triangulated with wide at the top and narrow at the bottom, each wire allows for mog to separate from berries and then drop. Canoe Ridge will be using the ¼ inch and 3/16 inch wire spacing to accommodate the Bordeaux varietals at the facility.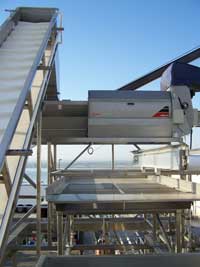 The Mog Monster with new elevator in place under a Delta E-8 destemmer.
For Barr the most difficult aspect of the design was how to handle the sheer mass of moving parts. The 100 percent, 304 stainless receiving bed alone weighs 1,200 lbs. If the winery is operating at full capacity and processing 60 tons per hour, this means at any given time the bed is rapidly vibrating over one and a half tons of mass. At 300 bed strokes per minute or 5 per second, the amount of inertia generated by the rapid motion-reversal is huge. The answer was to design a flywheel and counter balance system to offset the inertia.

In conjunction with the mog separator, P&L Specialties also designed and fabricated a new receiving hopper which can accommodate five ton bins. In order to meter this amount of fruit evenly, the screw conveyor has a graduated pitch from 12 inches, to 18 and finally 24 inches. Next the fruit passes to a P&L incline-conveyor and then to a destemmer. The final stage is the Mog Monster and must sump.
St. Michelle is one of the few premium wineries in the world with two state-of-the-art winemaking facilities, one devoted to whites and another to reds. The white wines are made in Woodinville, 15 miles northeast of Seattle. Chateau Ste. Michelle's red wines are made at the Canoe Ridge Estate Winery in Eastern Washington.