New winery association forms in B.C.
Area next to the Okanagan being noticed for its award-winning vintages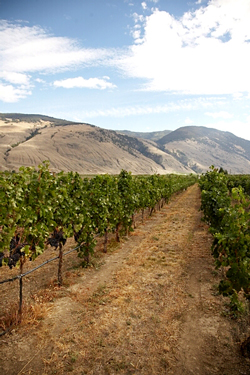 Orofino Vineyards
Eight wineries in British Columbia's interior have joined together to form the Similkameen Wineries Association (SWA) with the expectation that others will soon follow suit in the rapidly expanding region.
"The Similkameen is often regarded as the Okanagan's little brother," said John Weber, SWA's first president and owner of Orofino Vineyards. "Since we're a smaller region and a little off the beaten track, we thought it was important to promote our valley as a whole."
Rhys Pender, SWA's coordinator, said it made sense to pool resources to attract visitors now that the number of wineries is increasing. "It's an exciting region that has great potential with really good wine that's already being made," he said.
"The Similkameen is really an offshoot valley of the Okanagan that's only a 30-minute drive from Penticton or Osoyoos," he added. "One of our goals is to let more people know they can drive to the Similkameen by taking Highway 3 on their way from Vancouver to the Okanagan."
Similkameen (pronounced se-milk-a-MEEN) is the word for river swan in the aboriginal language of B.C.'s Interior Salish. Unlike the Okanagan which gets most of its water from a huge lake, the Similkameen depends on a river with the same name.
The region had 580 acres (almost 234 hectares) of vineyards last year, compared to 207 acres (almost 84 hectares) in 2004.
One reason for the area's recent popularity is the lack of affordable land within the well-established Okanagan. Prices in the Similkameen run about US$100,000 per acre compared to more than double that in the Okanagan.
"And people are tasting our wines and saying, 'Holy cow! You can grow that there?'" Weber said.
While the Okanagan terroir is based on an elevation of 1,152 feet (351 meters), the Similkameen Valley is slightly higher at 1,300 feet (380 meters), giving it cooler evenings while maintaining desert heat during the days.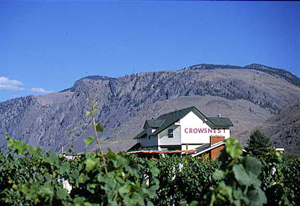 Crowsnest Vineyards
"Yet while the South Okanagan is sand, the Similkameen has everything from sandy to rocky to gravelly soil, so there's more opportunity to make a diversity of wine here," said Pender, who is two-thirds of the way toward becoming a Master of Wine. "The benches are ideal for Merlot-Cabernet Sauvignon, while down the valley, I'm planting Riesling and Chardonnay."
The Similkameen's common denominator is the grapes' ripeness because of the abundant hours of sun. "Although there're also interesting possibilities in the mountainous areas that become shaded earlier in the day," Pender said. "They can end up producing some excellent wine because the grapes develop an extra flavoring and character."
Until recently, many of the grapes harvested from the Similkameen had been sold to award-winning Okanagan wineries. Now more Similkameen wineries are enjoying their own success.