Hot Brands 2020: The Wines That Defined the Year
Wine Business Monthly announces its annual list of brands that define the American wine industry and the trends that shaped the year.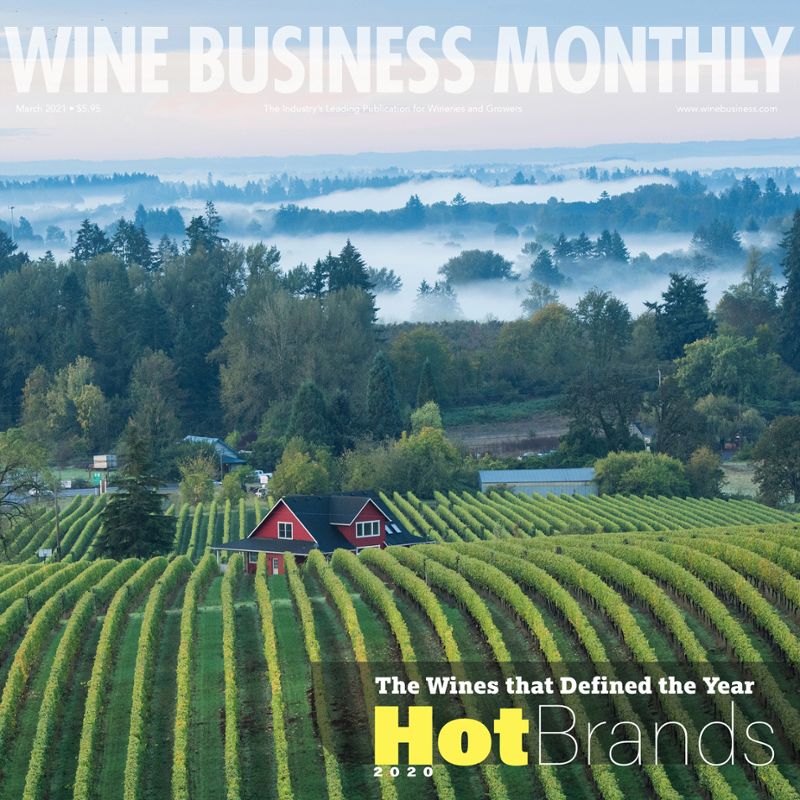 It would be easy to say that there has never been a year quite like 2020. It was a year that tried us, that pushed so many of us to the edge, that separated us from our friends and family. It disrupted businesses and sales and the status quo. Every day delivered a new challenge or a new heartache, and we could only lean on each other through our devices to make it through.
Amidst all this, people prevailed. Brands were started. Companies innovated.
When we set out to produce this year's Hot Brands list, we knew it would be a challenge, but one we readily accepted. So much happened in the world of wine with this year. How could we fit that into one story? How could we possibly encompass all the grief, the fear, the worry?
We chose to focus on the positive. We focused on the brands that inspired us. Hot Brands itself has evolved over the years. First, it was a list of the brands that sold the most volume, making it very common to see supermarket wines and the big national brands. Then, it developed into a feature on the smallest "cool" brands—the up-andcomers, the new kids on the block.
For the last few years, we instead chose to focus on those brands that made a statement. The wines that weren't just the "best" or most interesting wines. We highlighted those that tried a new variety in an established region, used new winemaking techniques, bucked the deceleration trend, or voiced an unpopular opinion for the sake of moving the industry forward.
To some extent, 2020 was no different. But this time, when choosing who to feature on this list we knew that what it meant to be a wine brand in the United States had changed. It was important to us that we reflect the diversity of the American wine market: established brands and new, winemakers young and old, familiar regions and surprises, celebrities and families. Each story, however, told the tale of what it was like to be in the wine industry last year.
Big brands had to evolve to meet changing consumer demands. We're featuring a "better for you," low calorie, low sugar and low alcohol wine that packs a lot of flavor. The list also includes a super-premium on-premise bottled wine that was instead packaged in a box to great success.
New, boutique brands still launched in 2020. The owners were fortunate to find overwhelmingly positive reactions to their new endeavors and sold out of their inaugural releases online. Both owners leveraged the power of their networks and the connections that they have made over their years in the business to help them see success.
Vineyard-driven wines continued to grow in popularity. Two of the winemakers in this article do their best to let the land speak for itself and prefer to view their jobs as simply minimalist. One of them lets the vineyard drive his business decisions.
Celebrity wines were a very hot topic as well. But don't think that our featured celebrity just stuck his name on a label. He's committed to making wine that is more accessible and will bring new drinkers into the wine lifestyle.
And lastly, this list wouldn't be complete without celebrating owners and winemakers outside the "traditional" wine regions, who are determined to prove that growers and winemakers anywhere can make world-class wines as long as they put their minds to it.
So, you see, even though 2020 seems like one of the worst years in recent memory, there is still plenty to look back and smile about. Cheers to our Hot Brands of 2020!
by Erin Kirschenmann
Erin Kirschenmann is the managing editor for Wine Business Monthly and has been with the company since 2012. In addition to production responsibilities for the monthly trade magazine, she writes about business, technology, sales and marketing, and also oversees content and programming for WBM's symposiums. She speaks on industry trends at numerous conferences, including the Unified Wine & Grape Symposium and the World Bulk Wine Exhibition, and guest lectures on wine, media and public relations. Erin has served as a judge in the international Concours Mondial de Bruxelles wine competition since 2016 and at several regional competitions. She earned her Bachelor of Arts in communications with a journalism emphasis from Sonoma State University. Reach her at erin@winebusiness.com or @erinakirsch.