Nicolas-Jay Putting Down Roots in Dundee Hills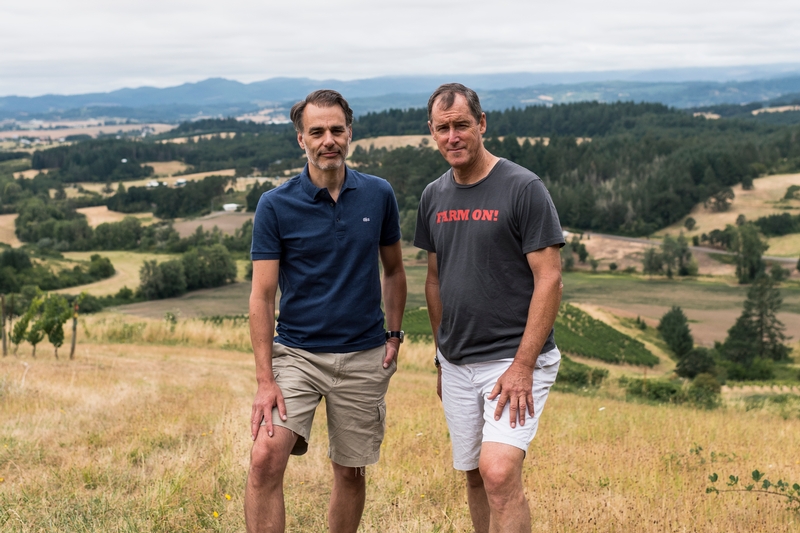 Jean-Nicolas Méo, left, and Jay Boberg, Bishop Creek Vineyard, Yamhill-Carlton AVA, photo by Easton Richmond.


Dundee, Ore. - Domaine Nicolas-Jay is putting down roots. After five harvests in the Willamette Valley, Jean-Nicolas Méo and partner Jay Boberg have purchased their own pied à terre in a cozy corner of the northern Dundee Hills.
We've been researching and investigating possible sites for Nicolas-Jay for a few years now, but didn't want to jump the gun," says former music impresario Boberg. "We now feel we have the market support, and that the time and site are both right for us."
The project in Oregon also provides Jean-Nicolas Méo, scion of Burgundy's Domaine Méo-Camuzet, an opportunity to design his own winery for the first time in his lengthy career. While Méo inherited his own family domaine in the village of Vosne-Romanee, part of Burgundy's prestigious Côte de Nuits, he has had to spearhead two expansions over the years in an effort to address spacial constraints. It's also the first time in 25 years he'll plant a vineyard from scratch, this time in the new world.
"There are actually two aspects to [this] project," says Méo, "It's building a home, both to welcome visitors, and to make the wine on our very own premises. And, of course, taking advantage of the site to plant. It's a combination of a recognized area (Dundee), with high potential, and the cooler climate, which is very exciting to us."
Slated to break ground in summer 2019, the 450-elevation, north-facing site will comprise up to 25 potential acres of organically farmed Chardonnay and Pinot Noir planted to some of the deepest Jory soils in the Willamette Valley. "Although a lot of it is north facing," says Boberg, "you do have multiple aspects in the vineyard, and three distinct planting sites."
He also points out that Jean-Nicolas will be able to "orchestrate" high-density planting and clonal selection, which may include some plant material from France. "I want to perhaps try to bring one or two Domaine Méo-Camuzet selections to the States," confirms Méo, "I'm still investigating whether or not it's going to be possible, but I'd like to at least start it, and reserve some of that lovely vineyard for that [purpose]. That would be very interesting."
In addition to the vineyard, the new location will also feature a gravity-flow winery and tasting room blueprinted by Benjamin Wolk of Associate Zoetic Architecture (zoeticarchitecture.com), a rising star in passive building design. Presently scheduled to open in 2020, production will commence at existing 3,000 case levels, but allow for incremental growth of up to 5,000 cases.
After renting space for the past five harvests - first at Adelsheim, and currently at Sokol-Blosser - Méo looks forward to controlling all aspects of production in his new space, details he hopes mirror those of his Burgundy domaine. "A big difference in our facility from the ones we've been in," says Méo, "is a place where I will be able to control ambient temperature [of the building], and control temperature [of the wine]. I have a facility [at Méo-Camuzet in Burgundy], and an environment, where the temperatures rise naturally, and are able to stay at a relatively high level for a number of days, and longer, than what I've seen in Oregon. In Oregon, the facilities are sometimes much more open, and sometimes, it's also much colder."
Boberg admits that perhaps one of the greatest benefits revolves around their intimate, appointment-only tasting room for guests and wine club members. "I think what is really exciting for me is that we both have the ability to put our fingerprints on it, and to create something that has the feel, the culture, and the sense of who we are," says Boberg. "When we talk about putting down roots and creating our home, this is quite literally what it is. That is something that's intangible, but that is really important."
He also notes the impact of the project upon the rest of the Domaine Nicolas-Jay team, which now totals five members, including Tracy Kendall, assistant winemaker, Jonathan Ziemba, consumer sales and hospitality, and Teresa Kaminski, finance. "It's a small team," says Boberg, "but this is a big deal for all five of us."
Concludes Jean-Nicolas Méo, "Dundee is really the' little darling' of Oregon. Whatever wine we've been making from Dundee, it's always very seductive. So I can't wait."