Two Worlds, One Grape: Tasting French and Argentine Malbec
April 17 is World Malbec Day

Malbec vineyards near Cahors
Cahors
Cahors has long been the prime spot for Malbec in France. In fact, plantings of the grape (known as Côt) date back to Ancient Rome around 50 BC. The grape produced a huge, inky, tannic wine nicknamed "black wine" due to its intense color. Over the centuries the region suffered through wars, phylloxera and severe frosts, the worst occurring in February of 1956. When vineyards were replanted, Malbec was the grape of choice in Cahors. Today Cahors accounts for 11 percent of the world's Malbec with more than 15,000 acres planted to the variety.
The vineyards of Cahors stretch out on gravelly terraces rising from the river Lot. They continue up the hillsides to the plateaus where soils are primarily limestone. There are five named levels ascending the hillsides: "Terrasses" are graded as 1st, 2nd and 3rd then Coteau, and finally Causses reaching elevations of 250 to 350 meters. The Atlantic Ocean brings hot summers and wet winters. In the growing season, days are influenced by warm weather from the Mediterranean before yielding to the cool night effects from the Atlantic.
Wines from the Terrasses are big and tannic with black fruit, spice, and meaty character. The limestone soils of the Causses generate leaner wines with intense color and big tannins while maintaining acidity which contributes to wine structure. Historically, wines from Cahors have been big, in-your-face tannic monsters known for their ageing potential. That is changing. Some "modern" wineries try to soften the astringent tannins through vineyard techniques, micro-oxygenation and barrel regimens. Pascal Verhaeghe of Château da Cèdre summed things up when he was quoted as saying, "Power is easy here. It's finesse that's difficult."

All Cahors wines must contain at least 70 percent Malbec, but wineries have created three tiers of wine, to give consumers a better idea of what is in the bottle. Tradition wines are 70 to 85 percent Malbec (often blended with Merlot or Tannat) and mostly unoaked. Puissants et Gourmands is comprised of 70 to 100 percent Malbec that is often aged in oak, but rarely new oak. Intenses et Complexes are usually 100 percent Malbec aged in oak of various sizes with a percentage of new oak.
Critics say that Cahors wine is like the people, "Nice, but rough." The wines tend to be classically Old World in demeanor; inky in color and full of savory, leathery blue fruit aromas with earth, spice, red currant and black plum flavors. These wines have power and structure with big tannins that can be astringent and plenty of acidity to make them age worthy.

Argentina
Malbec was originally brought to Argentina in 1868 by Agronomist Michel Pouget. The Eastern slopes of the Andes provided the perfect home for these pre-phylloxera vines. The arid high-desert vineyards protect the vines from frost, shatter, downy mildew and rot, and the alluvial/clay soils provide good drainage and encourage deep root growth. High altitudes in the Andes bring cool air, which slows ripening, even though there are 300 sun days annually. All that sun means the wine will show ripe, fruity notes, while the big diurnal swing usually guarantees ripening while maintaining decent acidity.
Rain is scarce, averaging less than eight inches of rainfall annually, but there is ample water from melting snow to provide irrigation where necessary. In fact, until 1988 most Argentine grape growers used that water to flood irrigate their vineyards to encourage high production with little thought to quality. In the late 80s foreign investors brought their own consultants who encouraged local growers to bring down yields which provided more concentration and varietal character. Vineyards got planted at higher elevations, which provided more sunlight and cooler nights, and winemakers discovered that keeping yields down around three tons per acre produced wines full of Malbec's juicy sweetness, but loaded with spicy, violet complexity and soft tannins.
Currently, Argentina accounts for 75 percent of the world's Malbec with more than 80,000 acres planted to the varietal. Argentine winemakers are experienced, knowledgeable and fearless, but everyone has their own idea of what works best. No mountain is too high to plant a vineyard. No technique is too difficult or labor intensive if it makes better wine. Winemakers have mixed vineyards in the past, but more and more single vineyard wines are being released. Some winemakers ferment cool (70° F) to intensify fruit while others ferment high (95° F) in search of extraction and complexity. Wines are fermented in stainless steel, concrete and oak. They will punch down, pump over, delestage, saignée, use continuous pump overs and roll barrels.
Argentine Malbecs exhibit New World fruitiness with dark purple color along with rich, ripe red and black fruit characteristics. The wines tend toward sweet floral complexity on top of blackberry, plum and black cherry flavors. They show a velvety texture with soft tannins and a long finish.
The Tasting
We brought in a distinguished panel of winemakers, wine writers and sales people to taste ten wines; five from Cahors and five from Argentina. Our panel included Cyril Penn (Wine Business Monthly,) Ray Kaufman (Adelante Winery), Patrick Campbell (Vale la Pena Winery), Katie Canfield (O'Donnell Lane), Thomas Palauqui (Martine's Wines), Ed Lehrman (Vine Connections), and Lance Cutler (Wine Business Monthly).
For the most part, the wines lived up to their pedigrees. The Cahors wines were lean, big, powerful and tannic with good acidity. Argentine Malbecs were fruity and rich with soft tannins and a velvety finish. When paired with foods, the Argentine wines went well, but still tasted the same with that up-front fruit and soft tannic presence. On the other hand, the Cahors wines were transformed by our cassoulet, which completely rounded off the hard, tannic edges and intensified the burgeoning fruit flavors along with the savory complexity.
Cahors
2017 Château Combel la Serre, Au Cerisier ($18)
Single vineyard at 1,150 feet in the Causse. Vinified and aged in concrete tank 12 months.
Red and blue fruit with a nice freshness and balanced with good acidity.
2014 Mas des Etoiles, Une étoile est Née ($20)
From the second terrasse. Cold soak, then slow 20-day fermentation. Wine aged in new French oak for 24 months. Rosemary, coffee, earth and spice with little fruit and an oaky, tannic finish.
2014 Crocus Le Calcifere ($40)
Partnership between Paul Hobbs and Bertand Vigouron. High density planting, 12,350 plants per acre from the third and fourth terrasse. Fermented in small stainless steel tanks. Aged in 50 percent new oak barrels for 18 months. Black fruit, red cherry and spice, inky with good acid and a hint of chocolate.
2014 Domaine du Prince, Lou Prince ($40)
Flagship wine from two plots with limestone, ferrous and clay soils. Machine harvested. Traditional fermentation for 38 to 45 days with punch downs. Aged in new oak for 24 months. Very ripe modern style with layers of flavor, black fruit and an astringent tannic finish.
2014 Château du Cèdre, Le Cèdre ($60)
Colluvial limestone, pebble stones, ferruginous red sands on top of siliceous earth with bottom clay. Grapes 100 percent destemmed and macerated 40 days with daily punch down. Wine aged for 24 months in French oak barrels with 80 percent new. Plums, cherries and blackberries with spice, tobacco and minerality. Softer tannins with some elegance, and a bit of Brettanomyces aroma.
Argentina
2017 La Posta Fazzio Malbec ($18)
Single vineyard from Tupungato in the Uco Valley. The vines are 12-years-old and the vineyard sits at 3,500 feet. Soil is sandy loam, silt and clay with surface stones. Wine is aged 12 months: 10 percent new French oak, 70 percent second use French oak and 20 percent stainless steel. Fresh with blue fruit, chocolate, spice and violets. Fruit driven, full and drinkable.
2016 Graffito Malbec ($20)
Hand harvested from three vineyards in Agrelo, Los Arboloes and Vistaflores at elevations of 3,050 feet. Vines average 25 to 30 years age. 70 percent of the wine is aged in French oak for 13 months. Red fruits with rose petal aromas and red current/floral flavors. Round and balanced with evolved tannins.
2014 Casarena Naoki's Vineyard Malbec ($30)
These 5-year-old vines are from Naoki's Vineyard in Agrelo, Lujan de Cuyo, elevation 3,120 feet. Grapes cold macerated for 7 to 10 days with 45 to 50 days total maceration. Aged in French oak for 12 months. Plums and red fruits with some herbal, floral notes that present a classic elegance. Very smooth finish.
2015 Luca Old Vine Malbec ($35)
Made from 50-year-old vines from La Consulta and Gualtallary vineyards in the Uco Valley at elevations of 3,500 feet. Grapes hand-harvested. Aged 14 months in 35 percent new French oak barrels and the rest second use. Lush, ripe black fruit and a hint of coffee with density and focus. It has the most tannin of the Argentine wines, but the finish is a tad short.
2015 Mendel Finca Remota Malbec ($115)
From 75-year-old vines from Paraje Altamira vineyard in Uco Valley. Elevation is 3,600 feet. Wine is aged for in 100 percent new Taransaud barrels, then racked to more new barrels a second time. Good base and core of intense red and black fruit, but eventually overwhelmed by oak flavors of heavy espresso, spice and chocolate,

Conclusions

When it comes to Malbec, the Old World and the New World are very different. The color is what they have in common. Dark, purple and inky, the color of Malbec is impressive, especially for a grape variety with relatively thin skin. Argentine Malbecs are all about ripe fruit, dark berry flavors, velvety mouthfeel and long, soft fruit finishes. Cahors is a bit untamed, powerful with black and blue fruits carrying a strong acidic core and a challenging tannic backbone. The Argentine Malbecs are pleasing to drink now, even though they may age well. Almost all the Cahors wines will benefit from more aging to help soften the mouth-drying tannins.
All the wines in this tasting were well made and represented several different stylistic approaches. They went well with food, especially the Cahors when paired with fatty foods like cassoulet or duck.
Argentine Malbecs uniformly flash their sunny ripe fruit aromas and flavors, even when made in a complex style meant to age.
Cahors wines tend to be bigger and more powerful with a brooding weight and muscular structure, even when made with little oak and intended for early drinking. The best part is realizing that these are two distinctly different animals. Both the New World and the Old World offer great Malbec. We get to choose the style that best suits us or the one that pairs best with the food we will be serving for dinner.
Lance Cutler is known as one of the "wild men" of the wine business. He hijacked the Napa Wine Train, kidnapped Richard Branson and a busload of reporters, and helped force humor on a stodgy wine business. He is the winemaker for Relentless Vineyards and the author of The Tequila Lover's Guide to Mexico and Mezcal, Making Wine at Home the Professional Way and the Jake Lorenzo books. Check out his website, www.winepatrol.com.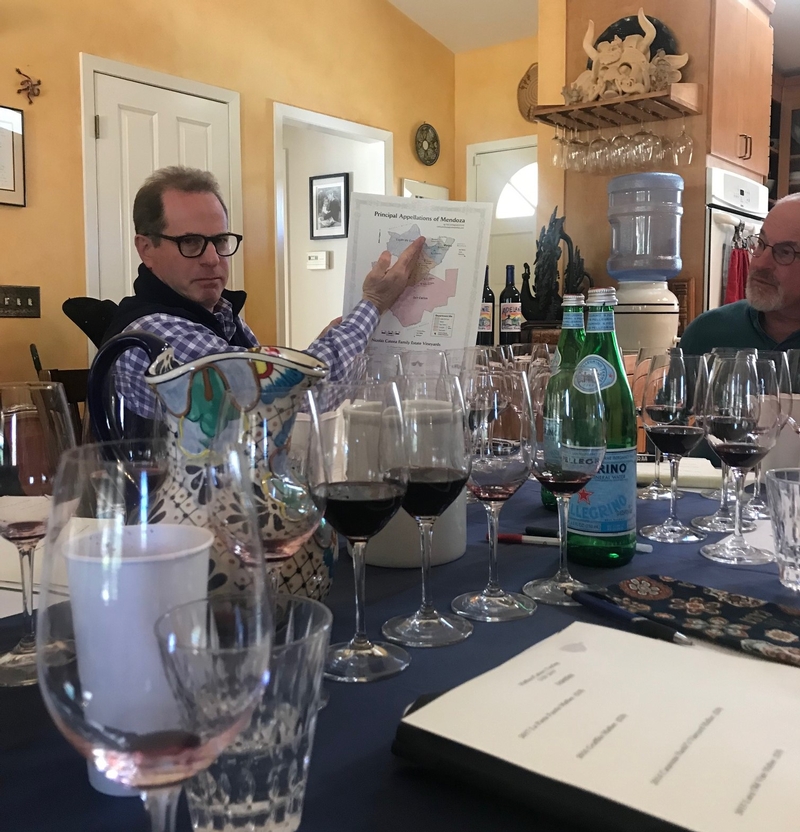 Ed Lehrman (Vine Connections) discusses terroir of Malbec in Argentina