¡Salud! Oregon Pinot Noir Wine Auction Raises More Than $1 Million for Vineyard Worker Healthcare Foundation
The two-day event and auction raised a record amount for the Tuality Healthcare Foundation.
Dundee, OR. - The Oregon wine community raised $1,055,000 at the 2018 ¡Salud! Premiere Oregon Pinot Noir Wine Auction this year, exceeding all previous totals. The annual two-day, two-event extravaganza benefits one cause: healthcare for Oregon's vineyard workers, many of them Hispanic immigrants.
Founded in 1991, the nationally renown ¡Salud! program runs under the aegis of Tuality Healthcare Foundation, and draws upon a staff of four bilingual outreach staff, a mobile unit and a myriad of community healthcare partners to deliver on-site preventative, vision, dental and mental healthcare to over 2,500 seasonal workers and their families.
"I truly appreciate that our team has full access to the workers during work hours," says Leda Garside, ¡Salud! services manager and cultural liaison at Tuality Healthcare. "We bring the services to them, not wait for them to come to us. If you're going to do it right, particularly for the under-served, uninsured, and under-insured, you have to take the services to the people."
Due to provider synergies, ¡Salud! realizes $3 in services for every $1 procured, and runs on a budget of about $1 million in funds raised from the ¡Salud! auction. Service providers include Medical Teams International, Pacific University Dental Program, Oregon Health & Science University School of Dentistry, Pacific University Physical Therapy, Pacific University College of Optometry, and Project Access NOW. This year, ¡Salud! also participated in a successful pilot program with the Oregon Health and Science University (OHSU).
"OHSU is the number-one teaching institution in the state for everything—physicians, dental, nursing, pharmacy, public health, and rural health," says Garside. "So this program is what a university really looks for their students to be immersed in, to expand their knowledge of community outreach and community health for future clinicians."
This year's event kicked off on November 9, 2018 from 2:00 to 6:30 p.m. with a Big Board Auction and Pinot Party at Ponzi Vineyards' estate in Chehalem. Participants mingled amidst the state-of-the-art crush facilities during a sparkling wine reception hosted by Sokol Blosser Winery, featuring savory small bites, live music and a silent auction, punctuated by a passionate kick-off by Maria Ponzi.
"If you know anything about the wine community here, we do what's right," Ponzi told the standing-room only crowd. "We think beyond ourselves, we think about the community, and we think about respecting the land. As a second-generation vintner, I'm so proud to carry on that tradition. And ¡Salud! is really the heart of that, where we really look to our vineyard workers as a part of our family."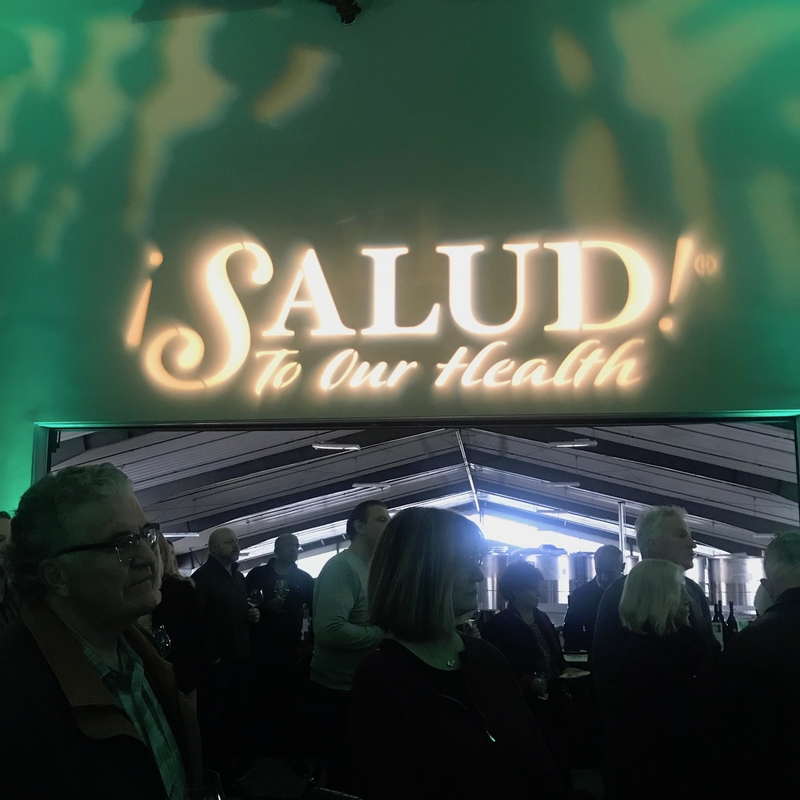 Attendees Celia and Ken Austin of Rain Dance Vineyards in Chehalem echoed Maria Ponzi's sentiments regarding community solidarity. "None of us would be standing here without the farmer workers," said Celia Austin. "We're very grateful for all that they do to help us bring in our crops, and take care of the vines."
Ken Austin, whose family founded Newberg's luxury resort, The Allison Inn, adds, "It's just a little something we can do for them, and help keep them healthy." Winemaker Ian Burch of Archery Summit Winery, a long-time participant, agreed. "It's a very warm, transparent operation. It's awesome that it's still alive and strong," he said.
Eager wine lovers next poured into the sleek, expansive tasting room to taste and bid on 39 exclusive Vintners Circle cuvées from Adelsheim Vineyard, Alexana Winery, Amalie Robert Estate, ArborBrook Vineyards, Archery Summit, Ayoub, Beaux Frères, Bergström Wines, Bethel Heights Vineyard, Big Table Farm, Brittan Vineyards, Chehalem Cristom Vineyards, Domaine Drouhin Oregon, Domaine Roy & fils, Domaine Serene, Dukes Family Vineyards, Dusky Goose, Elk Cove Vineyards, Erath Winery, Evening Land , Gran Moraine, Hamacher Wines, Hyland Estates, Lange Estate Winery and Vineyards, Lavinea, Patricia Green Cellars, Penner-Ash Wine Cellars, Ponzi Vineyards, Purple Hands Winery, R. Stuart & Co., Résonance, ROCO Winery, Shea Wine Cellars, Soter Vineyards, Stoller Family Estate, Trisaetum, WillaKenzie Estate, and Winderlea Vineyard & Winery.
Bids comprised futures on one to four 12-bottle cases of each one-of-a-kind wine. "The wines we are selling are not wines you can buy anywhere else," emphasizes ¡Salud! co-founder and family matriarch Nancy Ponzi, who initiated Oregon's only non-marketing wine event with Dr. Larry Hornick and a few other wine makers twenty-seven years ago. "These are truly cuvées that each winemaker makes exclusively for ¡Salud!, " she says. Silent auction items included an Antica Terra Vineyard Luncheon for Ten, an Atticus Hotel & R. Stuart & Co. stay, and a Private Barrel Tasting and Blending Seminar with Eric Hamacher.
The next day, Saturday's black tie Grand Dinner & Live Auction Gala at Domaine Serene in Dundee began with a sparkling reception hosted by Argyle Winery, followed by a silent auction featuring packages like 'Waterfall Serenity with Evening Land,' 'Sip and Stay at The Gorge,' and 'Helicopter Wine Tour + Luncheon at the Allison,' as well as a reprise of the Vintner Circle Wine Tasting.
After a touching tribute to White Rose winemaker Jesus Guillen—who succumbed to cancer only days earlier—guests tucked into a sumptuous locavore feast prepared by Chefs Andrew Biggs and Cara Powell of Hunt & Gather Catering. Then the gavel fell, and dynamo auctioneer Karen Sorbo conducted a fast and furious live 20-lot auction that included 'An Intimate Dinner with the Second Gen!" generation of wine makers. Rollin Soles of ROCO Cellars added more levity to the evening bestowing the Legacy Winemaker Presentation to Harry Peterson-Nedry. In all, the entire 2018 ¡Salud! Auction, including an earlier July e-auction, raised a jaw-dropping $1,055,000 dollars.
"This is what it's all about," concludes Leda Garside, "It's about families, about education, and it's about giving back to the community in a very, very positive way. And every penny that we raise goes towards this program."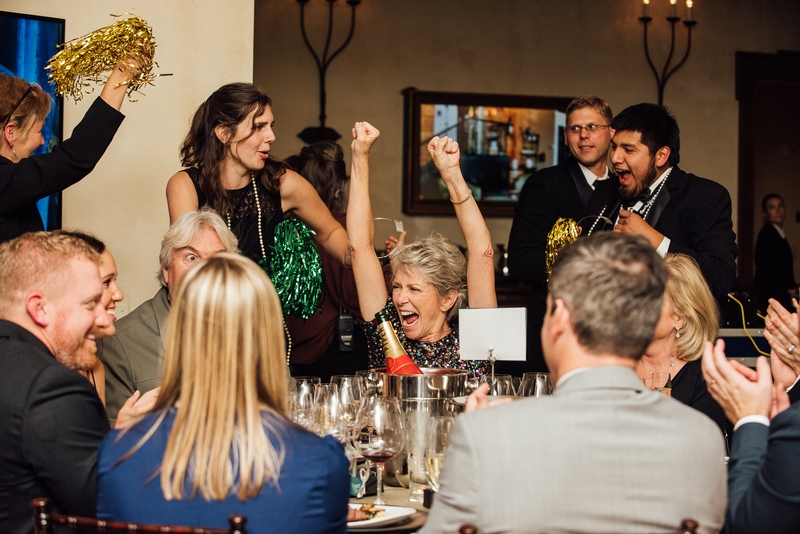 Photo: Kathryn Elsesser
¡Salud! auction co-chair Pat Dukes of Dukes Family Vineyards summed up importance of the event's success another way. "The Pinot industry, and the Oregon wine industry as a whole, is heavily directed, and based on, hand-touches in the vineyard," said Dukes. "Whether it's pruning, or tying, or hedging, or harvest - someone is manually doing this labor. This is our opportunity to give back to our seasonal workers that otherwise don't have the opportunity for care."