Lodi Grapevine Virus Field Workshop Provides Practical Advice
Grower Groups Developing Virus Best Management Practices and Outreach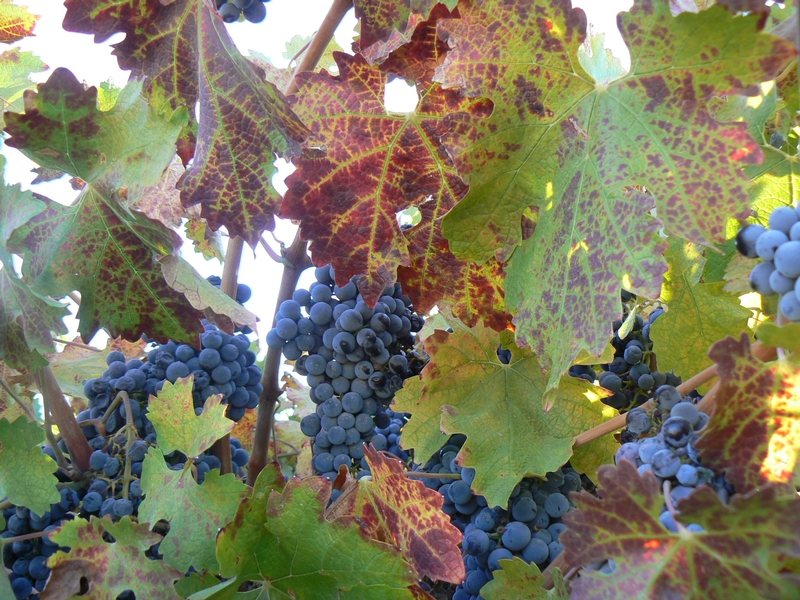 Cabernet Sauvignon vine in Lodi with visual symptoms of red leaf viruses was flagged for possible testing and rogueing. Photos by Ted Rieger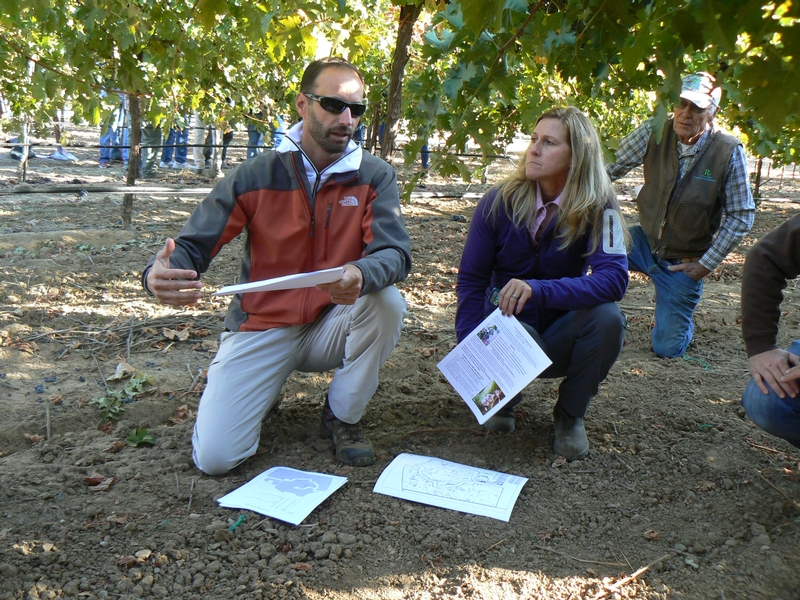 Lodi PCA Charlie Starr and Duarte Nursery field rep Tia Russell discuss vine scouting and mapping strategies for
managing viruses in Lodi vineyards

The Lodi Winegrape Commission (LWC) held a leafroll virus tailgate talk and field day October 17 coordinated by LWC grower education director Dr. Stephanie Bolton, and grower and industry members of the Lodi Grapevine Virus Research Focus Group. With harvest winding down in Lodi and other California growing regions, the field day was a timely reminder that now is a good time of year to scout vineyards for red leaf virus symptoms and to flag symptomatic vines for testing and possible roguing.

Grapevine virus diseases can reduce grape and wine quality, compromise vine health and shorten vineyard lifespans, resulting in economic losses. In California, the focus is on grapevine leafroll associated viruses vectored by mealybugs, in particular the vine mealybug, and on grapevine red blotch virus and its presumed vector, the three-cornered alfalfa hopper.

The LWC received grant funding from the California Department of Food and Agriculture (CDFA) Pierce's Disease/Glassy-winged Sharpshooter Board, and the American Vineyard Foundation for virus research, management and outreach. The LWC virus group's objectives include: investigate the current status of grapevine virus knowledge, learn how to best test and rogue infected grapevines for virus management and develop economic thresholds, learn best practices for replacement of an existing leafroll-infected vineyard, formulate a long-term management plan with economically feasible virus control strategies, and develop and deliver relevant educational materials and outreach for best management practices for growers. The LWC has drafted a guide document, "Nursery Ordering 101: Viruses," the first in a planned series of educational guides. Individual hard copies can be requested from Bolton at stephanie@lodiwine.com

In basic terms, Bolton said Lodi's and California's grapevine virus strategy is: "Decrease vector populations. Lower virus inoculum." Bolton pointed out that South African growers have been addressing leafroll and mealybug issues for nearly 20 years and developed successful regional management protocols. Similarly, New Zealand grapegrowers developed and wrote a comprehensive grower guide for virus and vector issues. Bolton announced the LWC received funding to host South African virus expert Professor Gerhard Pietersen of the University of Pretoria, for a visit and talk with Lodi growers in spring 2019.

Lange Twins Winery & Vineyards hosted the workshop at a 65-acre vineyard in Acampo planted in 2013 with Cabernet Sauvignon clone 7 on Freedom rootstock on ground not previously planted with grapes or permanent crops. Red leaf virus symptoms began to appear in individual vines two years after planting, indicating that virus-infected vine material had come from the nursery.

Lange Twins vineyard operations manager Aaron Lange has been a major proponent of regional virus management and outreach in the Lodi area, and for growers statewide. Lange explained: "This is absolutely a grower community issue, and we all need to be on the same page. We don't want to allow a large source of virus inoculum to exist out there that can be transmitted to other vineyards. I think we're way behind in what we need to know to properly manage this issue."

Vine Scouting and Rogueing Strategies

Lodi grower and pest control adviser (PCA) Charlie Starr is working with Lange Twins at multiple vineyard properties to monitor and manage viruses and vectors. Starr and Lange said Cabernet Sauvignon is the easiest variety to spot visual red leaf virus symptoms and the one variety for which visual scouting has proven effective thus far. Lange said it was tried with Petite Sirah with only about 30 percent accuracy when compared with lab tests.

Lange Twins has trained a crew of ten people to scout vineyards for red leaf virus symptoms and mark symptomatic vines with yellow flagging tape wrapped around vine trunks. Vine samples are collected through a random sampling method from symptomatic vines for lab analysis. Based on experience to date, Lange recommends starting visual scouting and testing during a vineyard's third leaf season. Testing during the second leaf season was less effective and resulted in more false positive test results. Once infected vines are identified, the infected vine, and one adjacent vine on each side of the infected vine in the same row are rogued-out (removed) including as much root material as possible. In 2017, 1,300 vines were rogued from the 65-acre vineyard that hosted the LWC field day. Starr and Lange also suggest waiting one or more seasons to replant vines at the rogued positions, particularly if vine mealybugs are in the vineyard that could remain on roots left in the soil.

Starr said visually identifying virus symptoms has been more difficult in 2018 due to potassium deficiency issues in Lodi vineyards. In addition, late season mite outbreaks have also resulted in leaf reddening, although this is usually differentiated by a pattern of smaller red speckles. Starr also observed, "It is nearly impossible to identify and remove 100 percent of virus infections from a vineyard simply by scouting for visual symptoms. One problem is that viruses can be dormant or latent in vines and express themselves at different times, or in later years, and in some cases show no symptoms."

Matt Frank, viticulturist with Trinchero Family Estates (TFE), also uses trained scouting crews to identify infected vines with red leaves and has achieved about 75 percent accuracy with verification by lab tests. TFE performs annual vine rogueing with a goal of keeping virus-infected vines at under 5 percent in any given block to maintain economic viability.

Red Blotch Vector Detection and Identification

UC Davis research entomologist Dr. Cindy Preto has been studying the three-cornered alfalfa hopper (3CAH), identified in 2016 as a vector of grapevine red blotch virus based on greenhouse experiments. Preto has monitored 3CAH populations, life stages, and feeding and reproductive activity at the UCD Oakville Station in Napa Valley, in addition to several other grape growing regions and through greenhouse and lab studies. Studies show the 3CAH can reproduce and feed on grapevines, but it far more commonly prefers cover crop and weed species found in and near vineyards, particularly legumes. At the Lodi field day, Preto demonstrated how to use a sweep net to capture and monitor potential hopper vectors in weeds and cover crops between vine rows and in grass and weeds adjacent to vineyards. The LWC has sweep nets available to growers to take back to their vineyards to use.

CAWG Virus BMP Project and Other Regional Efforts

Other regional grower groups and the California Association of Winegrape Growers (CAWG) are also taking proactive steps to protect California vineyards from viruses and vectors. Karen Suslow, research assistant professor of biological sciences at Dominican University in San Rafael, is under contract with CAWG to develop a statewide Best Management Practices (BMPs) program and guide. Suslow, with degrees in entomology and plant pathology, has 30 years of experience in agricultural pest and disease management. She developed a BMP program for the ornamental nursery industry.

Suslow is working with Aaron Lange, a CAWG board member who helped spearhead the project, and CAWG president John Aguirre. The long-term goal is for CAWG to offer training for grower groups throughout the state, and have a BMP document to assist growers and PCAs. Lange said a draft BMP document will be reviewed at CAWG's November Board meeting. He said, "We envision this will be a living document that will evolve and be updated over time. CAWG is attempting to aggregate all the best available information and get this information into growers' hands statewide to manage and mitigate virus-related issues."

Other regional groups are at various stages of cooperative virus and vector management. Napa Valley growers have worked with UC plant pathologists and researchers to form neighborhood management zones to trap and monitor mealybugs, test vines and track virus spread to make decisions on rogueing and vineyard removal. The Napa County Winegrape Pest and Disease Control District, originally formed to address Pierce's Disease and the glassy-winged sharpshooter, has expanded its focus to include viruses and mealybugs. Monterey County winegrape growers have discussed implementing an area-wide management program for viruses and mealybugs, and possibly forming a pest control district.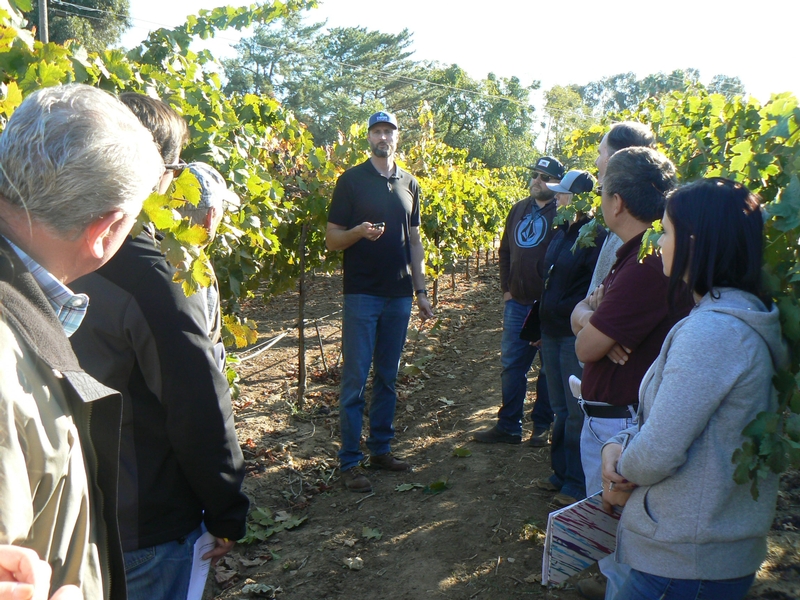 Trinchero Family Estates viticulturist Matt Frank (center) offers advice for vine scouting and testing for virus management at the Lodi virus tailgate talk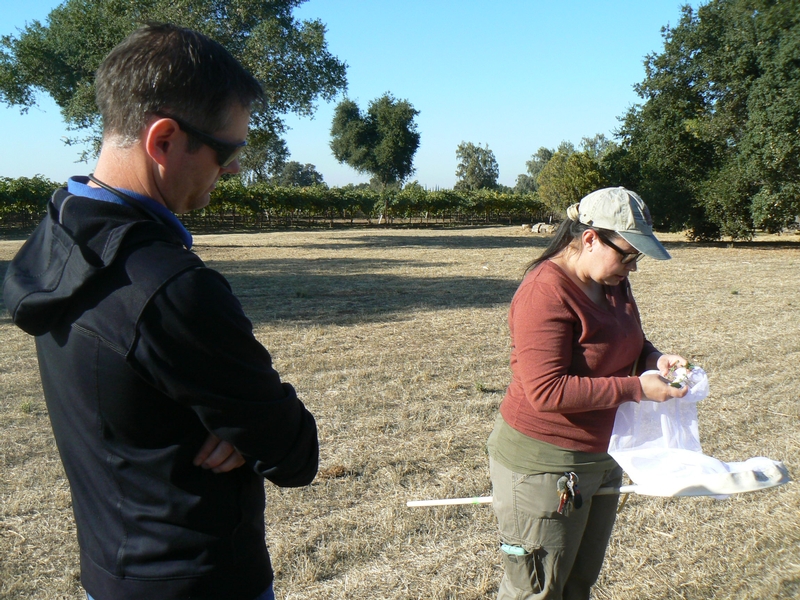 Aaron Lange of Lange Twins Vineyards looks on as UCD research entomologist Cindy Preto examines a sweep net for insects such as the three-cornered alfalfa hopper