About 120 growers, managers and others participated in the 2018 Organic Winegrowing Conference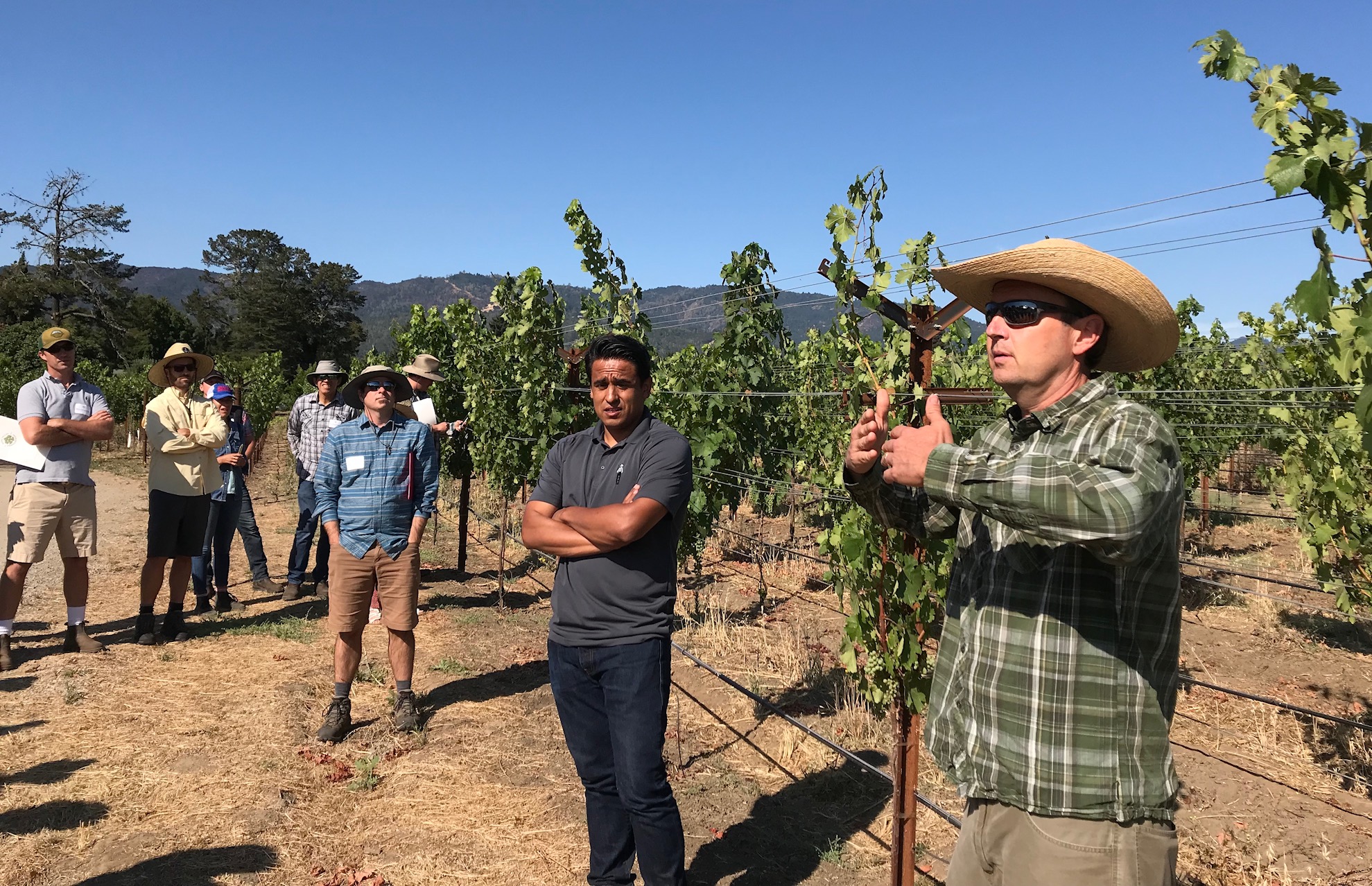 Steve Mathiasson, right, partner at Premiere Viticulture and Matthiasson Wines, and Miguel Luna, left, partner/viticulturist at Silverado Farming Co., discusses organic farming on July 26 at Wheeler Farms in St. Helena. Photo by Kerana Todorov

Why grow organic? That's one of the questions discussed recently during a tour of wineries and ranches the Napa Valley Grapegrowers organized recently. About 120 growers, managers and others participated in the 2018 Organic Winegrowing Conference on July 26, traveling to three sites in three separate groups.

At CADE Estate on Howell Mountain Road near Angwin, a winery certified gold under the Leadership in Energy and Environmental Design green rating system, partner and general partner John Conover said farming organic places the winery ahead of the curve.

Millennials take into account businesses' socio-conscientiousness," said Conover, who is also partner and general manager at Odette winery and general manager at PlumpJack Winery. "They're not yet our customers. They will be one day," Conover sad. "So we think we're ahead of the curve."

"This is good business what we're doing here – organic grape growing and gold LEED certification, and teamwork," Conover also said. "We view ourselves as stewards of the land."

Andrew Opatz, associate vineyard manager at David Pirio Vineyard Management, manages CADE's 21 planted acres, all but 2 acres are planted in Cabernet Sauvignon.

Organic farming is all about timing, Opatz stressed to the group. "Tucking and tying the shoots, pulling leaves…it will happen in once block in a certain area two weeks before it happens in another area," Opatz said. Farmers have to be proactive, to foresee issues. "For me it's timing. It forces you to get your boots on the ground. It forces you to get out there and look at problems," Opatz said, referring to organic farming.

"Looking for mildew, maybe we can find some magnesium deficiencies out there as well. It's about being able to address these issues early."

The estate vineyards' irrigation system is not regulated from a computer, long distance. "It's hard to be an absentee farmer organically farming," Opatz said.

At Wheeler Farms in Rutherford, Rutherford, Bart and Daphne Araujo shared their experiences as organic and biodynamic growers. They farmed organic and biodynamic grapes at their former site in Calistoga as well.

"Our vintage variations are much narrower. The vines seem to be healthier," said Bart Araujo during the visit. Araujo said he is not a scientist. But, he added, "look at human beings."

Human beings who schlep through airports during the flu season do not get sick if they are healthy, he said. "Healthier human beings don't get sick."

The same applies to vines. Organically farmed vineyards have "much more consistent canopies" and much fewer weak shoots. "Everything is more consistent," Araujo said.

"And of course, consistency is balance, it's everything. If we can achieve that in the vineyard, then that's going to translate in the kind of wines that we're going to make," he added after stopping by the winery's young estate vineyard.

Steve Matthiasson, partner, Premier Viticulture Services, is the Araujos' vineyard consultant.

More progress in organic farming needs to be made toward sustainability, Matthiasson said after showing Wheeler Farms' young vineyards. "Organic doesn't address carbon footprint, doesn't address labor, human resources. There is a lot of things it still doesn't address," he said.

But at the same time, "organic does address a whole lot too," Matthiasson added. Organic farming is so codified, Matthiasson continued. It can "easily" be integrated as a "personal discipline," he said.

"There is no reason that we have to be relying on these chemicals – Band-Aids, nonstop."

At Frog's Leap Winery, the group learned how to produce a high-end compost pile.

Degge Hays, head gardener, prepares a compost pile for the winery's garden, plants, and vineyard every year after harvest. The company uses pumice, dairy manure, straw, garden materials and water to build the pile, which he and Rory Williams, assistant vineyard manager and assistant winemaker, said is "high end."

"Why we deal with the compost? I really feel like the compost is really a central tenet of what we're doing with organic farming," Hays said.

The pile, which is built in November, produces about 225 to 230 cubic yards of compost.

All things considered including the savings from hauling pumice off site, the company spends about $35 a cubic yard for its high-end compost. That's compared to buying similarly graded compost at $50 a cubic yard, according to Frog's Leap.

Grant Lundberg, chief executive officer, Lundberg Family Farms, a Sacramento Valley organic rice producer for the past 80 years, address the group at Spottswoode Estate and Winey in St Helena before they split up In groups of three to visit the farms.

"Even today, the family, of course, has an understanding of that heritage. But that really carries on throughout the organization. It's just not about being certified organic, it's about taking care of the land and making things better," Lundberg said.

"It is about making a healthier word," he said during his presentation.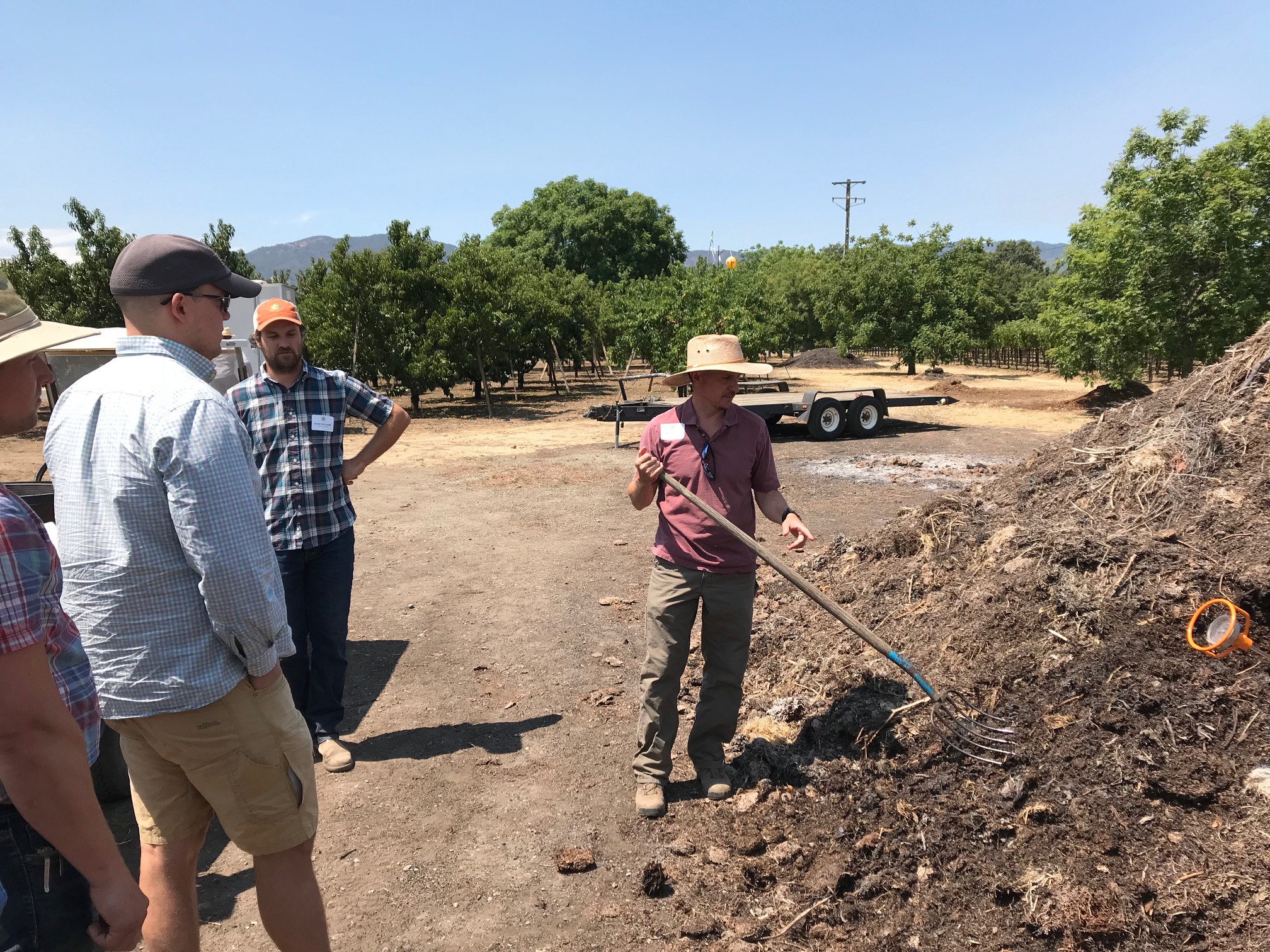 Degge Hays, garden manager at Frog's Leap Winery, shows a pile of compost on July 26 a the winery in Rutherford to a group taking part in the 2018 Organic Winegrowing Conference. Also watching in the background is Rory Williams, assistant winemaker and assistant vineyard manager at Frog's Leap. Photo by Kerana Todorov