Truck Driver Shortage Affects Wineries, Entire Ag Industry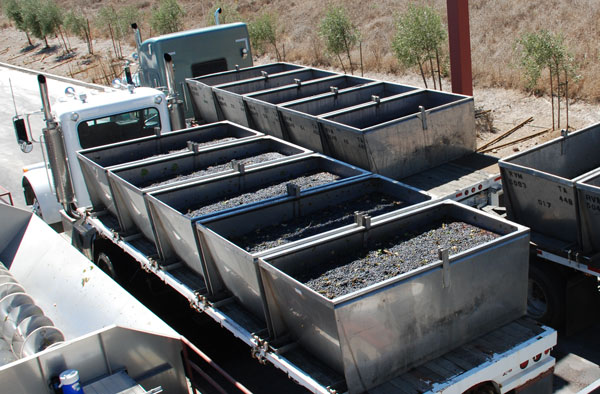 How will the winegrape trucking industry continue to find truck drivers to move winegrapes as the shortage of truck drivers increases? How does the industry manage increasingly strict pollution and labor laws? These were among the questions Yvonne Sams, director of logistics at G3 Enterprises, asked at the California Association of Winegrape Growers' 2018 summer conference, held July 17 at the Silverado Resort and Spa in Napa.

The shortage of drivers is expected to reach 239,000 by 2022, according to G3 and national statistics. As drivers retire, Millennials are not replacing those seats, said Sams, whose company contracts truck drivers for its logistics business.

"This is going to affect not only winegrapes but the entire ag industry," she said.

Trucking companies are attempting to hire drivers through postings on multiple platforms, including via Facebook. Webinars have been created on how to effectively attract women to the industry, an entirely new segment of employees, Sams said.

Other Difficulties
Along with the shortage of drivers, the industry has to adhere to new regulations, including longer rest time requirements for drivers. "Nationally, what used to take two days is now going to have two-and-a-half to three days to move product from one end of the country to the other," Sams said.

One goal is to reduce stop-and-go time. To that end, the Modesto-based company plans to have a drop lot program and hauling three trailers for every load to become more efficient, according to G3. One trailer is dropped while the other goes to the winery and the other is on the road.

In 2016, G3 also installed GPS tracking devices on 1,600 rig trailers to follow their locations. One finding was that trailers would sit for weeks at a time at one spot, according to the company. "That's not making us money. That's not helping us. That's not getting trailers in the place that they need to be," Sams said.

"GPS is really going to provide us real time visibility," Sams also said, as she showed traffic patterns of the GPS-installed rigs in California. Eventually, the system will be visible to clients. "The main calls we get are 'where is that last load?' and 'why isn't it at the winery?'" she said.
The Future
The industry has to continuously adhere to new labor and pollution-reducing rules. E-logs have to be in full compliance by December 2019, according to the United States Department of Transportation.

There is also competition for drivers from Uber-like companies, offering drivers work on job boards and paying them immediately when the load is delivered instead of after a five-day wait.

The future may be driverless drivers. Tesla is working on a self-driving electric semi, according to news reports. Mercedes-Benz is committed to have driverless trucks on the road by 2024, Sams said.

"If we're going to have driverless trucks, why, why do we need an engine?" said Sams said. Why don't we power the trailer by itself and have the trailer drive?"