Pawnee fire update: Most wineries are open
"It's never good when you make the national news. Everybody is keeping their fingers crossed."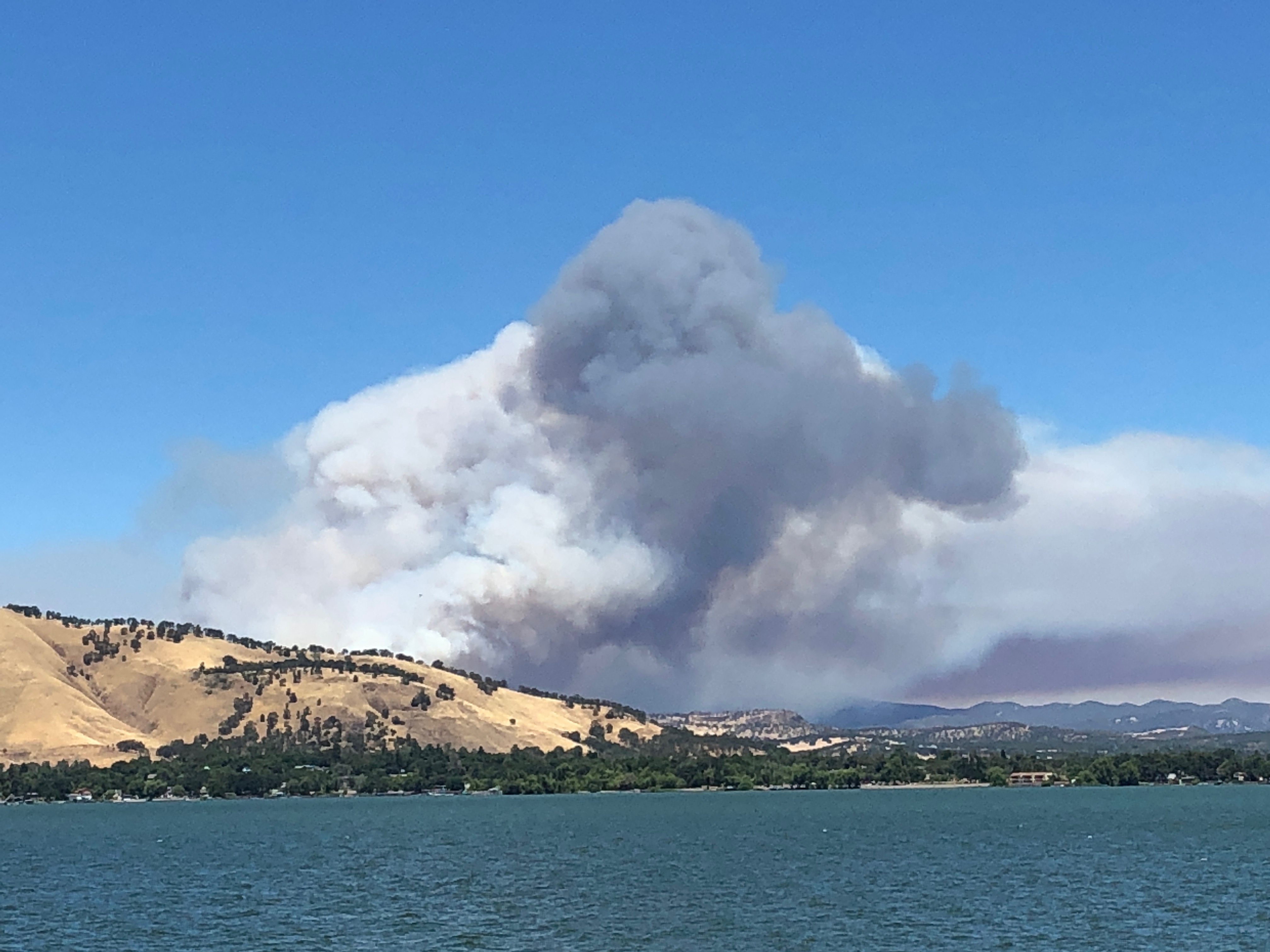 Pawnee fire near Clearlake in Lake County. Photo taken by Shannon Gunier at 5 p.m. Monday from her deck across Clear Lake
More than 13,500 acres have burned since Sunday east of Clear Lake in Lake County, according to fire officials. As of early Wednesday, the Pawnee fire was 25 percent contained.

Twenty-two structures have burned, including 12 homes, said David Clark, a spokesman for CAL FIRE assigned to the fire. The other structures include outbuildings, he said. About 600 structures are in the proximity of the fire.

Residents kept a wary eye on the latest developments, hoping the fire would continue to steer away from their communities.

"We've all been through this too many times," Roxanne Jackson, marketing and public relations manager at Shannon Ridge Family of Wines, said on Tuesday.

Shannon Gunier, of North Coast Winegrapes in Lower Lake, has been assuring her east coast clients the grapes from Lake County are "safe and sound."

"It's never good when you make the national news," Gunier said Tuesday. "Everybody is keeping their fingers crossed."

Most wineries are open. However Cache Creek Vineyards and Winery on New Long Valley Road east of Clear Lake has been closed since the fire broke close by late Saturday night.

Its parking lot is a staging area, with firefighters from as far as San Diego, said Colby Helton, a maintenance employee at the winery. "We're OK," Helton said from the winery Tuesday.

Shannon Ridge Family of Wines' winery is west of Clear Lake and is open to visitors. However, one of its vineyards, Shannon Ranch Home Ranch, lies close to the fire east of Clear Lake.

Bruce Merrilees, director of vineyard operations for the North Coast, said three Caterpillars were used Sunday to create fire breaks to protect the 800-acre vineyard. That was out of precaution, he said.

The employees worked to create a 100-foot clearance along the northern edge of the vineyard which primarily produces Cabernet Sauvignon.

"It got pretty close," said Joy Merrilees, the director of winemaking and production.

She is not worried about the smoke, which she and others said, has been moving east and north.

Shannon Ridge's Caterpillars, which are normally used to develop vineyards, have built fire breaks in the near past in Lake County.

In September 2017, one of the caterpillars helped save a neighbor's ranch threatened by fire. "It's not new to us," Bruce Merrilees said.

CAL FIRE hit the fire "hard" Tuesday, Merrilees said Tuesday at around 5 p.m. "It's a lot better."

Having such a big fire in June is no longer unusual, according to CAL FIRE officials. Temperatures in Lake County are above average, the vegetation is very dry, said Scott McLean of CAL FIRE. The winds have been erratic, he also said. "There is no such thing as a (fire) season anymore," McLean said.
The article has been updated.