Napa County's Measure C Too Close to Call, According to Early Returns
Between 10,000 and 20,000 ballots have yet to be counted
A Napa County ballot measure that would curtail vineyard development in the hills above the Napa Valley floor appeared to be in a statistical dead heat Tuesday night, according to early elections returns.
As of 10:39 p.m., Measure C, the watershed and oak woodlands protection proposal on the June 5 ballot, had received 7,188 votes – 40 more votes than the "No on C" campaign. However, between 10,000 and 20,000 votes have yet to be counted, Napa County Registrar of Voters John Tuteur said Tuesday night.
The election results are to be certified by June 25. The next set of preliminary results may be released Thursday. "It's a pins-and-needles thing until we get to the end," said Mike Hackett, of Angwin, who led the pro-Measure C campaign with Jim Wilson, another Napa County environmentalist.
Hackett said he was proud of the grass-roots campaign, which included 5,000 handwritten postcards mailed to registered voters in Napa County. No matter what happens the campaign will go on, he said at the Yes on C campaign party in St. Helena. "We've started a movement," he said.
Ryan Klobas, policy director for the Napa County Farm Bureau, which opposed Measure C, said he was pleased with Tuesday's early returns.
"This is a good result because we are in a statistical dead heat. We remain confident, optimistic," Klobas said at a "No on C" party at the Napa County Farm Bureau office in Napa. "We fought a hard campaign. We knew this was going to be a fight to the finish."
"That's why GOTV (Get Out the Vote) efforts are so important," Klobas said. "When you're in a situation where you're in a statistical dead heat, it's important to get as many people to vote as possible."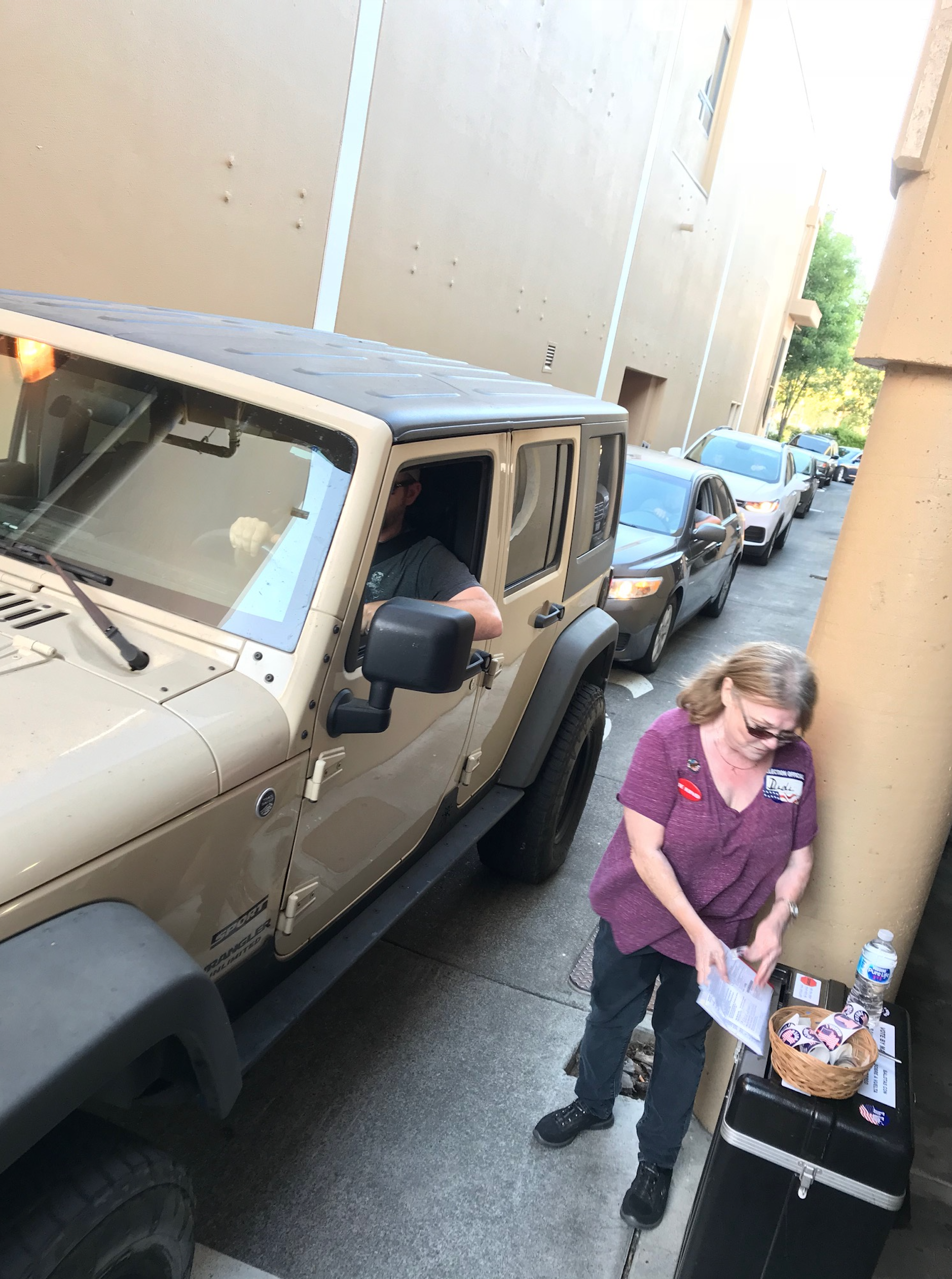 Voters drive by the Napa County Elections Office Tuesday to drop their ballots. Napa County voters voted by mail in the June 5 elections. The vote on Measure C, thee watershed and oak woodland protection measure, is split nearly evenly.
Measure C divided the county – and the wine industry. The Napa County Farm Bureau, the Napa Valley Grapegrowers, Napa Valley Vintners and the Winegrowers of Napa County, opposed the measure. Opponents said the measure was full of unintended consequences and ambiguities and would engender litigations. Forests will be overgrown and the area more prone to fires, according to the "No on C" campaign.
Klobas and others said differences on these issues should be resolved before the Board of Supervisors instead of by an initiative.
Spring Mountain vintner Stu Smith said that though the vote was too close to call immediately, he was hopeful Measure C would not pass. Smith argued strongly against Measure C this year, calling it a "pushback" against the wine industry." If Measure C passes, agriculture will no longer be the "highest and best use of the land" in Napa County, he said repeatedly.
Supporters of Measure C included Stag's Leap Wine Cellars founder Warren Winiarski and grapegrower Andy Beckstoffer. Winiarski repeatedly spoke on the urgency to protect the watershed and oak woodland areas to protect Napa County's sources of water. "Water is a finite resource," Winiarski said during the campaign.
Napa developer and Napa River Inn owner Harry Price publicly supported Measure C after he read the first batch of mailer against the ballot measure, which he said was "full of lies."
"I want to see elections run on merits, not on twisted half-truths," Price said at a "Yes on C" party in St. Helena, where dozens of volunteers had gathered.
"If the voters pass Measure C, it will change the directions of the County," he also said. It won't be for the vintners without addressing "housing, transportation and events centers that are in the Ag Preserve," he said. "That ought to be controversial enough for your readers," Price added.
No on Measure C collected about $646,000, mostly from the wine industry, according to campaign finance reports filed in May. During the same time period, Yes on Measure C campaign raised more than $211,500 for its campaign.
If it passes, Measure C would allow the removal of up to 795 acres of woodlands in land zoned "agricultural watershed"; further removal of oaks would require a permit. Trees lost to fires would not be included in the count, according to a county analysis. Every lost oak tree would have to be replaced with three trees, according to the measure. The replacement ratio is now 2:1. Buffer zones along streams would be 25 to 125 feet, depending on the class of stream; buffer zones near wetlands would be 150 feet, according to the measure.
Measure C was one of two local initiatives placed on the June 5 ballot.
A measure to ban private helipads in Napa County may have passed, according to early returns. Measure D had nearly 8,700 votes in favor the ban as of Tuesday night. By contrast, its opposition, "No on D," had 5,540 votes.
A proposal by vintner Christian Palmaz to build a helipad and heliport at his family vineyard near Napa ran into a wall of opposition – and the initiative that led to Measure D. George Caloyannidis, a Diamond Mountain resident near Calistoga, spearheaded the campaign to ban the private heliports.
The committee in support of Measure D raised more than $115,700, including a $20,000 loan from Caloyannidis. The Palmaz family and affiliated businesses spent more than $125,000 to finance the campaign against Measure D, according to campaign finance records.
The Napa County Planning Commission and Airport Land Use Commission in September voted against the Palmaz helipad project, a decision Palmaz appealed to the Board of Supervisors. The matter is scheduled to come before the Board of Supervisors to a vote in July.