Blackbird Vineyards Files Trademark Lawsuits
Names and label design are "strikingly similar" to Blackbird's, the lawsuits allege.
A Napa Valley wine label is suing two other wine labels for allegedly violating its trademarked name and design label, which features flocks of blackbirds against a white background, according to court records.
Blackbird Vineyards LLC alleges in separate lawsuits that Blackswift Cellars and One Flock have names and wine label designs that are allegedly "strikingly similar" to Blackbird's, according to the complaints filed in federal court for the Northern District of California.
Both Blackswift Cellars, a label affiliated with Turkovich Family Wines LLC of Yolo County, and One Flock, a red blend produced by Napa-based Prolific Beverage LLC, use labels that incorporate drawings of flocks of birds.
Blackbird Vineyards' marks are "widely recognized and respected by consumers through the United States, as well as members of the trade, as an exclusive designation of source for the goods of Plaintiff," Blackbird's attorneys wrote in their complaints against Prolific Beverage and Turkovich Family Wines and their wine labels.
Blackbird Vineyards and both defendants sell red wines and target the same customers, according to the court filings. The companies also advertise, distribute and/or sell their wines in the same or similar trade channels, according to the complaints.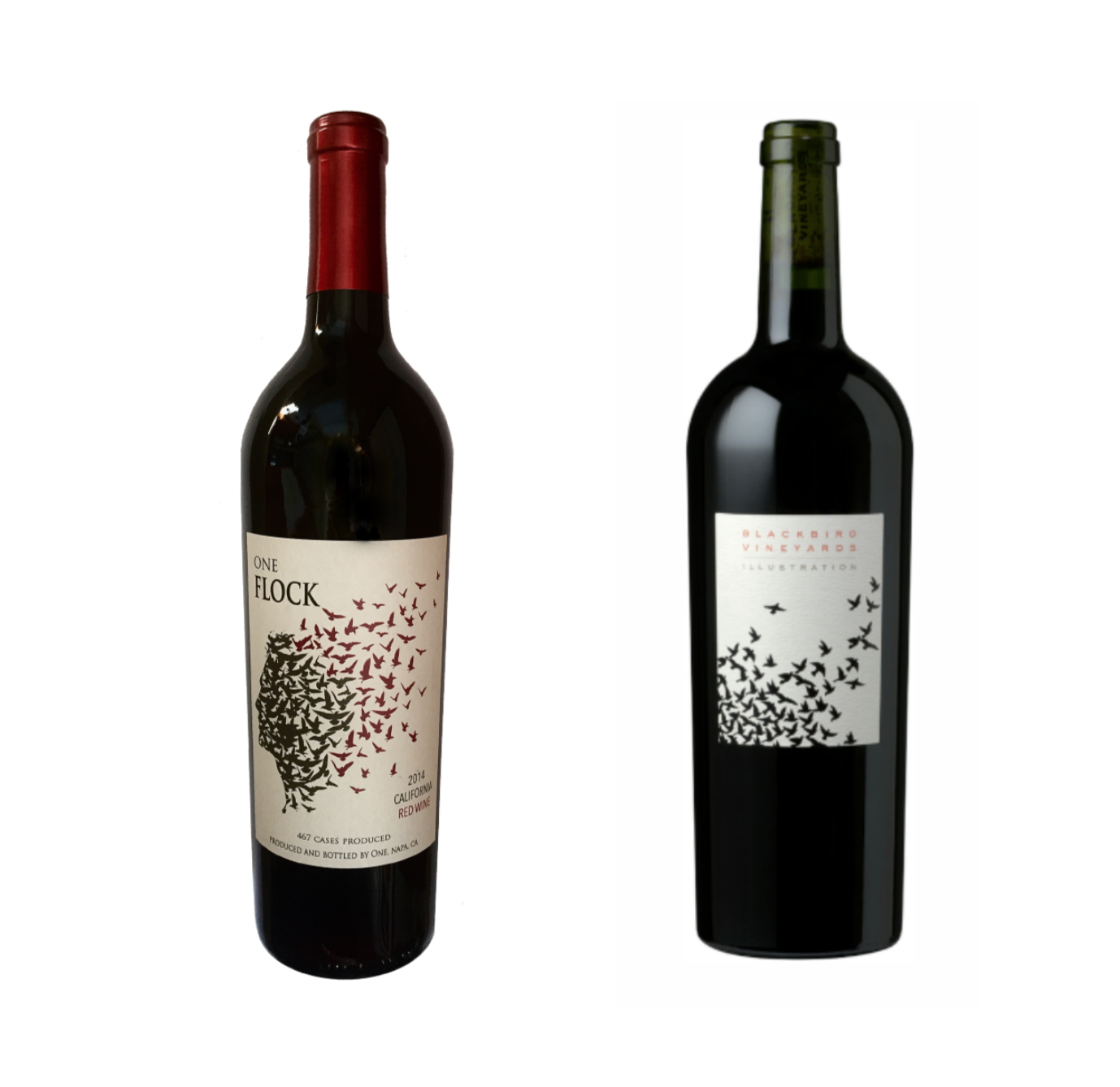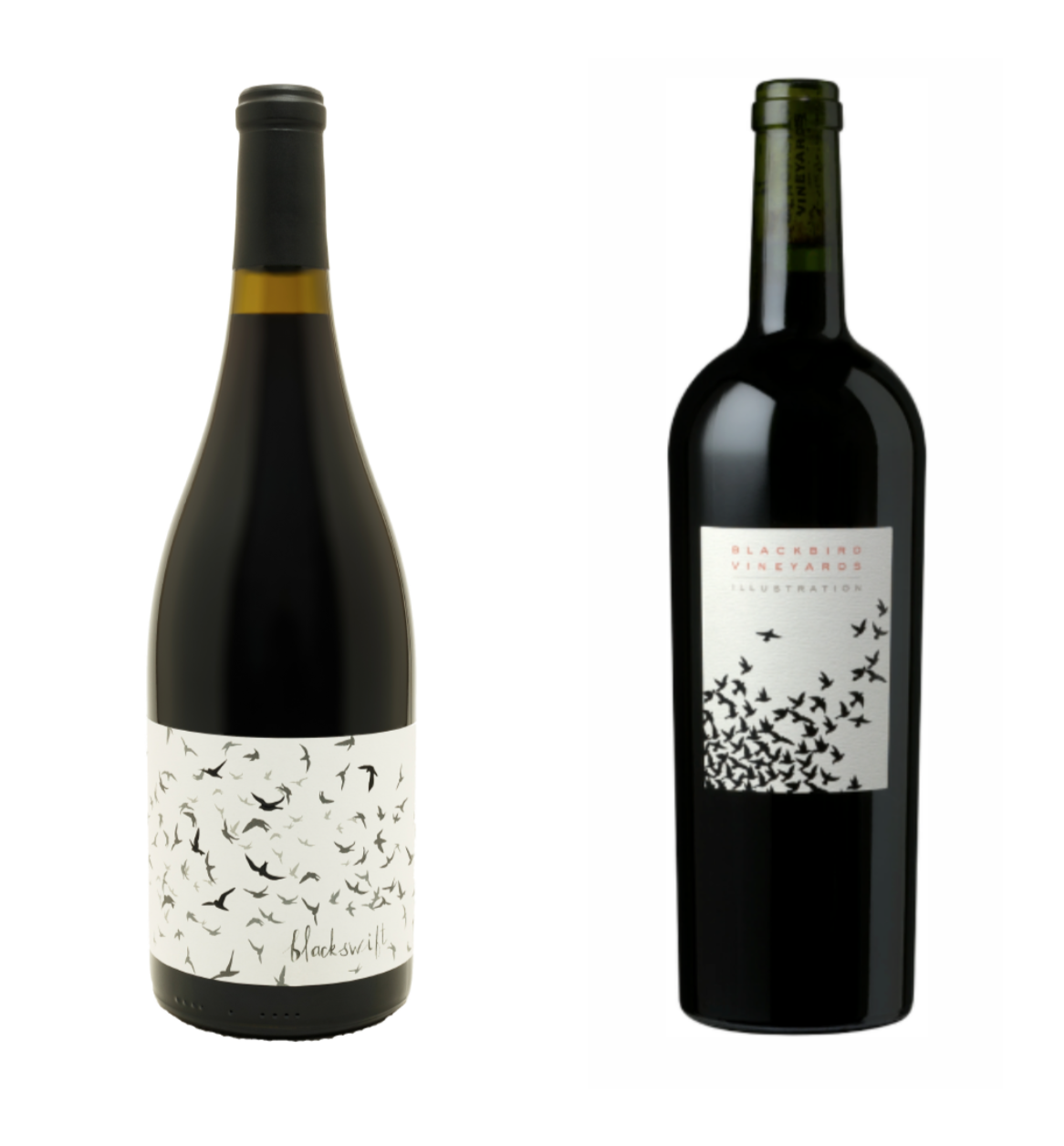 Photos of Blackbird Vineyards bottle next to Blackswift Cellars and One Flock bottles.
Photos included in lawsuits filed in US District Court.
Blackbird Vineyards in April 2016 asked Blackswift Cellars to stop using the name "Blackswift" for its wines, according to a lawsuit filed May 9 against Blackswift Cellars and affiliated businesses. The parties corresponded for several months, according to the complaint. The defendants "indicated that they should change the its wine label in a manner that would avoid confusion, however, after some time it became clear Defendants had no intention to do so," according to the lawsuit.
Wine Bridge Imports Inc. of Davis, which, according to the court filing, markets and distributes Blackswift Cellars, is also named as a defendant in the lawsuit.
In September 2017, Blackbird Vineyards unsuccessfully requested that One Flock stop using the "One Flock" name, according to the complaint. A new label was issued in February. However it "continues to use confusingly similar bird flock imagery and FLOCK wording," Blackbird Vineyards alleges.
Blackbird Vineyards seeks a court order to stop the two wine labels from using the names "Blackswift" and "One Flock" or any marks that are likely to cause confusion with Blackbird's trademarks, according to the lawsuits. All labels, advertising and promotional materials, caps, packaging and other items that show the marks in dispute should be delivered and destroyed, according to the complaints. Both lawsuits seek unspecified damages, according to the court filings.
Blackbird Vineyards is a brand of Bespoke Collection which has offices in Napa. Bespoke Collection operates a tasting room downtown Napa.