Treasury Wine Estates Expands Use of Augmented Reality on Their Wine Labels
Michael S. Lasky
April 03, 2018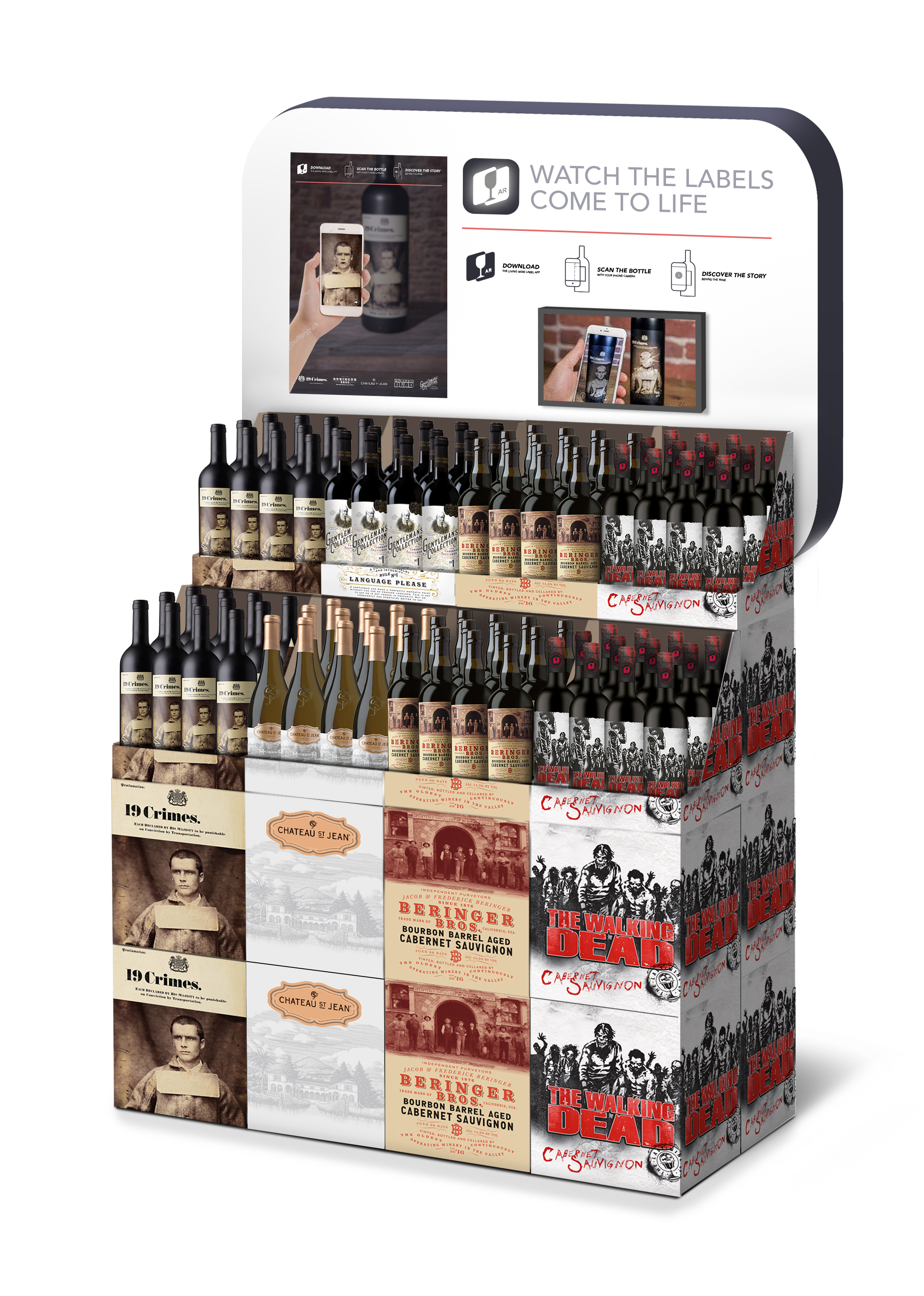 It started as a one-time disruptive marketing campaign for 19 Crimes, a new Australian brand. To target millennials among other consumers Treasury Wine Estates created a smartphone augmented reality app that when placed in front of any of the 19 Crimes bottles, the label would come "alive" with background stories of convicts pictured on labels.

But the overwhelming positive response from consumers and retailers alike proved to Treasury that not only could they get away with 19 Crimes but they realized that virtual reality had its place on the labels of many of its brands. And the Living Labels program was born.

As Andrew Floor, TWE's VP of Brand and Digital Marketing explains, "The Living Labels concept was the ultimate answer to the question 'How do we start to tell our brand's story in a way that's really easy for them?' And ideally, at the point of purchase, because that's where 80% of the purchases decisions are made."

While 19 Crimes was the first brand to start really tackling that point, it wasn't about traditional approaches with neckers or shelf-talkers or paper point of sale. "This is a brand that had vision to be the most disruptive brand in the category, so they needed to be something different. Augmented Reality (AR) was the perfect vehicle for us to utilize. We realized very quickly that this is so much more than just a promotional platform.

"This is an opportunity for us to do two things. One, play a role as a guide with our shopper. How can we help them make informed decisions at the point of sale. The second one was about being a guide to our retailers. How can we help them deliver the best possible shopping experience for their shoppers--ideally focusing them on high margin, high products. So we're channeling consumers towards brands that retailers are looking for, as well," says Floor.

Wineries more than ever are trying to engage consumers with wine labels that stand out on crowded retail shelves and also try to communicate what's in the bottle. Clearly TWE pioneered a breakout with its AR approach with a phenomenal consumer acceptance. What's more the company can track that success by both the number of app downloads and the number of times the app connects to the servers hosting Treasury's label animated playbacks.

To date the Living Labels app has been downloaded by more than 1.2 million users. Although the successful 19 Crimes brand app has been around the longest, the playbacks of Treasury's newest brand, The Walking Dead, have been the most popular and not surprisingly catapulted bottle sales so far beyond original projections that the company has had to put continued sales on a quota system as demand overreached inventory.

How TWE Lets Consumers Know These Labels Are App-itizing

As the Living Labels have expanded from 19 Crimes and The Living Dead to TWE's traditional brands like Beringer and Chateau St. Jean, the mission was finding ideal ways to communicate the information and entertainment awaiting consumers by adding an app on their smartphones.

"We're also spending a lot of time in the digital and social space to communicate to our fans of Chateau St. Jean, or of the Walking Dead or 19 Crimes, that we do have this app available and that this is a great way to interact with our brands," offers Ming Alterman, TWE Director of Digital Performance and Partnerships.

"First and foremost we have some really cool store displays which have video of how to download, how to use, and how the labels come to life. Then we added icons on the back of the label and on the capsules to direct consumers to download the app," Alterman adds.

Alterman says the Living Labels app is available to download at the Google Play store and Apple's App Store. Right now he says downloads between the two platforms weigh in at about 65% Apple to 35% Android.

According to TWE's digital champion, Andrew Floor, "The onus on us is to make sure that Living Wine Labels doesn't become a one-off gimmick. That involves refreshing the app's programming periodically. The label becomes a portal, a gateway to building a community and we can start having a dialogue, we can start involving people in the brands. We can start providing a raft of different experiences. Some of them are going to be more informational and educational, some will be more entertaining. Depending upon what that particular audience is looking for and a reason to keep them coming back."

Obviously a commitment to maintaining app requires a company-wide team as well as third party vendors. Treasury works with its creative agency, JWT as well as an AR specialist agency to create the app experiences and launch them. "

For Treasury this starts with the brand team. "The brand team understand who the consumer is, they know their brand, they know the stories they want to tell. They write the brief, it goes to JWT, they come up with the various scripts. When it gets approved it is moved over to a developer to deliver the actual AR animated story," explains Floor. These are submitted to Apple and Google where they are vetted and loaded on each of their respective platforms (iOS and Android). TWE also has its own cloud server with the actual content so Apple and Google master the handshake.

"Living Labels has catapulted Treasury to the forefront of the category in terms of digital and tech based innovation. That's not just a pure commercial play for us. We take that role and responsibility very seriously. We want to stay at the forefront and we want to work with consumers. We want to work with our retailers to sort out how can tech come into the wine category and make the shopping experience as seamless and as frictionless as possible. The app and the associated labels are the way for us to do that," concludes Floor.