Report from Unified: Headwinds and Tailwinds
"It's really not about being small anymore. It's really about the fast beating the slow."
The US wine industry remains strong as wine consumption continues to grow. At the same time, the industry faces challenges, including consolidation of retail chain stores and distributorships.

These were among the issues speakers addressed Wednesday during a discussion on the state of the industry at Unified Wine & Grape Symposium in Sacramento.

The industry appears healthy. Wine volume shipments grew by 1.3 percent in 2017 while the dollar value growth increased by 2.9 percent, according to BW166 data.

"I think that the state of the industry is great," said Mike Veseth, Professor, International Political Economy Program at the University of Puget Sound.

Yet changes loom.

The industry is experiencing continued consolidation across its three tiers.

The top 10 wine companies had nearly 79 percent of all industry sales. In addition, the consolidation of grocery store chains is expected to accelerate, according to Mario Zepponi, principal at Zepponi and Co. The pending merger of Republic National Distributing Co. with Breakthru Beverage Group, coupled with the merger of Southern and Glazers, means two companies represent more than 50 percent of the wine market, he said.

Consolidation "creates a narrower passage way to the market place if you're going to be selling through a wholesale channel," said Mario Zepponi, principal at Zepponi and Co.

Wineries have to adjust. "It's really not being small anymore. It's really about the fast beating the slow," said Danny Brager, senior vice president at Nielsen's Beverage Alcohol Practice.

One way independent wineries compete is by selling their wines through direct-to-consumer channels.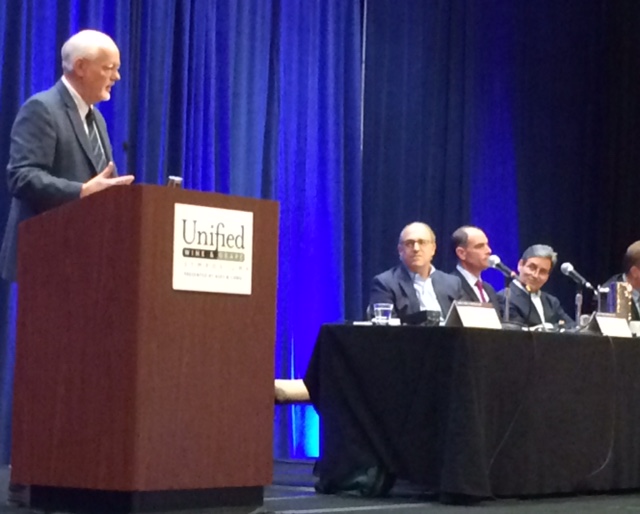 These wineries should not try to "roll out a national footprint," Mario Zepponi said. Instead, they should focus on one region and craft a strategy that was followed by Bread & Butter.

The brand decided not to go national; its strategy entailed focusing on the northeastern region of the United States. In the end, the northeastern region represented two-thirds of Bread & Butter's total case depletions, according to Zepponi.

Nielsen data indicate the number of wine-selling locations grew by 120,000 over the past 10 years, giving greater access to customers. However, the overall number of retail stores is down in the United States while alcoholic beverages' online sales only total 8 percent of all internet sales.

All indications are that premiumization of the wine industry continues, a trend reflected in mergers and acquisitions.

In the mid-2000s, Constellation Brands purchased brands that sold $7 to $9 a bottle, according to Zepponi. The company's more recent acquisitions include labels such as The Prisoner Wine Co. and Meiomi that sell $20+ bottles.

E&J Gallo has invested in premiumization as well. Its acquisitions over the past 18 months, beginning in December 2015, have included The Ranch on the edge of St. Helena; Orin Swift Cellars; and Stagecoach Vineyard, Napa's largest contiguous vineyard with 600 acres, according to Zepponi.

Consumers, who seek to shift to wine as they age, also are changing, the speakers said. Young customers do not drink as much as older wine drinkers, according to Nielsen. Millenials also are less well off than their parents.

Consumers are looking for product transparency, emotional connection with the brands, convenience, simplicity and other qualities, according to Nielsen.

Production costs continue to rise but wineries find it difficult to raise bottle prices, squeezing profit margins, according to Turrentine Brokerage.

Costs are not expected to decrease.

Meanwhile the price of a Napa's prime vineyards has escalated in some cases, reaching $500,000 an acre while a Sonoma vineyard may cost upwards of $160,000 an acre, Zepponi said.