Oregon Winemaker Joe Dobbes Starts Mobile Bottling Company With Winemakers in Mind
Dundee Mobile Bottlers Uses State of the Art Equipment to Bottle Still and Sparkling Wine on Same Line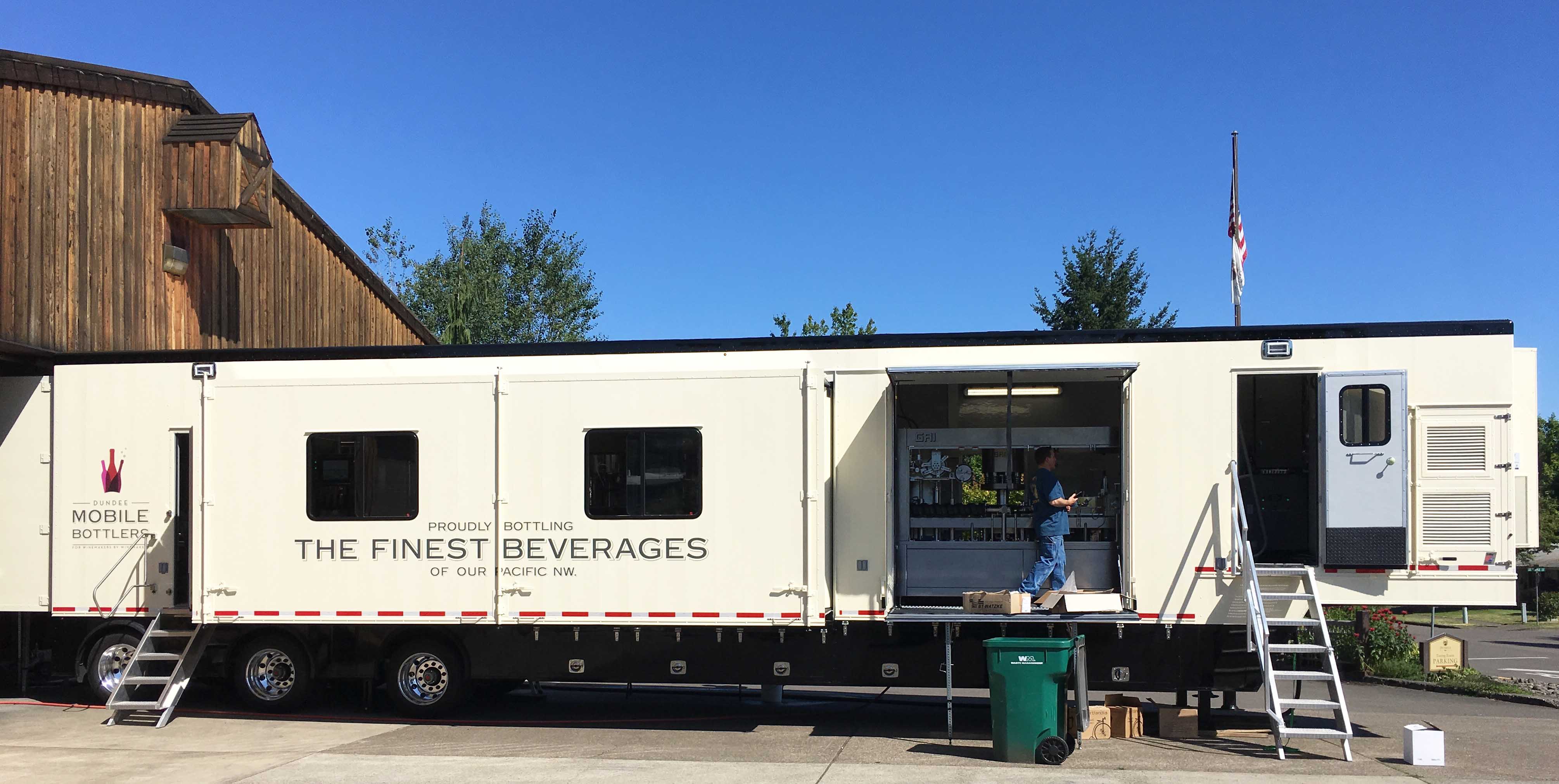 What if you could enlist a mobile bottler who delivers on the promise to reduce bottle shock duration, allow products to get to market sooner, improve product age ability, reduce labor costs, and charge no more than other mobile bottlers?

Dundee Mobile Bottlers, (www.dundeemobilebottlers.com), recently started by veteran winemaker, Joe Dobbes, is open for business.
Dobbes still makes wine for Dobbes Family Estate and Wine by Joe, but as he moves away from his 32 years of that part of the business, he has gone headlong into a seperate business - mobile bottling using state-of-the-art equipment manufactured by GAI, the renown Italian winery equipment company. The new operation primarily serving wineries within an hour's radius of Salem, Oregon.
You might wonder why a winemaker who enjoys his craft would want to switch his main vocation to, of all things, bottling. As Dobbes explains it, "As a wine maker growing up in the industry working for others, I ran bottling lines. And I saw an opportunity to make money, I saw an opportunity to better serve my own interests as a winery, as a wine maker. I get first dibs on the line instead of scheduling when the line was available as has been the case as more and more wineries want the service. The demand for mobile bottling has skyrocketed and I also knew the technology had changed a lot over the years. I took a look at what my company was spending on mobile bottling companies. I looked at the cutting edge technology that was out there and I thought to myself, "Gosh, maybe my company, I should invest in a mobile bottling line and share it with other wineries."
Up until recently GAI only produced mobile bottling equipment with mechanically operated filling valves which only worked with filling still wine. In the last year GAI introduced electro-pneumatic filling valves engineered to decrease the dissolved oxygen (DO2) accumulated during bottling.
"What's separates electro-pneumatic filling valves from the mechanical filling valves," notes Dobbes, and what excites him as a winemaker, "is DO2 measurements drop from parts per million to parts per billing. As a winemaker I know that wines with higher amounts of DO2 at bottling experience an increased risk of bottle shock, diminished freshness, and shorter shelf life"
Dobbes says he started Dundee Mobile Bottling because he personally wanted a mobile bottler run from a winemaker's perspective and there weren't any. "In fact, when my bank asked me why other mobile bottlers did not offer electro-pneumatic bottling equipment, I replied 'because they are not winemakers – and the equipment is expensive.'"
Dobbes' counter pressure electro-pneumatic machine is capable of bottling everything, sparkling and still water, cambucha, cider, spirits, in addition to both still and sparkling wine.. He notes the reason we have both pre- and post-labelers is that for the beer industry particularly it is preferable to label prior to getting it sweaty and you have adhesion problems, you can label in advance.
All the equipment is housed on a 53-foot trailer which is followed by a 28-foot chase trailer. For corks the system runs at 4,200 bottles per hour maximum. For screw caps it's about 4000 per hour. The trailer is manned by two people with the rest of the crew supplied by the clients.
"The machine has crown caps, screw cap and cork applicators on it with 20 spout fillers, and a 16 spout pre-rinser. It's all built in, so this machine was custom built for our needs and purposes. Because it's electro-pneumatic and not mechanical it is putting wine in the bottle at industry lowest dissolved oxygen content, bar none," Dobbes said.
A 16 spout pre-rinser, air blower, sparger blows nitrogen into the bottle, getting rid of any dust or any debris. "Then we go to the filer and here's where the difference is," says Dobbes. "We have the option to pull one or two vacuums on the bottle that's already been sparged once with nitrogen. By the way, we have our own onboard nitrogen generator."
"What truly makes the electro-pneumatic bottling equipment we have that's different from other mobile bottlers serving the wine industry is we can also handle sparkling wines," Dobbes said. "This is the same type of machinery that breweries and cider houses use. Obviously, if you're going to put bubbles in the bottle you have to have a counter pressure machine, you can't do it with a mechanical machine that is not under pressure. We can adjust the amount of pressure in the head space, in the bowl of the bottle. We can carbonate in line. We can take Methode Champenoise, we don't disgorge and all that, but if somebody wants to disgorge then we can put the bottles on the line and fill it, top it off and put in a Champagne cork and a wire hood and a foil."
Wineries rarely want to bottle in November to mid-January – that's their break time, Dobbes said. "But we don't want down time because the wineries aren't bottling so with a few parts to change we can do cambucha, sparkling water, cider, beer, you name it.
"I'm charging the same price that everybody else is, but I'm supplying my customers with generated nitrogen. There a lot of soft costs that are realized. With our 20 filler spouts versus 16 or 18, we're going 10 or 20 percent faster, so that's saved bottling days," Dobbes said. "Less set up, less clean up so that's less wear and tear on the staff and plugging up the cellar. More done in less time. On top of it we can apply a printed case label with a UPC code, numerically numbering the cases, date and time stamp. Cost is about $2.20 a case."