Macrostie Winery and Vineyards Named Best Winery and Best Tasting Room by San Francisco Magazine's Best of Wine Country Awards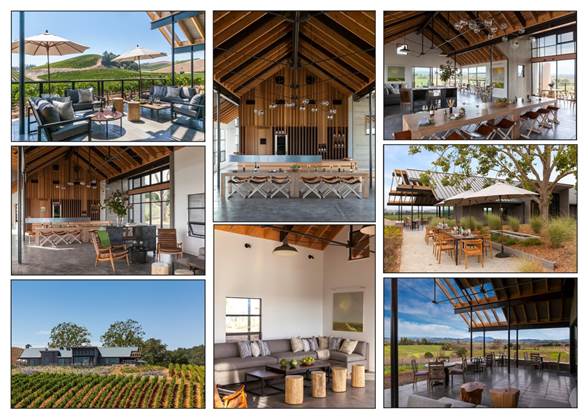 Sonoma County, California – November 14, 2017 – Sweeping both of the categories in which it was nominated, MacRostie Winery and Vineyards has been honored by San Francisco magazine as the "Best Overall Winery" and the "Best Tasting Room in Sonoma or Napa" at the 2017 Best of Wine Country Awards. Due to an incredibly close number of votes from the 5,000-plus entries, MacRostie shared the Best Overall Winery award with Schramsberg Vineyards, and was the sole winner of the Best Tasting Room accolade. The Best Overall Winery award was voted on by the public, with the nominees and winners in the other categories selected by a steering committee of wine industry luminaries. As the Best Overall Winery and Best Tasting Room winner, MacRostie will be featured in the October issue of San Francisco magazine.
"This is an incredible honor, and a wonderful validation of everything we have been working so hard to achieve in recent years," says legendary vintner Steve MacRostie, who established his namesake winery in 1987. "It is also a testament to the amazing support we have received since we opened our beautiful MacRostie Estate House in early 2015. We are incredibly grateful that so many people have embraced our home as their home-away-from-home in wine country. Their support has helped to make the MacRostie Estate House a special place."
Located at 4605 Westside Road, in the Russian River Valley, the MacRostie Estate House was designed by the internationally acclaimed architecture firm of Gould Evans, and features multiple indoor venues for seated wine tastings, and three expansive patio terraces with beautiful valley and vineyard views. Since opening in early 2015, the Estate House has widely been recognized for setting a new standard for wine country hospitality, with the Daily Meal hailing the Estate House as "the essence of Sonoma County," WineCountry.com writing that the "architecture at MacRostie will lead you to believe you've been transported to another country, with a centerpiece patio that provides breathtaking views of the valley," and the San Francisco Chronicle writing, "Westside Road winds through some of the most picturesque vineyards in Sonoma, past hillsides that look like green corduroy, ribbed with grapevines producing some of the finest Pinot Noir and Chardonnay in California. There's one driveway along this hallowed back road that demands that you put on the brakes."
The MacRostie Estate House is open for by-appointment tasting seven days a week.
MacRostie Winery and Vineyards
Founded in 1987 by Sonoma County winemaking pioneer and Chardonnay and Pinot Noir specialist Steve MacRostie, MacRostie Winery and Vineyards has established itself as one of the Sonoma Coast's defining wineries, and a leader in a bright, balanced and age-worthy style of Chardonnay and Pinot Noir. Using grapes farmed by legendary winegrowing families, including the Duttons, Sangiacomos and Martinellis, and from MacRostie's own Wildcat Mountain and Thale's vineyards, MacRostie has assembled one of the Sonoma Coast's most acclaimed and diverse vineyard programs. For more information, please visit www.macrostiewinery.com.
About San Francisco Magazine's Best of Wine Country Awards
Best of Wine Country recognizes the wine country community for its excellence in all things that make wine country so great — the creative, innovative, philanthropic, eco-friendly and unique components of wineries and hospitality industries we know and love.