Northwest Michigan's Black Star Farms Becomes the First Midwest Winery to Implement a Flash Détente System
It's the twelfth system in the U.S. since its 2009 California introduction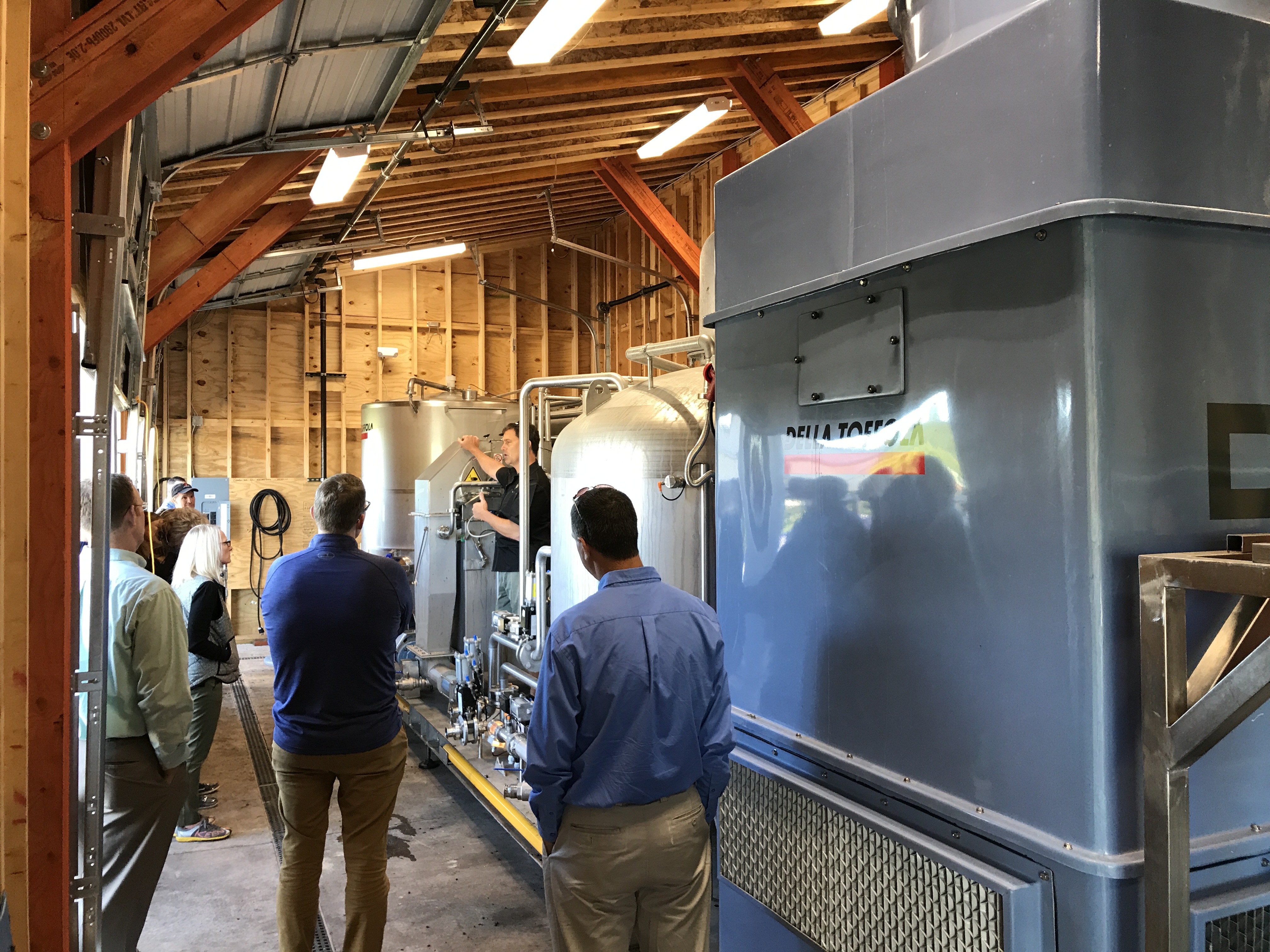 Northwest Michigan's Black Star Farms has become the first Midwest winery to implement a Flash Détente system, the 12th in the US since its 2009 California introduction.
"Della Toffola's version caters to smaller producers in being scaled down to a workable size," said BSF's head winemaker Lee Lutes. "Once you get it loaded it processes at its billed five tons per hour."
Lutes commented that "the technology is built for Cabernet franc—what we've pulled off this vintage is now gorgeous as opposed to adequate as it's now considerably less vegetal and herbaceous. We don't normally deal with jammy characteristics here, but we're finding some of that aspect in our flashed wines providing an extra level of depth in the final blends. We'll even make beautiful Pinot noir from this, a factor helped by the three weeks of warm & sunny autumn weather we had—a far cry from what our area normally enjoys." He said treating hybrids in this manner "mitigates a lot of slightly American varietal-esque, vegetal and earthy aromas creating wines that are more concentrated also in their typicity.

"We've batched Chardonnay, Riesling and Pinot gris juices as blending components into more naturally produced white wines." Additionally Lutes asserts that fruit harvested during the latter, wetter part of October benefited in having removed rain that'd adhered to grape bunches."
Rick Jones, a consultant to Della Toffola, shepherded Black Star Farms through its acquisition. Viewing with Lutes its applications at a Virginia winery, Jones thinks the long-term impact of it upon eastern North American viticulture will help to minimize mold pressures aggravated by a relatively wet, regularly cool growing season. "With lower maturity often comes less phenolic ripeness and the destructive enzymes that may result from the presence of molds. Hybrids and Bordelais varieties such as Cabernet Franc treated with flash détente can leave fruitier, better structured wines. Pyrazine and foxy characters can be diminished using it, something that makes sense for other eastern areas such as Ohio and Pennsylvania." A Flint native, Jones admits to having a vested interest in its success.
The Michigan Grape and Wine Industry Council wrote a letter of support in Lutes' application for a Value Added and Regional Food System Grant Program to Michigan's agriculture department towards its purchase, approved and administered at $210,000. "It was thought it'd be a big game changer, especially for our reds," said its Executive Director Karel Bush. "I was so pleased to be there when Lee ran St. Julian's Chancellor through it. The difference in the color was striking," confirming Jones assertions that, "the steam exuded when the flash water is created removes undesirable traits from underripe red grapes such as green pepper notes often coming from Cabernet franc." With the premier use of Della Toffola's in Michigan's 2017 vintage Lutes has processed over 100 tons of fruit from his and other Michigan wineries including Chancellor, Chambourcin, Cabernet franc from market leader St. Julian. Its winemaker, Nancie Oxley, is considering submitting a comparable proposal for the southwest. In her enthusiasm Bush exclaimed that, "we're looking forward to eventually popping corks on these wines!"
Chemical engineer Chris Berglund of Michigan State University will join Lutes and Jones in conducting a presentation on initial results establishing which varieties are best suited to utilize the system at the Michigan Grape & Wine Conference February 28-March 1, 2018.