Many vineyards off limits in Napa and Sonoma as firefighters mop up
Sonoma County officials plan town hall meeting for the agricultural community, date to be determined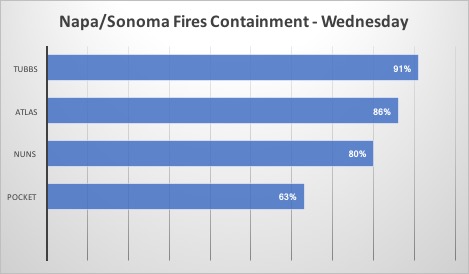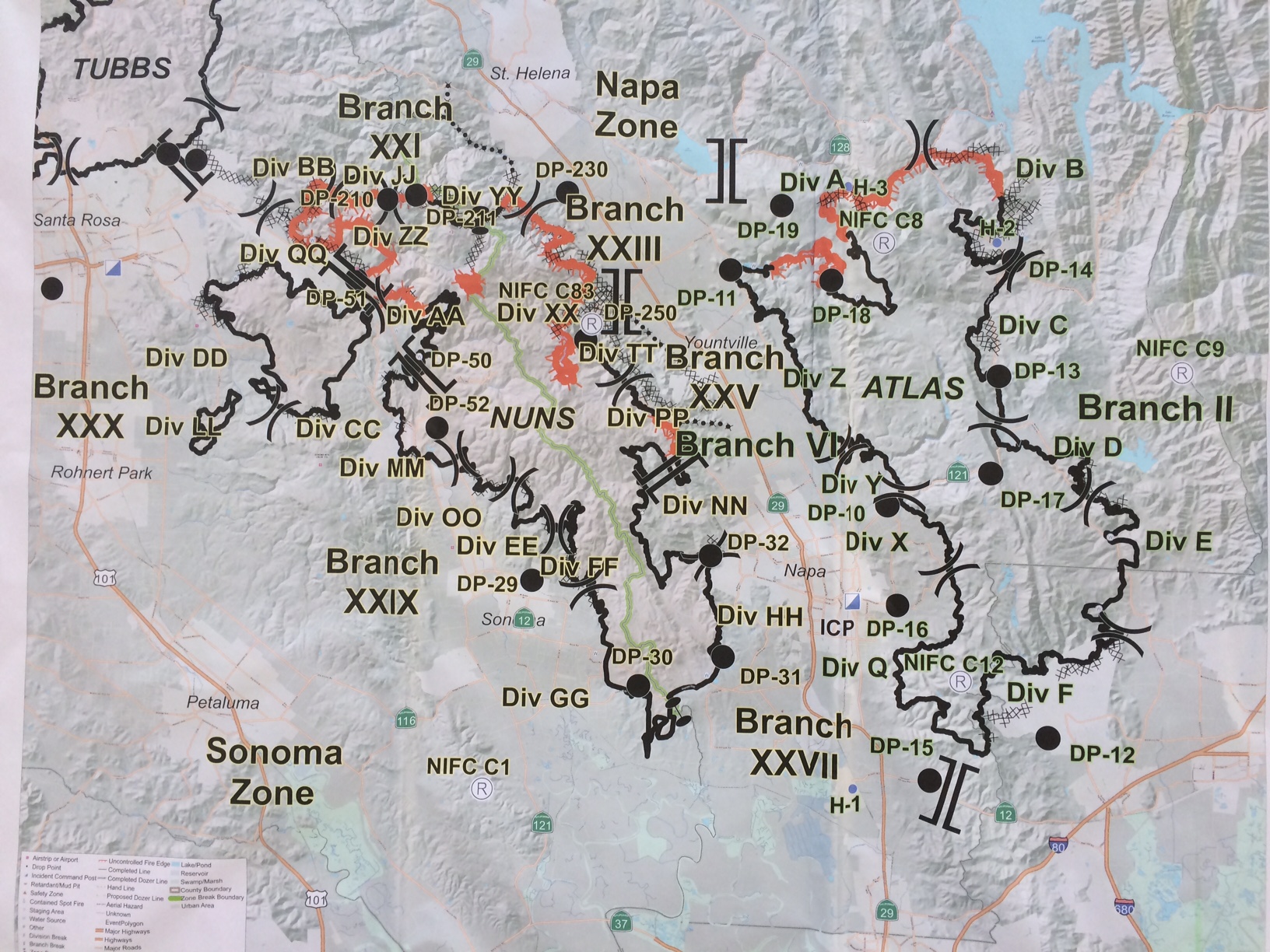 Firefighters on Tuesday continued to make progress to contain the fires that have burned thousands of acres in Napa and Sonoma counties, allowing more residents to go home.

Still, firefighters on Tuesday continued to fight fires in rugged terrain in both counties. Fire burns operations north of Oakville Tuesday sent plumes of smoke into the air.

In the meantime, dozens of vineyards, orchards and cattle ranches remain off limit in both counties as firefighters mop up burned areas and utility crews restore power.

On Monday, Sonoma County Agricultural Commissioner Tony Linegar started issuing permits to growers and ranchers to gain access to off-limit properties where fires are not actively burning. His staff escorts the farmers and ranchers.

The program is similar to the one Napa County Agricultural Commissioner Greg Clark implemented over the weekend.

As of Tuesday, Linegar's office had received 200 requests. About 50 groups have been escorted to off-limit properties for up to 12 hours.

Requests continue to arrive. "They're coming as we speak," Linegar said Tuesday afternoon.

"We'll be working through the night tonight," said Linegar, who leads of staff of 37 people. "We had staff that worked all night last night escorting people in and out to pick," Linegar said. "It's become a 24-hour operation."

"We've had people going to feed cattle. We've had people going to retrieve equipment – tractors, bins," Linegar also said. "We've had quite a few wineries going to ferment their fermentation," he added.

Most the requests are for access to wineries and vineyards in the Sonoma Valley and near Geyserville.

Linegar works in coordination with Cal Fire and other agencies. As Sonoma County authorities lift more evacuation orders and more areas become freely accessible, the official requests to access agricultural lands become moot. "It's a very fluid situation," said Linegar.

In Napa County, escorted visits to Soda Canyon Road, one of the hardest hit areas in the Atlas fire, were halted Tuesday to allow infrastructure repairs to proceed.

Linegar said he had been trying to facilitate access to the properties after the fires began. "It was difficult because there are a lot of agencies involved, a lot of layers to work through," he said. So, he was thrilled to learn Clark had the procedures in place.

So Linegar late last week called Napa County Agricultural Commissioner in Napa and asked him to send him the form he was using. The form and procedures were then set in place in Sonoma County with the green light of the California Highway Patrol and Cal Fire.

Linegar is busy on other fronts. His office is also preparing an electronic survey to determine this year's crop loss in Sonoma County.

The survey will determine the county's eligibility as a U.S. Department of Agriculture's disaster area. The USDA designation, which can be given to contiguous counties in the same disaster, gives access to emergency loans and other relief programs.

To be eligible, the county has to sustain 30 percent crop loss. "Since we didn't really have 30 percent left on the vine," Linegar said, "we're probably not going to reach that threshold." But other programs are available, he said.

The county is planning a town hall meeting for the agricultural community. The date has not been set.

Cal Fire Chief Ken Pimlott on Wednesday thanked the firefighters, law enforcement, and other agencies on the fire. "We rely on every one of you to get this done," he said. "We're turning corners," he added, urging everyone not to let their guards down.

The Sonoma County fires, which have killed at least 22 people and leveled entire neighborhoods in Santa Rosa, have burned about 103,300 acres.

As of 7 a.m. Wednesday, the Tubbs fire had burned more 36,400 acres in Napa and Sonoma counties and was 91 percent contained. The Pocket fire has scorched 12,430 acres and was 63 percent contained, according to Cal Fire.

The Nuns fire has burned more than 54,000 acres in Napa and Sonoma counties— about 34,400 acres in Sonoma County and another 20,000 acres in Napa County; the fire was 80 percent contained as of Wednesday morning.

The Atlas fire has burned about 51,000 acres in Napa and Solano counties and was 86 percent contained as of 7 a.m. Wednesday. The Napa County Sheriff's Office has confirmed six fire-related deaths.
The Sonoma County Agricultural Commissioner's office is at: 133 Aviation Blvd. Suite 110, Santa Rosa. Requests can be made by phone at 707-565-2371; by email at sonomaag@sonoma-county.org; or by fax at 707-565-3850. A liability waiver signature is required.

Information required include: Leave Name, company name, contact information, type of activity, access date and time, duration of time access needed, number and type of vehicles, location of the property.
The Napa County Agricultural Commissioner's office is at 1710 Soscol Ave., Suite 3, in Napa. Permits have to be picked up in person. Requests can be made by phone at: 707-253-4357 or fax at 707-253-4381 or by email at: agcomfire@countyofnapa.org.

Leave Name, company name, contact information, type of activity, access date and time, duration of time access needed, location of the property.

For information, check: http://wwwcountyofnapa.org/AgCom/