Wine Consumption Patterns Altered Due to Apps
More food delivery companies are testing wine delivery
While food delivery apps like the San Francisco-based TryCaviar have long been delivering wine on their own and in tandem with other apps, a major Texas chain has upped the ante. As of this holiday season major chain restaurant TGI Fridays is piloting an alcoholic beverage delivery program in parts of Texas.
According to the company's press release "guests who order online visit 51 percent more frequently than those who visit just in the restaurant." It continued to note that, "more than 70 percent of online orders in the last year have come from new Fridays customers."
Top restaurants for Caviar in California markets—such as the Bay Area three-location Greek multi-unit Souvla and Italian restaurant Jon & Vinny's in Los Angeles—see the increased delivery business as a positive additional revenue stream. Its one that allows very popular restaurants, where seating may be at a premium, to reach beyond their regular customers.
"App-based food ordering, both delivery and pickup, allow restaurants to grow their businesses without being limited by the square footage of their space and the number of tables they can seat, serve and turn. For diners, the appeal is convenience without sacrificing quality," said a Caviar spokesperson. She also confirmed that the app currently works with thousands of restaurants in 20 markets.
One quarter of Souvla's total revenue comes from delivery with Caviar and guests can also order wine through the app. "It's a great win for restaurants. Incremental revenue with less labor overhead," said Carmen Castaldi, president of the Healdsburg-based Rodney Strong Vineyards.
However he cautions that the new delivery trend may eventually reduce bottom-line wine sales. "Seventy percent of wine sales are reported as coming from impulse sales, i.e., they are given a list of procured wines form the restaurant that they choose from. This will not happen with take-out" and prepared meals if consumers are offered a very limited wine selection.
Home-cooked meal kits—from labels like HelloFresh, Blue Apron and Plated—are also dialing up their businesses and selling wines. Hello Fresh features a six-bottle a month wine plans that can be all red, all white or mixed. Blue Apron offers wine by the bottle and the box for purchase. "The goal of Blue Apron's direct-to-consumer wine program is to help customers get more comfortable identifying, selecting, pairing and enjoying wine in any situation," added a Blue Apron spokesperson.
These types of services, combined with apps like Caviar and UberEats, may be driving increased consumption at home where the return-on-wine investment is better spent and you don't have to risk a DUI after dinner. "If people drink wine with these meals it could even increase [off-premise] wine sales," said Christian Miller, the proprietor of Berkeley-based Full Glass Research.
A $15 off-premise wine can provide the value that a $45 one on a list might. What is more, since consumers already own the bottle, "it's a sunk cost. You are not paying for each round," added Miller.
The Trends
Some of top restaurants on Caviar—such as Souvla and Jon & Vinny's—are seeing one quarter to a third of their total revenue coming in from delivery. For Souvla's owner Charles Bililies it's a revenue stream that has skyrocketed from zero in the past three and a half years.
These food deliveries have only presented additional opportunities for wine sales, said David Kianmahd, Jon & Vinny's general manager. The restaurant also benefits from having a wine retail business attached to it to further facilitate wine add-ons requests to food orders.
However when guests order food and wine to be picked up or delivered they may not tip as much. At San Francisco's Pizzeria Delfina, "We are seeing a decreased percentage of checks with drink sales and tips," said spokesperson Greta Miersma.
She added that many customers who order delivery don't add wine to the order—despite the fact that the restaurant offers a 25 percent discount on all to-go beverages—and often don't tip the restaurant at all. As a result she feels that delivery apps may be taking away some of wine sales' direct revenue.
She also thinks that dining at home may be dumbing down her guests' wine palates. "Delivery is getting people to stick with what they know - they could be buying the same bottle of wine at the market seven nights a week, whereas at the restaurant they could try many different options and perhaps find a new favorite one!" An additional risk, she said, of consumers imbibing at home is that, "the wine they're selecting may not always compliment the food in the best ways, whereas in the restaurant we've specifically selected wines to taste delicious with our menu."
Ironically while the Bay Area has functioned as a bit of a tech incubator for these services, it has not historically been a delivery-friendly city. Ten years ago the options were very minimal for food delivery as opposed to pickup.
As these services provide convenience to consumers and added income to restaurants they are not likely to be going away anytime soon. "Residents have become accustomed to the convenience of ordering from their favorite restaurants and having it brought to them, saving the time and energy of finding parking, waiting in line etc. for a relatively small fee," explains Bililies. He added that for these reasons, the trend is "definitely more of an urban thing."
As everyday becomes more app friendly the wine-delivery side of the delivery business is only likely to grow. "I don't think delivery is going anywhere - we may see some consolidation in terms of delivery providers, and we will probably see more and more restaurants getting into the delivery game in some way shape or form," said Bililies. However it is yet to be seen if the wine market will actually benefit in the long term from these delivery services.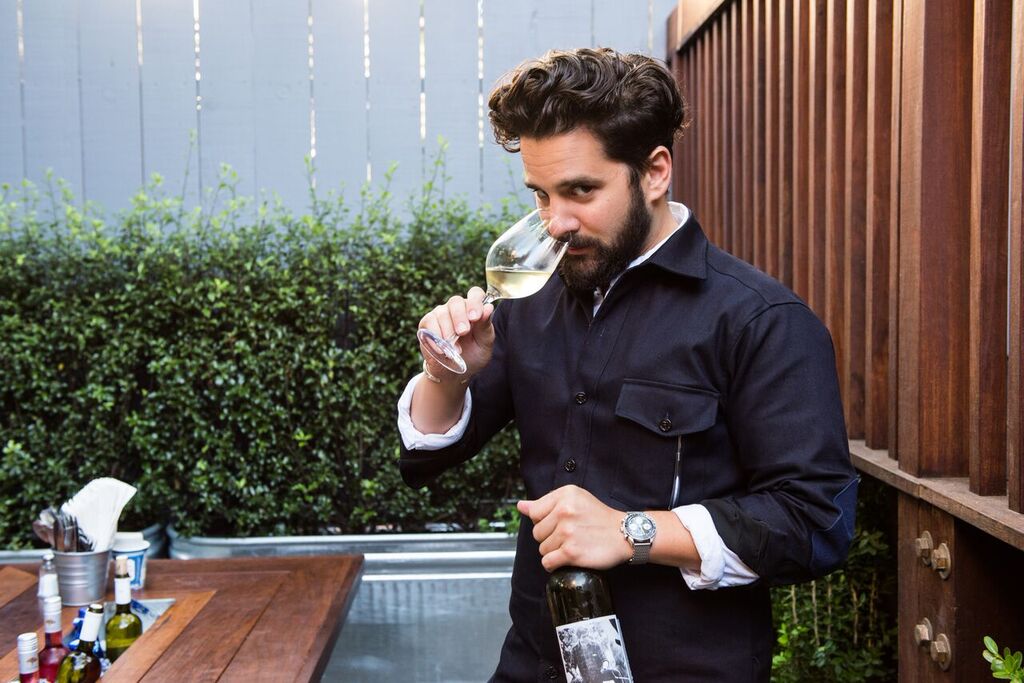 Charles Bililies, photo by Kassie Borreson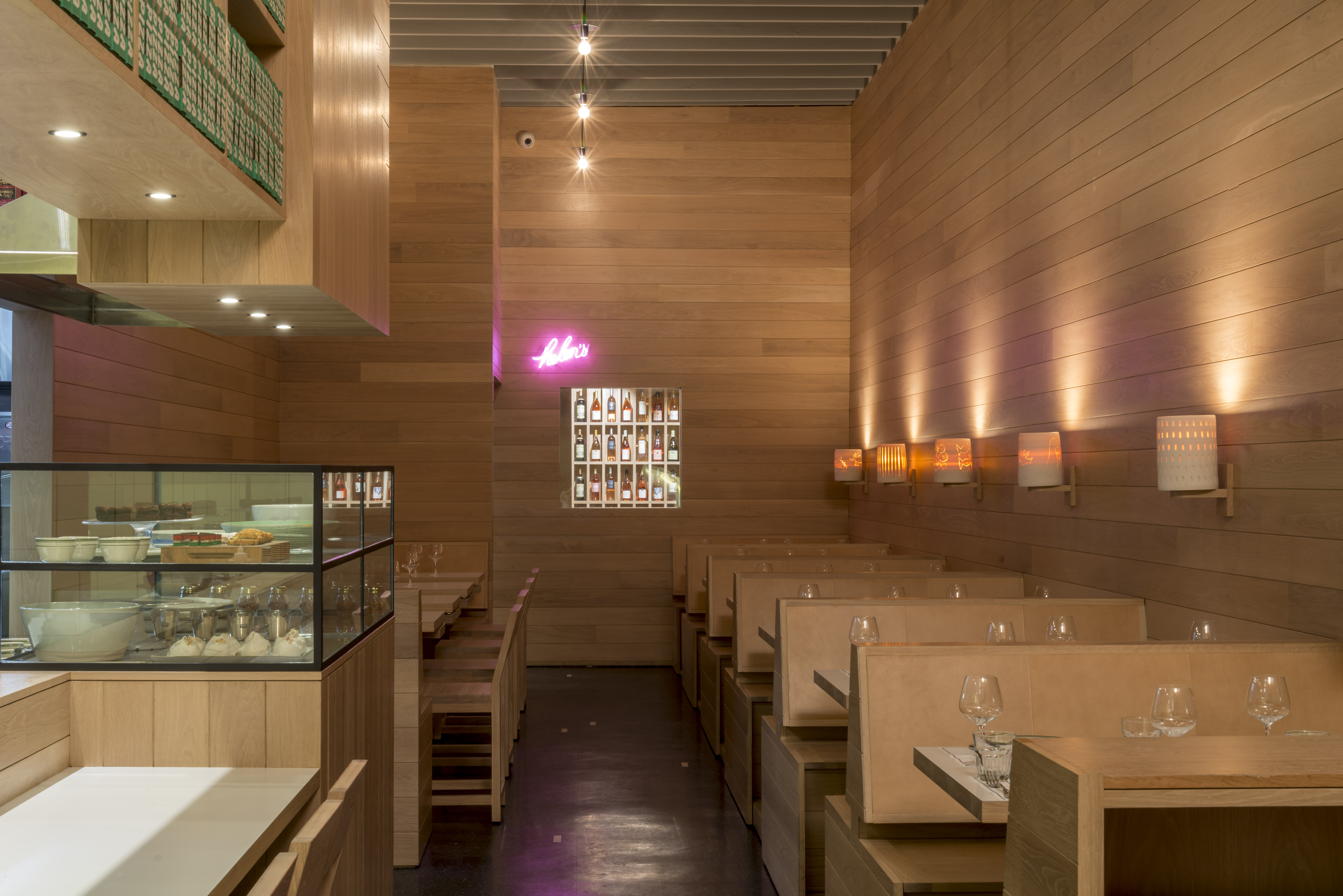 Jon & Vinny's interior, photo by Joshua White