Hoopes Vineyard has acquired Hopper Creek Vineyard and Winery in Yountville
Wine Country Consultants represents both buyer and seller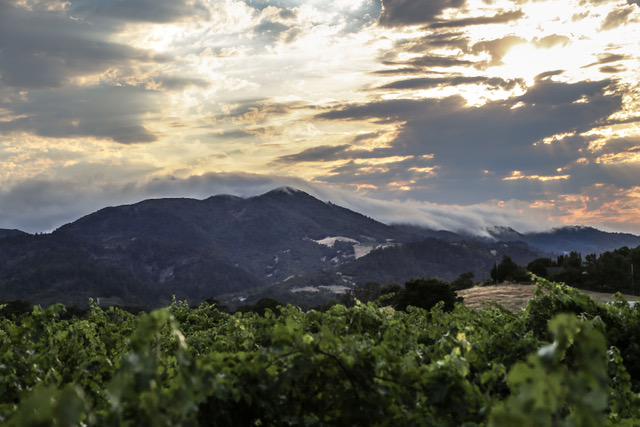 Hoopes Vineyard has acquired Hopper Creek Vineyard and Winery in Yountville, in a transaction handled by Wine Country Consultants, who represented both the buyer and the seller. "Small winery estate vineyard properties in the Napa Valley are almost impossible to find," explains Robyn Bentley, the founder of Wine Country Consultants. "We were thrilled to assist both wine families with the sale and acquisition," she added.

Hopper Creek's proprietor, Dieter Tede, acquired the eight acre property in 1996 and produced wines from the estate's Cabernet Sauvignon and Merlot vines. The name is a reference to the creek that borders the vineyard, which is located on the southern edge of Yountville. The Tede family chose the Hoopes family as the ideal business to carry on their legacy of grape growing and winemaking. "We were delighted that these two families came together so that they could each realize their goals," explains Bentley. "This property was never on the market. After being introduced, the Tede family knew the Hoopes family would respect the property's history and, clichés aside, take it to the next level," she said.

Lindsay Hoopes, Owner and General Manager of Hoopes Vineyard, had been searching for a new home for her family's winery for more than a year before finding the ideal location. "I cannot speak highly enough of Robyn and her team," Lindsay says. "From the minute I met Robyn, she was an advocate for our business, and most importantly, for me. Robyn understood the ins and outs of commercial property in this space, which is highly unusual. She understood our complex needs, how to value winery assets, and find partnerships throughout the Valley to join us with the right seller. Understanding such a unique market, in this commercial space, is a talent that few possess, and none as extensively as her team."

Hoopes Vineyard, founded by Lindsay's father Spencer in 1985, was based in their home estate vineyard in Oakville. After a career in San Francisco (which included working in the San Francisco D.A.'s office), Lindsay joined the business in 2013. Since then the portfolio of wines has expanded and over time the family realized that they needed a vineyard-winery where they could welcome customers. "The wine business has become increasingly difficult for small producers. The cost of land, limitations on hospitality and tastings, and excessive cost and process for permitting, have made it very difficult to realize high-margin sales," she explains. "Small producers, even with established brands, are being priced out of the market. To stay relevant, and adapt to the challenges associated with three-tier distribution and increasing brand consolidation in the market, we needed a home where we could control the quality of our land, production, and most importantly, entertain our guests and tell our story. The winery's bucolic setting, so close to the town of Yountville, next door to the vineyards my father planted in the infancy of our journey, is an ideal solution for us to build out the next generation of the family business," she added.

"Hoopes Vineyard's current releases have received significant critical acclaim from all major publications, and will now be available more readily to the public through the development of the former Hopper Creek property. The winery team focuses on boutique production wines that reflect a sense of place and the beautiful vineyards from which they are produced. The flagship wines are from Oakville, and the vineyards at Hopper Creek will soon become a single vineyard wine in the assortment as well," Lindsay explains.

Hoopes Vineyard's current releases are the 2014 Hoopes Napa Valley Cabernet Sauvignon, 2013 Hoopes Oakville Cabernet Sauvignon, 2013 Hoopes Dante's Block Cabernet Sauvignon, 2015 Hoopes Rose Napa Valley, 2014 Hoopes Genny's Vineyard Chardonnay Carneros and the 2016 Hoopes Coombsville Sauvignon Blanc.
After 25 years of working for corporate realtors, Robyn Bentley founded Wine Country Consultants in March 2008. Recently her firm represented both the buyer and seller in the acquisition of Kitchak Cellars by Jan Krupp of Krupp Brothers, former owner of Stagecoach Vineyards.

For the last ten years Bentley has worked from her offices in St. Helena, Portland (OR) and Walla Walla (WA). Wine Country Consultants also has affiliates in France, Italy, Argentina, South Africa and Australia. "My team and I bring a deep understanding of the historical importance every property holds," Bentley explains, "and we provide a group of professionals from the wine industry to assist each client with their own very specialized needs," she adds. Wine Country Consultants' expertise covers the complex nuances of estate vineyards, wineries, raw land and legacy properties.

Wine Country Consultants' St. Helena office is located at 1485 Main Street, Suite 301, 707/477-8420 and also has offices in Walla Walla, Portland and partners in Bordeaux. More at www.winecc.net.