A Glimpse of iGeneration Wine Preferences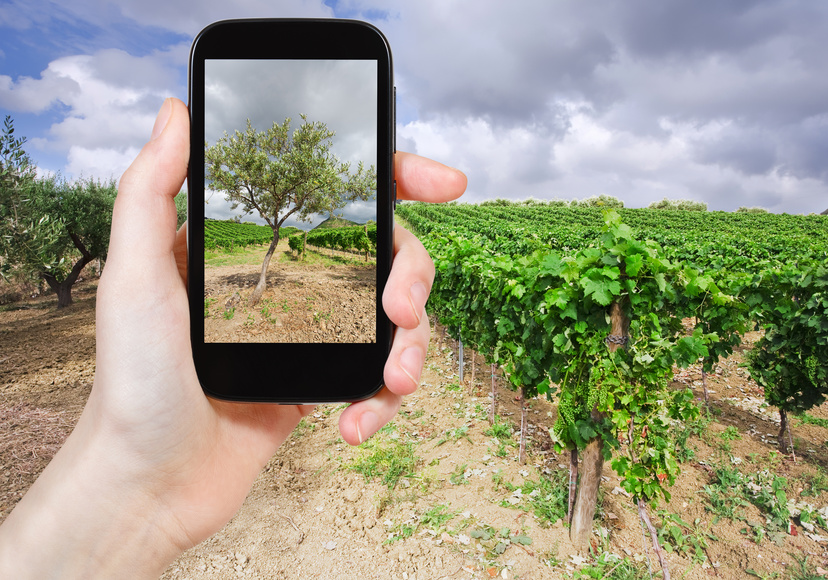 There is an old adage that wine skips a generation. This suggests that every other generation embraces wine as a beverage while the generation in-between does not. There does appear to be some truth to this as both the Millennials and Boomers welcomed wine, but Gen Xers and the Silent Generation were more enamored with cocktails. Now a new generation – called iGeneration - has just turned 21 this past January, and the question is: will they buck the trend and embrace wine, or will they be wooed away by other beverage choices?
Conducting research on wine preferences of a group of people who just turned 21 can be complicated from both a logistical and ethical standpoint. However the wine business majors in Sonoma State University's Bus 305W class – many of whom are members of the iGeneration – rose to the challenge. Following is a glimpse of what they discovered from the 38 people they surveyed, and though this is a convenience sample and therefore cannot be generalized to the total population, it does shed some light on how iGeneration relates to wine. The study also includes survey results from over 200 Millennials for comparison purposes.
Characteristics of the iGeneration
Born in the 1990s through the 2010s (there is some debate on these dates), the iGeneration is currently ages 7 to 21 and comprises 61 million Americans, or nearly 20% of the US population. Also known as Gen Z and Post-Millennials, they are described as having the following characteristics:
• Immersed in Technology – the "i" in iGeneration stands for mobile technologies such as the iPhone, iPod, ITunes and the fact they are immersed in technology all of their waking hours, including school. They were born after the Internet, receive an average of 3,146 texts per month, and are defined by their love of technology.
• Multi-taskers – due to their technology immersion and the fact that they are glued to their cell phones, they have a high ability to multi-task.
• Security Conscious & Realistic – growing up in the Great Recession and terrorist attacks have made them less secure and less optimistic than Millennials, especially about work. They are also concerned about online privacy and individual security.
• Entrepreneurial – research shows that more than half want to start their own company. Job security and making money is important to them, but at the same time they are concerned about work life balance like their Millennial cousins. They also crave autonomy, creativity and leadership opportunities.
• Multi-cultural – a large number come from nontraditional households composed of mixed ethnicities, same sex marriages or single parent. Many define themselves as mixed raced. They are globally aware and international in their thinking.
• Other – other qualities identified in studies include a focus on healthy food, an interest in helping people, and supporting causes. They are also described as responsible, determined, curious, and open-minded.
Wine Preferences of Sample
The sample of iGeneration respondents were asked to identify which types of wines they prefer to drink. The results show that white wines were the most preferred at 77% of the sample, followed by 65% red, 41% rose, 38% sparkling, 13% dessert, and 0% for fortified wines.
Figure 1: Wine Preferences of iGeneration Vs. Millennials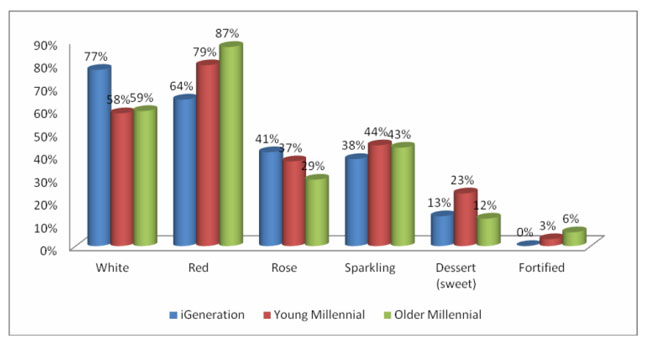 These results are statistically different for white and red wine when compared to the survey sample of younger Millennials (ages 22 – 29) who preferred red wine at 79%, and older Millennials (ages 30 – 39) who preferred red wine at 87%. Rose, sparkling, and fortified showed no significant differences. Desserts wines were significant for Young Millennials when compared with the other two cohorts.
Wine Vs. Beer & Spirits
Due to the current concern that craft beer and spirits may be negatively impacting wine market share, the survey also analyzed consumption frequency of wine, beer and spirits. The results show that the largest majority of the iGeneration sample (40%) consume wine several times per month, whereas 13% consume wine several times per week and another 13% weekly.
Figure 2: iGeneration Consumption of Wine, Beer, & Spirits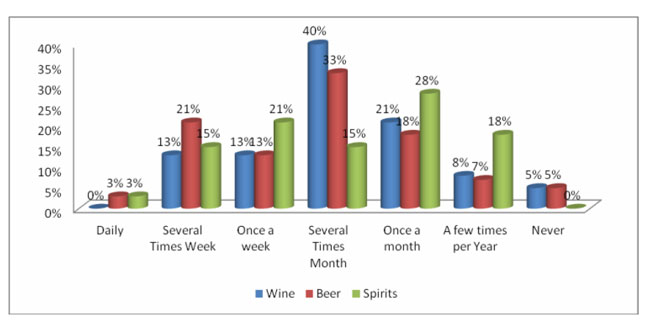 There does appear to be a slight bias towards beer consumption with 21% reporting they consume it several times per week, and 21% drinking spirits once a week. However due to the small sample size and college age of 21, this is not that alarming. When compared to the Millennial segments of the survey, there were no significant differences with beer and spirits, but there was with wine consumption. Both younger and older Millennials consume wine much more frequently than iGeneration at this point.
How iGeneration Decides to Buy Wine
The survey also asked respondents to describe what factors they used when deciding to buy wine. iGeneration uses Price (87%) first and Brand (67%) second, like most Americans when selecting wine. However, after that they deviate with 51% using Alcohol Level as the next most important indicator. This is significantly different than Millennials, and may be because iGeneration has just turned 21 and is more interested in alcohol level (we are assuming higher, but not sure). Another significant difference is they do not care about Varietal, with only 18% identifying it as important, compared with 37% of Young Millennial and 63% of Older Millennials.
Figure 3: How iGeneration Decides Which Wine to Buy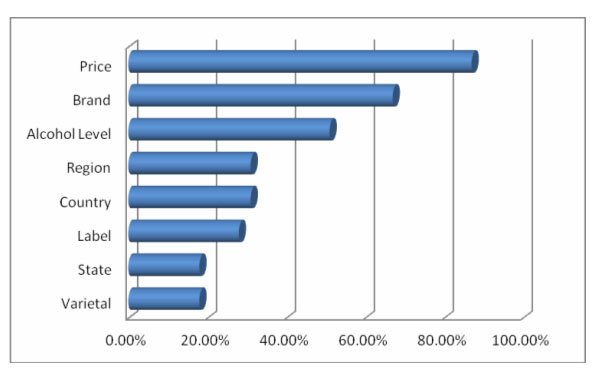 Smart Phones, Social Media & Wine Advertising
Not surprisingly 100% of the iGeneration sample reported owning a smart phone, compared to 96% of Millennials. However, only 8% currently use wine apps, with Vivino and Delectable mentioned most often. Instagram and Facebook are currently the favorite social media platforms.
Respondents were also asked "What do you think the wine industry should do to advertise/market wine more effectively?" The results were formatted into a word cloud (see Figure 4) and illustrate their strong linkage to technology, social media, Instagram and marketing.
Figure 4: iGeneration Wine Advertising Suggestions


Conclusion – Too Soon to Tell
Given the small size of this convenience sample of iGeneration people, who turned 21 between January and March of 2016, it is not possible to make generalizations about the findings. However, it does provide a glimpse into the future regarding wine preferences for this new generation. So far, the results seem positive.
About the Author and Researchers: Dr. Liz Thach, MW is the Distinguished Professor of Wine and a Professor of Management at Sonoma State University in the Wine Business Institute. The students in Bus 305W: Introduction to Wine Business are undergraduate wine business majors, and expect to graduate in May of 2017.
References
• Bulik, B. (2011). The iGeneration: There's a Market for That -- and It's a Big, Influential One, Too. Advertising Age. http://adage.com/article/news/igen-influential-peers-household-buying-decisions/230427/
• Dill, K. (2015). 7 Things Employers Should Know About The Gen Z Workforce. Forbes.com. http://www.forbes.com/sites/kathryndill/2015/11/06/7-things-employers-should-know-about-the-gen-z-workforce/#41f69e872188
• Horovitz, B. (2012). After Gen X, Millennials, what should next generation be? USA TODAY. Available at: http://usatoday30.usatoday.com/money/advertising/story/2012-05-03/naming-the-next-generation/54737518/1
• Novak, J. (2014). The Six Living Generations In America. MarketingTeacher.com. Available at: http://www.marketingteacher.com/the-six-living-generations-in-america/
• Rosen, L. (2010). Rewired: Understanding the iGeneration and the Way They Learn. London: St. Martin's Griffin.
• Rosen, L. (2010). Welcome to the iGeneration! Psychology Today. Available at: https://www.psychologytoday.com/blog/rewired-the-psychology-technology/201003/welcome-the-igeneration
• Seemiller, C. & Grace, M. (2016). Generation Z Goes to College. NY: Jossey Bass