Mixed Race and Blended Wine: How Important is Ethnicity in Wine Marketing?
Though marketers have considered ethnicity an important demographic factor for decades, recently some experts have suggested it is an outdated concept. This is because, since the year 2000, the US Census has allowed "Mixed" as a response to the race question. Millennials, especially, have adopted this viewpoint, with many identifying themselves as multi-ethnic.
On the other hand, with certain ethnic groups growing at a much faster rate than others, such as the Hispanic and Asian markets, other marketing experts caution that it is still important to pay attention to ethnic and cultural differences when analyzing consumer behavior. Figure 1 highlights the forecasted changes in the US population by ethnicity from the 2014 to 2060, according to Pew Research.
Figure 1: Forecasted Changes in US Population by Ethnicity from 2014 to 2060
Source: Colby & Ortman, US Census Bureau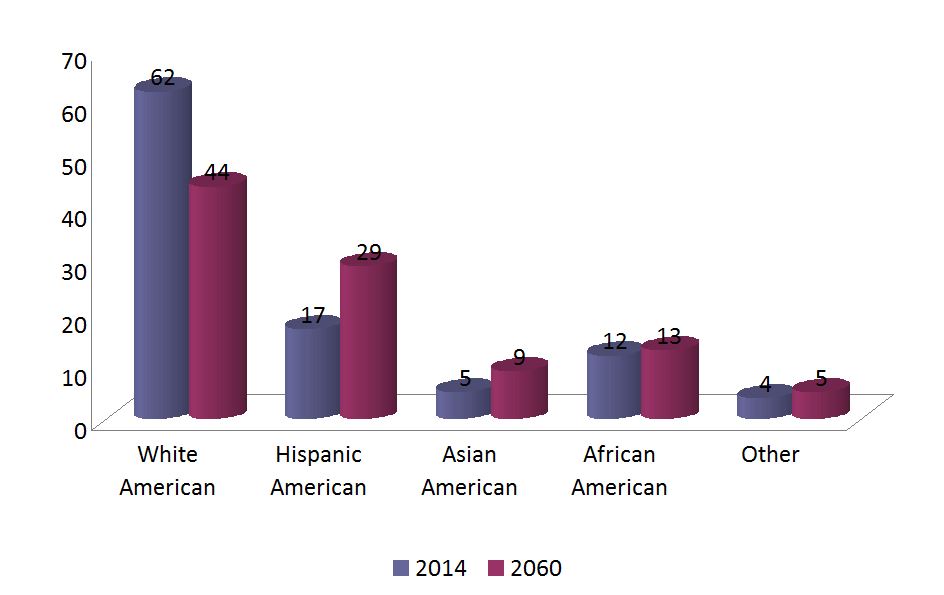 When it comes to wine, however, very little academic research has focused on this issue. Therefore, researchers at Sonoma State University Wine Business Institute launched a study to examine the impact of ethnicity on wine choice and behavior. This article highlights some of the key findings.
About the Study and Sample
An online survey was launched in 2015, resulting in 1028 respondents from all 50 US States. A quota sample was used to insure that at least 10 percent of respondents were wine drinkers from the four major ethnic groups in the US. The survey was conducted by third-party, Survey Sampling International, using household panel data.
The final sample was 65 percent White, 13 percent Hispanic, 11 percent Asian, and 11 percent African American wine drinkers. Gender was 41 percent male and 59 percent female. These numbers are very similar to recent statistics provided by Nielson Spectra (2016), reporting US wine drinkers are 70 percent White, 13 percent Hispanic, 5 percent Asian, and 11 percent African American (Black), with 43 percent male and 57 percent female. Our sample had a higher percentage of Asians because of the 10 percent sample quota.
Table 1: Definitions and Statistics on Wine Consumption by Race

Wine Preferences – Agreement on White Wines, but Not Red
Responses were analyzed to determine if there were statistically significant differences between the four ethnic groups based on wine style, varietal, and taste preferences. Interestingly, there were no differences between the four groups regarding a preference for white, rose, fortified and dessert wine, but there were with red and sparkling wines. Hispanics preferred red wines more than Whites, and African Americans preferred sparkling wine more than Whites.
When analysed by individual varietal, all groups equally liked chardonnay, pinot grigio and muscat. However there were strong differences regarding red varietals. Cabernet sauvignon, merlot, pinot noir and zinfandel showed significant differences between all four groups. For example, with cabernet sauvignon, Asians preferred it the most and African Americans the least; however with red zinfandel this trend was reversed.
With taste preferences, there were also differences. Hispanics showed the highest preference for semi-sweet wines, whereas, African Americans preferred sweet and fruity wine. They also scored highest on a dislike of dry wines, which were preferred more by Asians and Whites.
Differences in Motivation and Price, but Agreement on Decision-making
In terms of wine behaviour, the topics of motivation, decision-making, and preferred pricing were analysed. There were differences in motivation to drink wine: Whites reported they enjoyed the taste, Asians scored higher on health reasons, and African Americans scored higher on romance.
When buying wine to drink at home, the average price point for all four segments was $10 - $15 per bottle, but 44 percent of Asians and 36 percent of Hispanics spent more than this. This trend was repeated in restaurants with 37 percent of Asians spending more than the average bottle price of $25 to 35. Interestingly 24 percent of the sample only purchase wine by the glass, but when doing so 29 percent of Asians spent more than $10 for wine by the glass, followed by Hispanics at 25 percent, African Americans at 23 percent and Whites at 17 percent.
When making a decision on which wine brand to purchase, there was more agreement. All four ethnic segments reported that they first considered the price of the wine, followed by brand. After this, however, decision-making differed on some points, with varietal choice and country not as important to African Americans as other segments. Medals and vintage were more important to Asians, and Hispanics were more concerned about alcohol level.
Recommendations for Wine Marketers
The results of this study show that in our sample, US wine consumers from different ethnic backgrounds do have wine preference similarities, suggesting the concept of a "melting pot" may be coming to fruition. However the research also points to significant differences among our respondents, which coupled with previous studies on ethnic marketing, reveal several recommendations for wine marketers.
Brand and price point should be emphasized, but highlight differences in taste profile to match the needs of the different segments, especially with red and sparkling wines.
Use advertising, both in print and online, that features a diversity of consumers from all four segments.
Consider using multi-languages such as English, Spanish, and Mandarin on the label, as well as develop websites that can switch languages. This is common in other countries, but not the US currently.
If a winery is owned or operated by Hispanic, Asian, or African Americans this should be emphasized in marketing communications.
For specific regions in the US, adopt the concept of "hyper-local marketing" that focuses on specific needs of a niche market. For example, if a small winery wants to focus on the African American market in Georgia and Alabama, they should identify taste preferences and varietals preferred in that market, and use advertising that highlights diversity.
For Asian Americas, focus on high quality, prestige, and awards of wine. Research shows they also purchase more online, so online wine promotions should be considered. This segment in America also prefers drier wines, cabernet sauvignon, and often drinks wine for health reasons.
Research shows that for Hispanic Americans, family and cuisine is important, so this can be emphasized in advertising wine with alcohol levels to match food. They also prefer more red and semi-sweet wines, so red blends could be a good focus.
Research shows that African Americans respond better to advertising that includes African American musicians or artists, and are apt to use social media and mobile devices to review products. Online wine advertising that includes black artists could be considered. This segment also enjoys zinfandel, sparkling wine, and using wine for romantic occasions.
References
• Brown, A. (2015). The changing categories the U.S. has used to measure race. Pew Research Center. Available at: http://www.pewresearch.org/fact-tank/2015/06/12/the-changing-categories-the-u-s-has-used-to-measure-race/

• Carmichael, M. (2011). Where does multicultural targeting fit in a diverse world? Advertising Age. 5/30/2011, Vol. 82 Issue 22, p1-33.

• Colby, S.L. & Ortman, J. M. (2015). Projections of the Size and Composition of the U.S. Population: 2014 to 2060. US Census Bureau Reports. Available at: https://www.census.gov/content/dam/Census/library/publications/2015/demo/p25-1143.pdf

• JD Power (2011). The Death of Demographics: Why Targeting by Purchase Behavior is Most Effective in Automotive Marketing. White Paper Available at: https://www.jdpower.com/sites/default/files/2011_WhitePaper_DeathofDemographics.pdf. (April 2011).

• Krogstad, J. M (2015). 6 facts about black Americans for Black History Month. Pew Research Center. Available at: http://www.pewresearch.org/fact-tank/2015/02/23/6-facts-about-black-americans-for-black-history-month/

• Llopis, G. (2013). 5 Steps To Capturing The Hispanic Market -- The Last True Growth Opportunity. Forbes.com, Available at: http://www.forbes.com/sites/glennllopis/2013/09/03/5-steps-to-capturing-the-hispanic-market-the-last-true-growth-opportunity/

• Nielson (2012). The State of the Hispanic Consumer. Available at: http://www.nielsen.com/content/dam/corporate/us/en/reports-downloads/2012-Reports/State-of-the-Hispanic-Consumer.pdf

• Nielson (2013). Significant, Sophisticated and Savvy: The Asian American Consumer. Nielson Research. Available at: http://www.nielsen.com/us/en/insights/reports/2013/significant-sophisticated-and-savvy-the-asian-american-consumer-report-2013.html

• Nielson (2014). Connecting Through Culture: African-Americans Favor Diverse Advertising. Nielson Research. Available at: http://www.nielsen.com/us/en/insights/news/2014/connecting-through-culture-african-americans-favor-diverse-advertising.html

• Nielson Spectra (2016). Presentation by D. Brager of Nielsen at Wine Market Council 2016 Consumer Research Conference. New York, NY: Jan. 25, 2016.
• Pew (2012). The Rise of Asian Americans. Pew Research Center. Available at: http://www.pewsocialtrends.org/2012/06/19/the-rise-of-asian-americans/

• US Census (2010). Website of US Census 2010 Report. Available at: http://www.census.gov/2010census/.
by Liz Thach, MW, Janeen Olsen & Kathryn Chang
This article was written by researchers at the Sonoma State University Wine Business Institute. Dr. Liz Thach, MW is the Distinguished Professor of Wine, Dr. Janeen Olsen, Certified Sommelier is a Professor of Marketing, and Dr. Kathryn Chang is an Assistant Professor of Accounting. A comprehensive report on this study is currently being developed. For further information, please contact Liz@lizthach.com