Can Champagne Regain #1 Market Position as World's Most Consumed Sparkling Wine?
What caused the long reigning king of sparkling to be dethroned? This article analyzes the major causes, and also explores several tactics Champagne can use to regain its position.
September 02, 2015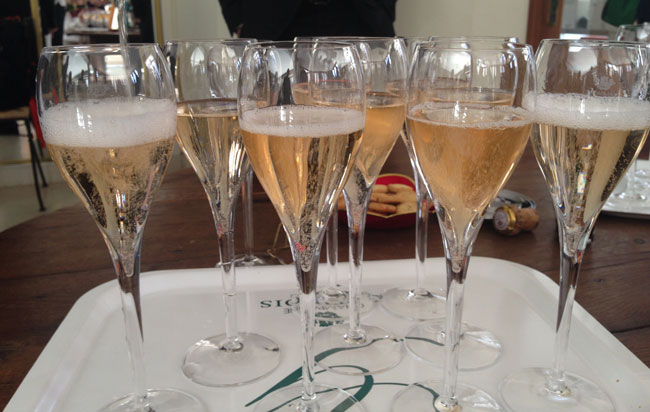 Photo Credit: L. Thach

By Lindsay Pomeroy and Liz Thach
Until 2013, Champagne held the title as the world's sparkling wine category leader for total volume sold. However, that title now officially belongs to Prosecco. For the second year in a row volume sales of Prosecco have surpassed Champagne. According to Giampetro Comolli of the OVSE, in 2014 Prosecco sales reached 311.3 million bottles, while Champagne topped out at 307.1 million bottles (CIVC), solidifying Prosecco's spot as the new number one.
What caused the long reigning king of sparkling to be dethroned? This article analyzes the major causes, and also explores several tactics Champagne can use to regain its position.
Why Champagne Lost Market Share
A global economic crisis, changing consumption trends, onerous regulations, and smart competitors are amongst the major reasons that Champagne lost market share.
A Global Economic Crisis that favored lower price sparkling wine alternatives like Prosecco caused Champagne to slip from being the category leader. The US stock market crash of 2008 lead to a global economic meltdown that is still being felt today, especially amongst Champagne's #1 and most traditional market: the EU. Coupled with the destabilizing effects of currency fluctuations, stock market volatility, and confusion over the future of the EU zone itself, the consumer has responded by tightening their spending. This is problematic as Champagne is a luxury product with prices averaging $50USD off-premise (Brager, 2014).
Changing Consumption Trends are shifting to favor a younger generation who is less interested in traditional drinks and lack the funds to pay for them. According to the Wine Market Council (2014), though only 29% of total wine drinkers are millennials, they drink 34% of total wine consumed, suggesting this younger generation is driving wine growth. In China, these young "developing drinkers" now represent 19% of all consumers (Baker, 2015). However, in both markets the youth lack the funds to drink Champagne on a regular basis. For example, a retail survey (Reuters, 2012) found 25% of millennials in the US lack enough money to pay their bills each month and in China, these consumers buy more entry level wines (Woodard, 2015). When combined with the shrinking consumption of wine in France, which has fallen from 50% of the French drinking wine in 1980 to only 17% today (Schofield 2013), Champagne's consumer base has shrank. These conditions have favored lower priced alternatives like Prosecco and Cava.
Complicated Legal Restrictions and politics within the Champagne region hinder their ability to grow and adapt to new consumer trends, threatening the regions ability to rebound. Champagne is fragmented, with 15,000 growers owning 88% of vineyards but producing only 22% of wines, compared with 264 negociants who own 12% of the vineyards but produce 71% of the wines (Stevenson, 2011). This fragmentation makes it challenging to enact regional rules or policies that would benefit both groups equally. Furthermore, the mandated style of Champagne, with a minimum of 15 months aging sur lie, restricts the region's ability to produce a fast to market, inexpensive product to compete with the value-oriented sparkling wine segment.
Smart Competitors – It was not only the clever advertising campaigns of Prosecco and Cava producers that ate into Champagne's revenues, but new styles of competition in their own backyard. Supermarket buyer own brands, such as those produced by Costco and Tesco, put price pressure on traditional Champagne houses. Also the practice of black Sur Latte trading, where producers sell wine that hasn't undergone disgorgement to large wineries who sell them at a discount, has squeezed profit margins for traditional Champagne producers who have little room to adjust their prices. The 22% increase in land prices in Champagne, where a hectare now averages 980,900 euros (SAFER, 2015), often means that the cost to farm the grapes plus the cost of land exceeds the price grapes get on the market.
Strategic Tactics to Regain Champagne Market Share
There are several tactics Champagne needs to consider in order to regain market share. The good news is they have already started to implement several of these.
Tactic #1 – Implement Plan 2030 with Regulatory Updates
Recognizing the lost market share and internal challenges the region faces, the Union des Maisons de Champagne launched Champagne Plan 2030 in 2012. According to Schmitt (2014), the goal is to improve the quality and image of Champagne in the marketplace and improve relations within. The plan is a collaboration to bring the Negociant and Grower associations together to impose stricter quality controls. For example, Deutz is suggesting increasing the minimum age on lees from 15 to 18 months. Philliponet argues for more vineyard controls and a restructuring of regulations that favor fewer pesticides. To hinder sur latte trading, producers want to impose a mandatory 3 month post-disgorgement aging period or require the winemakers name on the bottle. To reconnect with traditional markets, the plan wants to promote the uniqueness of the style and terroir and enhance transparency through new labeling laws like mandating disgorgement dates. Successful changes have already been made and if Champagne is able to fully implement these positive regulations, it can aid them in regaining market share.
Tactic #2: Increase the Frequency of Consumption Occasions
The brand "Champagne" is one of the most successful in the world. It is a household name signifying celebration and luxury to the end consumer. However, this high price point and luxury image limits the frequency of consumption of Champagne. In general, it is perceived as a drink for pre-dinner aperitifs, celebrations, holidays and other special occasions (Guild of Sommeliers, 2014).
Therefore, the challenge is to get consumers to choose Champagne more frequently, and there are a few producers that have made great strides in doing so. For example, Moet & Chandon has recognized this need and changed their brand messaging to the following as reflected on their website; "An everyday moment you want to make extra-special ? Moët & Chandon Champagnes for every occasion, every mood, every palate." Champagne Corbon goes one step further and connects the specific occasion to one of their Champagnes, such as their Grande Réserve, which is "for cocktails, summertime barbecue and aperitifs." Their Cuvée Prestige "will be appreciated with cheese or meat, or even saucssion and paté!" This concept is also being promoted amongst Sommeliers across the US. In an interview conducted by the US Guild of Sommeliers (2014), Cappie Peete, Beverage Director at McCrady's Restaurant in Charleston, says "we also constantly work to squash the idea that Champagne is strictly for the beginning of the meal or for special occasions."
Tactic #3 – Use Innovative Branding to Target the Younger Generations
To connect with the younger generation, Champagne needs to implement new and innovative branding strategies. A few positive examples are already receiving rave reviews. In 2012 Mumm launched an i-phone app that includes 12 Champagne Protocols, making Champagne "easy and simple to use, educational, and fun" (BestChampagne, 2012). Protocols are explained in mini video cartoons and cover topics like how to handle a Jeroboam and how to properly Saber a wine. Lanson has listened to requests from UK sommeliers and rebranded the packaging to look more modern. The label has removed gold elements and the dosage has been lowered to 6g/l with lees contact extended to 40 months. Chandon USA introduced three limited-edition bottles that are scrawled with the phrases "The Party Starts Here," "Bring on the Fun," and "I am the After Party."
Tactic #4: Provide More Educational Resources
The complexity of terroir and the production process itself makes Champagne a difficult wine to understand. This can be problematic in a fast paced wine bar, retail, or restaurant setting where there is not enough time to sufficiently explain stylistic differences. This is a hindrance toward reaching novice Champagne drinkers, who don't understand why they should pay the premium. Retailers in the US have suggested that it would be helpful to have more information on winemaker philosophies, different terroirs, winemaking techniques and viticultural practices that impact the style of the wine (Guild of Sommeliers, 2014).
In conclusion, there are still challenges for Champagne if they want to regain their #1 position as the world's most consumed sparkling wine, but they are taking some positive steps to overcome these issues. They still maintain a very unique brand position as one of the oldest luxury wines in the world that has been the favorite of countless kings, queens, and presidents throughout the ages. They have weathered world wars and volatile economic times before. With a focus on continued innovation, attracting new consumers, creating new occasions to drink Champagne, and resolving some of the regulatory and relationship hurdles in their own backyard, they have a good chance of regaining their #1 position. Now that's something to celebrate.
About the Authors: Lindsay Pomeroy (lindsay@winesmarties.com) is CEO of The Wine Smarties, where she teaches wine education courses and overseas the management of the school located in San Diego, CA. Dr. Liz Thach, MW (Liz@lizthach.com) is a Wine Business & Management Professor at Sonoma State University.
References:
• Baker, N. (2015). Chinese Wine Market Sees Huge Power Shift. Drinks Business.com. Retrieved from July 2, 2015, from http://www.thedrinksbusiness.com/2015/05/chinese-wine-market-sees-huge-power-shift
• Best Champagne. (2012) Interview with Philippe Guettat, President of Mumm and Perriet Jouet. Best Champagne Website. Retrieved on August 4, 2015, from http://www.bestchampagne.fr/philippe-guettat-mumm-perriet-jouet-interview
• Brager, D. (2014). Sparkling wine sales increase thanks to strong import growth, Wine Business Monthly, 21, 12, 64.
• CIVC (2015). Key Market Statistics. CIVC Website. Retrieved Sept. 1, 2015 at http://www.champagne.fr/en/champagne-economy/key-market-statistics.
• Guild of Sommeliers. (2014). Champagne Sales, Trends, and Challenges Today. Guild of Sommeliers Website. Retrieved August 15, 2015, from http://www.guildsomm.com/TC/stay_current/features/b/weblog/archive/2014/08/29/champagne
• OVSE (2015). Personal conservation with Giampietro Comolli, from Osservatorio Studi Economici Vini Effervescenti (OVSE). Aug. 24, 2015
• Reuters, (2012). Young Adult Spending Power Losing its Punch. Reuters Website. Retrieved from July 20 2015, from http://www.reuters.com/article/2012/04/30/idUS152225+30-Apr-2012+BW20120430
• SAFER, Société d'Aménagement Foncier et d'Etablissement Rural. Vineyard Prices. Retrieved from August 20, 2015, from http://www.le-prix-des-terres.fr/levolution-des-prix/prix-des-vignes/prix-des-vignes-appellations?departement=10&type_vignes=1&appellation=1&safer_recherche=Lancer+la+recherche
• Schmitt, P. (2014). Champagne Report 2014: Seizing the Initiative. Drinkbusiness.com. Retrieved from August 2, 2015, from http://www.thedrinksbusiness.com/2014/05/champagne-report-2014-seizing-the-initiative/
• Schmitt, P. (2015). Lanson Creates Restaurant Champagne. Drinkbusiness.com. Retrieved from August 3, 2015 from, http://www.thedrinksbusiness.com/2015/04/lanson-creates-champagne-for-restaurants/
• Schofield, H. (2013). Why are the French Drinking Less Wine? Retrieved from March 13, 2015, from http://www.bbc.com/news/magazine-21929287
• Segran, E. (2014). An Inside Look At Chandon's Strategy For Conquering The Millennial Bubbles Market. Fast Company. Retrieved from June 5, 2015, from http://www.fastcompany.com/3040348/meet-the-brand-that-got-millennials-hooked-on-sparkling-wine
• Shaw, L. (2014). Global Prosecco Sales Overtake Champagne. Drinkbusiness.com. Retrieved on 8/31/15 at http://www.thedrinksbusiness.com/2014/03/global-prosecco-sales-overtake-champagne/
• Stevenson, Tom. (2011). Did You Know? The Sotheby's Wine Encyclopedia. (5th edition p 216). Great Britain: Dorling Kindersley Limited.
• Tesco. Retrieved from December 14, 2014, from http://www.tesco.com/groceries/buylist/default.aspx?Name=CM+Wines+%26+Champagne
• Wine Market Council. (2015). Media Advisory. Wine Market Council website. Report. Retrieved August 10, 2015, from http://winemarketcouncil.com/media-alert/
• Woodard, R. (2015, May 14). Young Chinese Wine Drinkers driving 'fundamental' change. Decanter.com. Retrieved July 20, 2015 from http://www.decanter.com/wine-news/young-chinese-wine-drinkers-driving-fundamental-change-378/