Selling Wine Online: Which Winery Ecommerce Practices Promote Highest Sales?
Though tasting room and wine club sales have been the primary revenue drivers for US winery direct to consumer efforts, in the past several years some wineries have achieved increased sales online. A recent study at Sonoma State University examines the rising growth in this channel and how savvy marketing professionals are realizing online results.
About the Study
An online survey was distributed to 7,240 US wineries in November of 2013 with 25 questions related to winery ecommerce and social media practices. A total of 438 usable responses were received (6% response rate). Of these wineries, 62.7% were located in California and 37.3% from 35 other states. The wineries ranged in size, with 69% producing less than 10,000 cases, 7 % over 100,000 cases and the remaining 24% in between.
Percentage of Wine Sold Online
Online wine sales in the US have been increasing at double digit rates for the past five years, but are still less than 2% of all wine sales (Osborne, 2014). In other developed countries that do not have the complicated inter-state shipping regulations found in the US, online wine sales represent 5% of the total market (Higgins et al, 2014), while the UK achieves around 15% (Pfanner, 2013). China also shows an uptick in online wine sales, with Chinese Millennial consumers buying wine online in Hong Kong and Shanghai, where online wine prices and shipping costs are lower than the US (Lawrence, 2014).
However, the good news is the study of 438 US wineries shows that 82% are selling wine online. When asked, "What percentage of your total revenues is represented by online wine sales?" the average was 12%. Of this, 38% reported 1-9% of total revenues, another 38% reported 10 – 49%, 6% reported 50-90%, and 18% reported zero.
Correlation of Online Wine Sales with Winery Size and Perceived Importance
Study respondents were asked to indicate how important online wine sales were for their business. 43% indicated important, very important or extremely important. This information was then correlated with reported online wine sales as a percentage of revenue, and the results were significant (.000 level), in that the higher the level of perceived importance, the greater the percentage of online revenues that come from e-commerce. This indicates that a focus on online wine sales pays off.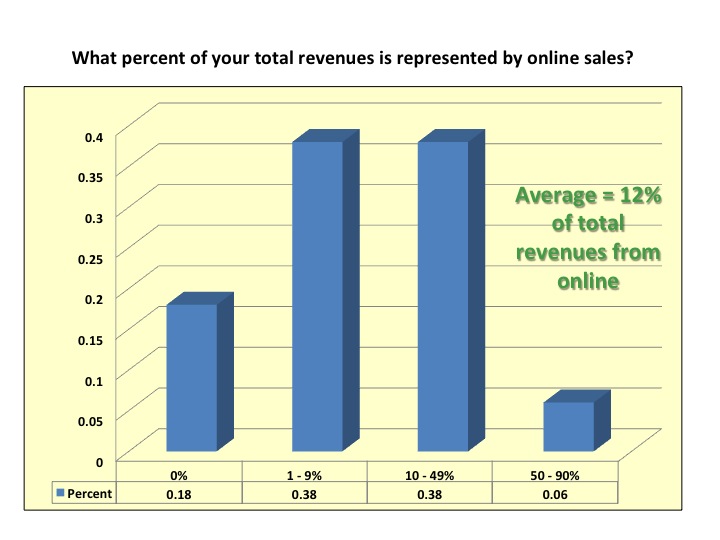 Interestingly when the same correlation was calculated on winery size, it was not significant (.514). This means that any size winery can achieve positive online wine sales if they deem it is important and focus on making it happen.
Types of Advertising That Positively Impacts Online Wine Sales
Research in other industries shows that the most frequently used online advertising methods are email ads, social media and webpages (Leeflang et al, 2014). Other research has shown that online ads have a significant positive effect on sales (Peng et al, 2014).
In this study we asked, "How do you advertise/communicate your online wine sales? Check all that apply." Respondents were given eight choices, which were tested for their correlation with relative revenues from online wine sales. Three of the methods showed a significant positive impact: online newsletter (.002), social media (.000), and word of mouth (.000). The other advertising methods, including online ads did not show any relationship with online sales.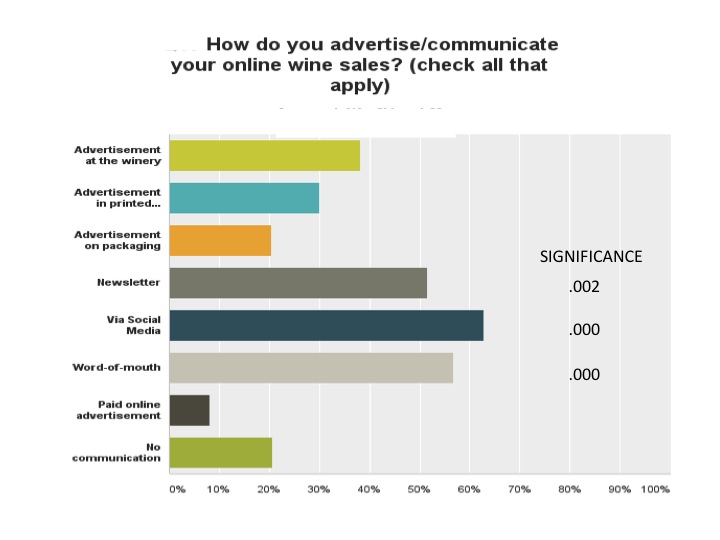 Implications for Online Wine Marketers
The results of this study indicate progress is being made in US online wine sales for wineries selling directly to consumers. The good news is that winery size doesn't appear to be a factor, suggesting that a stronger focus on online wine sales may be a good opportunity for small wineries and new brands that can't get distributor representation.
In terms of advertising tactics, the study shows that wineries that believe online wine sales are important and utilize online newsletters, social media, and word of mouth can help encourage sales relative to other channels. The most common social media methods used were Facebook and Twitter.
References
• Higgins, L. M, Wolf, M.M., Bitter, R., & Amspacher, W. (2014). Click Ship, Sip: Who is the Online Wine Buyer? Proceedings of 8th International Conference of the Academy of Wine Business Research refereed paper. June 28-30, 2014, Geisenheim, Germany.
• Lawrence, W. T. Lo (2014). E-Commerce & Marketing Track. SIBR Conference on Interdisciplinary Business & Economics Research. Sept. 27-28, 2014. Hong Kong, China.
• Leeflang, P. S., Verhoef, P. C., Dahlström, P., & Freundt, T. (2014). Challenges and solutions for marketing in a digital era. European Management Journal, 32(1), 1-12.
• Lockshin, L. & Corsi, A.M. (2012). Consumer behaviour for wine 2.0: A review since 2003 and future directions, Wine Economics and Policy, Vol. 1 Issue I, pgs 2 – 23.
• Osborn, M. (2014). Online purchasing habits of US wine consumers. Presentation at 2014 Wine Market Council Consumer Research Conference. Jan. 31, 2014, Santa Rosa, CA.
• Peng, J., Zhang, G., Zhang, S., Dai, X., & Li, J. (2014). Effects of Online Advertising on Automobile Sales. Management Decision, 52(5), 2-2.
• Pfanner, E. (2013). Buying Wine on the Web. New York Times, Feb. 1, 2013.