PD/GWSS Update: Board Sets Assessment Rate for 2014 Harvest
... overall 2014 crop yields could be less than 2013, but there should still be an average size crop. New acreage coming into production may offset lower overall yields per acre compared with 2013 ... The Board also approved funding for two new applied research projects to evaluate and monitor possible insecticide resistance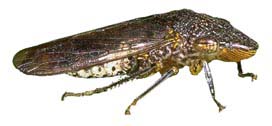 The California Department of Food and Agriculture (CDFA) Pierce's Disease (PD)/Glassy-winged Sharpshooter (GWSS) Board set the wine and grape industry assessment rate for the 2014 harvest at $0.75 per $1,000 of crop value at its June 23rd meeting in Sacramento, maintaining the same rate levied for the 2013 harvest. The $0.75 rate is the lowest annual rate the Board has assessed since it began collecting assessments in 2001, and it was the rate for 2010 and 2011, in addition to 2013.The Board uses the assessments to fund basic and applied research projects targeted at understanding PD and GWSS biology and to develop programs, tools, and plant material to prevent and reduce the incidence of PD in grapevines.

Board member Nat DiBuduo, president of Allied Grape Growers based in Fresno, said based on Allied's recent grape bunch counts and crop size estimates, overall 2014 crop yields could be less than 2013, but there should still be an average size crop. New acreage coming into production may offset lower overall yields per acre compared with 2013. The Board expects fees collected for the 2014 harvest to be similar to the 2013 harvest at about $2.8 million. The Board collected about $3.5 million in assessment fees for the record crop year 2012, when the assessment rate was $1.00, a boost after two years of less than average crops.

Annual Budget Stable as Projects and Responsibilities Increase

At the June 23rd meeting, the Board also approved proposed Fiscal Year 2014/2015 budget expenditures of $7 million to fund activities that include new or continuing basic biological research projects, field trials of PD-resistant vine materials, and a nursery insecticide treatment program for nurseries shipping plants from GWSS-infested counties to non-infested counties.

The Board this week also approved funding for two new applied research projects to evaluate and monitor possible insecticide resistance in GWSS to neonicotinoid, pyrethroid, and organophosphate insecticides that have been used to suppress GWSS populations in the PD statewide program. Increases in GWSS populations in Kern and Tulare Counties in recent years, although potentially related to weather and other factors, have raised concerns about possible resistance by certain GWSS populations and the need to evaluate the efficacy of existing and new insecticides coming into the market.

Other new projects for 2014 include: planting of new field trials in Riverside and Sonoma Counties to evaluate PD-resistant rootstocks and winegrape cultivars bred by traditional methods by Dr. Andy Walker at UC Davis; and a proposal to begin work to stack multiple PD-resistance genes in new vine material (potentially both transgenic and naturally-occurring resistance mechanisms).

At its previous meeting in April, the PD/GWSS Board designated grapevine red blotch-associated virus, (GRBaV), the vine mealybug, and the brown marmorated stink bug as new pests for Board study and potential funding for research and outreach activities. Although no funding is specifically targeted for these pests, the Board allocated additional funding within a contract with the Unified Grant Management for Viticulture and Enology website, managed by Dr. Deborah Golino at UC Davis, in order to handle possible future requests for proposals (RFPs) for research funded by the PD/GWSS Board for these new pests.
Since the Board's last reauthorization in 2010, it has had the ability to use assessment funds for research and outreach on other serious pests and diseases of winegrapes, as long as such funding does not interfere with PD/GWSS control and research efforts.

PD Board Reauthorization Bill Moves Forward

Legislation by Assembly member Wes Chesbro, AB 1642, is making its way through the California Legislature and is expected to be enacted this year to allow a referendum vote in 2015 by California winegrape growers to decide whether to reauthorize the PD/GWSS Board and grower assessment for another five years. The bill has cleared the Assembly, and it moved out of the Senate Agriculture Committee last week.