Texas High Plains Growing Pains: How Texas wineries are dealing with challenging growing conditions
As the next generation of Texas High Plains farmers takes the mantle from the 1970s winegrower founders and re-establish the AVA with new varietals, modern technologies and a thirst for critical economic understanding of wine markets, wine quality is much improved.
Primarily cotton, sorghum, peanut and other row crop farmers, the family farm however, is in peril from knock-down challenges including frost, hail, wind and global competition. But it is the continuing 3-year drought that has opened the "floodgates" to planting more wine grapes. "We don't have to go to Las Vegas to roll the dice," says Cliff Bingham, of Bingham Family Farms during Newsom Grape Day— a local wine grower symposium which focused on Tempranillo this year.
Wine grapes sip water—about a quarter of the water that cotton requires. In the past five years, hundreds of acres have been planted to more than 70 varietals as growers and vintners find their sweet spot of what thrives here. In these 4,000 acres (the AVA has 8 million) of height, there is frost, hail and wind right around the time of budbreak. Crops have been lost in the past three years due to back-to-back, even weekly, frost in mid-April. But it would be un-Texan to run away.
Tempranillo grows well in the arid climate and sandy, clay loam soil. Growing season temperatures can reach higher than 100 degrees, but cool down significantly after sundown at the AVA's average 3,500 foot elevation. As the association of growers and vintners organize, Tempranillo plantings are encouraged for locals and newcomers investing in the region. But winegrowers have shown an amazing, some say stubborn, streak for experimentation with so many varietals planted, even if only on one acre.
On the positive side, the Texas wine consumer is drinking all that Texas wineries can produce, as grapes and juice are still imported from California and Washington state, among others. Lubbock, Texas-based McPherson Cellars, which made a gold medal winning Albarino in 2012, couldn't produce one for 2013. The winery looked to New Mexico to source Chenin Blanc, French Colombard and Gewürztraminer fruit after the 2013 frost. "Texas wine won't be taken seriously until we stop importing," says grower Andy Timmons. Winegrowing consultant Bobby Cox makes the case for increasing acreage and production—and planting more Tempranillo.

Fighting Words and Gear
Hail and frost are most worrisome to growers as these do repeated, quick and effective damage out on the wind swept plains. Growers are striking back, managing risk and using technology to its highest advantage.

Andy Timmons recently installed the first Cascade Wind machine for grapes in Texas High Plains, after suffering repeated losses due to frost in his 100-acre vineyard. This year he planted 400 acres of various varietals from Alicante Bouchet to Zindandel and will plant 320 acres next year of Rhône varieties and Cabernet Sauvignon. "I was tired of being a spectator to the freeze events we have every year," he says. "I wanted to be in the ring with gloves on and fight like hell."

Timmons can't use water to frost protect due to the area's limited water supply, so wind machines were his best option. "We had the wind machines installed and about three weeks later they were put to use on a night when we got to 24 degrees," he says. He bought four machines and arranged them in a line layout to protect as much area as possible in the rectangle-shaped vineyard. "We couldn't protect it all so we will use some heat source next time to warm the air in the spots that were hurt this year," he says.

The response from Texas wineries to Timmons' forward thinking investment has been appreciative. "We could not even think about doing this without their commitment to build out to handle the fruit in the coming years," he says.
Newsom Family Farms consists of 3,000 acres of row crops including alfalfa, hay and cotton with 20 planted to wine grapes in Sundown, TX. Proprietor Steve Newsom determined he doesn't always get a reliable inversion layer on his property and needed a heat source for the vines. He just acquired the first Frost Buster and Frost Guard machines to be used on the High Plains from Agrofrost, a European company. "We used helicopters and burned hay this year to get wind and heat," he says, "but there were spots we couldn't cover and I lost 10 percent of first position on Merlot. After studying several options, I decided the Agrofrost machines use less fuel and take up a smaller, environmental footprint and we don't have to burn fires, especially at night."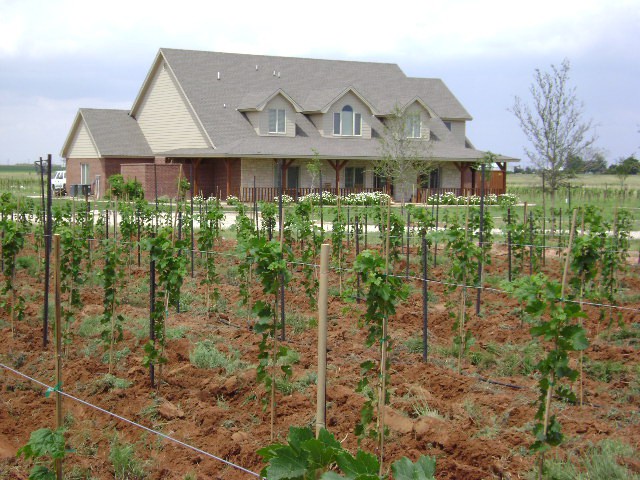 Above: Newsom Family Farm
Compared to a wind machine, which takes about 160 hp for 10-acre coverage, the Agrofrosts run at 16 hp for a 2.5-acre area, which equates to 80 hp on 10 acres, plus you get a reliable heat source. Newsom needed to add heat many nights, even with a wind machine, so he believed Agrofost was the way to go. The machines can fit on a trailer and be positioned where needed in the vineyards and then stored in a garage or shed. Frost Guard costs start at $9,500 for 2.5 acre coverage, while the Frost Buster covers 20 acres but requires a 50 hp tractor starting at a cost of $26,500. Both are automated to shut off the heat source at 40+ degrees by thermostat control.

Long-time grower Jet Wilmeth of Diamante Doble Vineyards is holding off on a wind machine until there is more than a few years of data on effectiveness. "I have been growing grapes here for 14 years and only felt true threat from frost three of those years," he says. So he used two helicopters and burned 52 1,300-pound round bales of wheat hay as a heat source. "Wheat hay does not burn too fast and can be fanned by the helicopter rotors if needed during the night," he explains.

Wilmeth lost exactly 0 acres to frost damage. Cost? $1,250 an hour plus the hay. He meticulously farms 100 acres of varietals including Viognier, Montepulciano, Mourvedre and Alicante Bouschet with assistance from a mechanical harvester and equipment he built himself. He also implemented a split pruning with very late final pruning to delay bud break. "I have seen more damage done to grapes and other crops by hailstorms and drift from spray than from frost," he says. "I plant a cover crop, usually wheat or rye, between rows to help keep the soil from moving. If managed properly the cover can mitigate some of the effects of the frosty spring in normal years."

Katy Jane and Nick Seaton, along with Anthony and Traci Furgeson, farm 30 acres of vineyards including Roussane, Syrah and Muscat Canelli. They used helicopters previously but the freeze this year found them burning bales too. "They say it all comes down to 3 degrees and we believe that to be true," says Katy Jay. "By incorporating the burning this time, we could watch the smoke and where it traveled to the lower, colder spots. Weeks later the damage is visible there, but while we lost 30 percent of the crop, we were able to sustain all of our vines. We will absolutely do it again," she says.
Nutrients, Split Pruning, Cover Crops and Water Strategies
Partial row drying is an irrigation technique used to both increase quality and reduce water consumption. "Partial row (rootzone) drying tricks the plant into thinking it's going into drought stress, which shuts down leaf and wood production and focuses on fruit development," says Newsom.

Bobby Cox explained watering alternate rows on one set, then the other set next time the row is irrigated, results in half of the root zone being perpetually dry while the other has enough moisture to mature. "Frankly this measured availability of moisture is the mechanism that enables the best French terroirs," he says. The technique gives better fruit with less water—a very fine thing for the dry High Plains."

Vijay Reddy, Ph.D of Reddy Vineyards is the local soil expert with 280 acres of vines planted to more than 30 varietals. He has farmed since 1979 and only experienced cold injury to the grapes this year and last during the late season frosts. "We are exploring now which frost machines to acquire," he says. "We lost all our Viognier, though none of the vines died and we have to retrain them. We will have 70 percent to 80 percent of normal production on our reds."

The Bingham family owns or manages 250 acres of winegrapes at Bingham Family Vineyards, including Vermentino, Cabernet Sauvignon, Roussanne and Semillon. To maintain optimum vine health, Cliff Bingham uses several strategies including delaying pruning to delay bud break. He also uses soil micronutrients, particularly zinc, and plenty of compost. "Compost makes plants healthy and a healthier plant responds better," he says. Bingham is not convinced about the economics of wind machines, yet, though he estimates he lost 10 to 20 percent of his Viognier since it buds early, but will not have a final number until harvest. "Until the freeze problem is solved, we will see less Viognier and more Trebbiano," he says.

Services and Suppliers Growing Too
Wineries are also purchasing new gear—spectrometers, lab and testing gear, racks, glasses, even branded coffee beans roasted in wine barrels are finding a way to tasting rooms. McPherson Cellars is experimenting with its new MicOx system and just picked up an Ecoflot flotation unit for clarifying must from Della Toffola. (See our article on Bending Branch Winery's purchase of the first flash détente machine in the area as well as our article on how the increase in grape production led to the formation of Texas Custom Wine Works.)

As vintners and growers experiment in the lab and in the field, plant and harvest more grapes, and increase their knowledge of viticulture practices, the service and support industry sees incredible opportunity. Trellis, irrigation, rootstock, nutrients and chemicals suppliers, among others, are in for a little boom.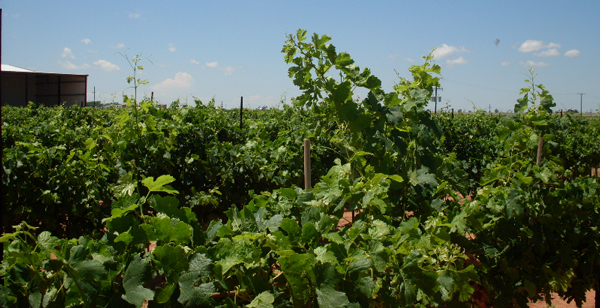 James Stewart of BASF manages distribution in the area for BASF fungicides and herbicides to control disease and increase plant health. "Overall the growth we have seen in the grape market over the last 3 to 5 years has been good," he says. "It's still a relatively small market compared to cotton, peanuts and corn, but is becoming more important for our business here on the High Plains." Stewart foresees double, if not triple, opportunity for BASF products over the next 5 years if the amount of predicted growth in planted acres of vines is achieved.

Dave Harmening of Cascade Wind Machine Service successfully introduced the wind machine to Timmon's vineyard, mentioned above, and says more machines are scheduled for installation for the 2015 season throughout Texas. "Since the major frost event in April, I have met with numerous growers and we are evaluating their vineyards for placement of wind machines and return on investment," he says. "I also discuss a major factor in the success of the wind machines for a wide variety of crops in that they help prevent supercooling of the buds, which occurs under clear and calm conditions."

Over the past 20 years, wind machines have become more powerful with longer blades that move more air and reach farther, increasing their ability to raise temperatures and protect larger acreages. Current machines run on propane or diesel and are managed with auto-start controls that can be adjusted to start at 3 or 4 degrees above the critical temperature. In windy West Texas, the wind shutdown option prevents the machine from starting or running during windy periods, and supplemental heat is used with the machines on nights where temperature lifts of 5+ degrees are needed.

Tanner Ketchersid, of Crop Production Services (CPS), is also known as the grape guru. About three years ago Ketchersid had been working with mostly cotton growers to supply chemicals, seed and fertilizer. As grape growers began asking about stocking agricultural input for grapes since most chemicals came from California at the time, he realized he had a new and niche market. "I handle several of the largest grape growers in Terry County and I've watched grape production explode over the last two years."

"It's a learning process for all, including myself, to expand our knowledge of grapes. We are learning something new every day," Ketchersid says. The latest technology available to growers is a micronutrients package including zinc, iron and manganese. The Bingham family is using this package on its organic farms. Ketchersid believes his business will triple in growth as farmer become more knowledgeable and ask for more items pertaining to wine grapes. "Cotton farmers here are also noticing the impact the grape business is going to have on the area and are watching and helping their neighbors – offering knowledge, keeping spray drift down away from the vineyards," he says. "Everyone understands that it is becoming a big deal."

For now, Katy Jane Seaton says, "The key thing about High Plains farmers is that they are undaunted, tenacious and ingenious. While it might not be ideal conditions they've proven to turn out quality fruit. We're proud to work a little harder, and willing to wait on recognition, and we'll just keep busy farming."
For more on the Texas High Plains AVA, visit highplainswinegrowers.org