McKinley Springs Unveils New Look for Bombing Range Wine and Adds White Blend to Series
Wine labels honor U.S. Troops and history of the land
April 02, 2014
PRESS RELEASE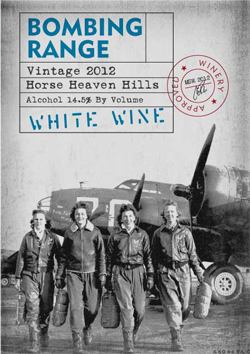 March 28, 2014, Prosser, Washington -- McKinley Springs, one of Washington's largest wine growers with over 30 years of winegrowing experience tending over 2,000 vineyard acres, introduces its new Bombing Range Red label and Bombing Range White blend. The wines were created to honor U.S. troops and reflect the property's history as a fighter pilot training ground during WWII. The Bombing Range Red has a suggested retail price of $16 and the Bombing Range White is $14. Both wines are available in the following markets: Washington, Oregon, Florida, Illinois, Michigan, Minnesota, and Virginia.
According to Sandy Rowell, Co-Owner, "We initially created Bombing Range Red in 2005 as a tribute to our U.S. military troops and to reflect our family property's special history – to this day we still find shell casings among our vines. As demand for Bombing Range Red has increased, we re-envisioned the labels with actual photos from World War II instead of the prior cartoon style pilot we used before."
Chris Noud, owner of Now Design of Salem, Oregon, designed the new Bombing Range labels. Whereas the former label depicted a pilot with a glass of wine in a cartoon style, the new labels depict actual historical photos courtesy of the U.S. National Archives & Records Administration and the U.S. Air Force Library. The new Bombing Range Red label depicts a historical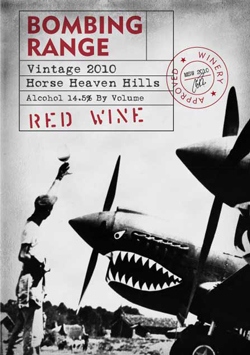 image of a U.S. P-40 fighter plane at an advanced U.S. base in China in 1943. The wine is a blend of estate Syrah, Cabernet Sauvignon, Malbec and Petit Verdot. Bombing Range White is a Chenin Blanc and Viognier blend featuring four pioneering Women Air Force Service Pilots (WASPs) leaving their ship, the Pistol Packin' Mama.
McKinley Spring is a strong supporter of the U.S. military. The winery annually hosts a BBQ Showdown and Benefit for the Guardians of Freedom Project, which provides clothing and essentials to walking wounded soldiers serving in Kandahar Air Field, Camp Leatherneck, and Kabul, Afghanistan. This year's event will be held on June 14. http://www.guardiansoffreedomproject.org
About McKinley Springs
McKinley Springs Winery, located in Washington's Horse Heaven Hills AVA, is a small, family owned and operated business. Founded in 2002, we strive to craft wines of exceptional balance, flavor and value. Our 2,000-acre estate vineyard's reputation for producing award-winning wines stems from our 60 years of farming and 30 years of wine growing excellence. For more information, visit us at our tasting room or online at www.mckinleysprings.com