Dawn's Dream Winery Opens Tasting Room in Carmel
April 01, 2014
PRESS RELEASE
Dawn Galante started Dawn's Dream Winery just over three years ago with the goal to produce approachable wines of exceptional quality and elegance, sourcing fruit from the finest vineyards in California. Focusing on Pinot Noir, Chardonnay and Sauvignon Blanc, Galante says "I create delicious vintages meant to enhance the refreshment of satisfied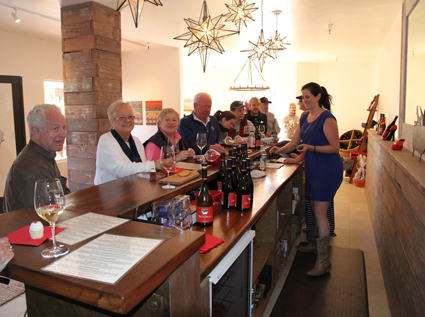 living and reflect the gentle magic that can be captured in a moment."
With the winery, Galante has combined her love for exceptional wines with her dedication to helping children and women in need as her winery is aligned with assisting various nonprofit organizations. Although a young winery, Galante's wines have already achieved numerous accolades including most recently winning 5 coveted Gold Medals in the San Francisco Pinot Noir Summit for all five of her Pinot Noirs. Dawn's Dream has also recently been voted the Top Pinot Noir in Monterey by the Carmel Pine Cone readers.
In March, Galante opened her tasting room in Carmel by-the-Sea, in a courtyard on San Carlos & 7th in the heart of town. She joins a dozen other wineries that have established their tasting rooms in Carmel, the first of which was her husband Jack's, Galante Vineyards Tasting Room, 10 years ago. The design of Dawn's Dream creates a welcoming atmosphere of relaxation and enjoyment, accented by Galante's signature copper bathtub. Reclaimed wood and furnishings by local artists lend a sophisticated yet comfortable surrounding.
Dawn's Dream is open daily from 1 p.m. to 6 p.m., later on weekends, and offers flights of a selection of Chardonnay, Sauvignon Blanc, Rose and several Pinot Noirs. Visit www.dawnsdreamwinery.com for additional information.