Malbec and Empanadas: Wine Tourism in Argentina Healthy But Still a Few Challenges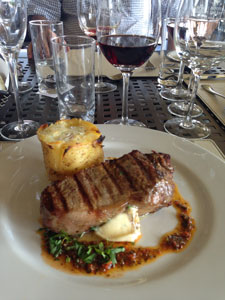 Argentina Steak with Malbec
Photo by Liz Thach

Ironically Malbec is not the best pairing with empanadas – the small meat and cheese filled turnovers of Argentina. Instead most locals recommend Torrontes wine as a better match. This is just one of the tips wine tourists learn when they visit the fifth largest wine producing country in the world.
Wine tourism in Argentina is on the rise, spurred on by the devalued peso that has recently dropped 30% against the US dollar. This makes visiting Argentina attractive not only to Americans, but to many Brazilians as well who find excellent deals on wine and food. A juicy Argentina rib eye can be purchased at fine restaurants for as little as $11 US.
Overview of Argentina Wine Industry
According to the International Institute of Viticulture in Argentina, the country now boasts 894 wineries, with more than 300 exporting wine to the US. The signature red grape is Malbec, which has become a favorite in the States because of its velvety texture and blueberry notes. Torrontes, which produces perfumed and spicy wines, is the signature white grape. Argentina also produces large quantities of excellent cabernet sauvignon, syrah, tannat, merlot, and chardonnay. Its sparkling wines, which are rarely exported, are refreshing, well-priced, and similar in style to Prosecco.
There are 8 major wine regions, with Mendoza snuggled up close to the Andes in the western part of the country, producing 67% of the wine and home to more than half the wineries. Other famous areas include Salta in the far northwest, home of Torrontes and some spectacular Tannat, and Patagonia (Rio Negro), in the far south with cooler temperature and a reputation for producing chardonnay and pinot noir. Other regions include San Juan, La Rioja, Catamarca, and smaller wineries near Cordoba and Buenas Aires.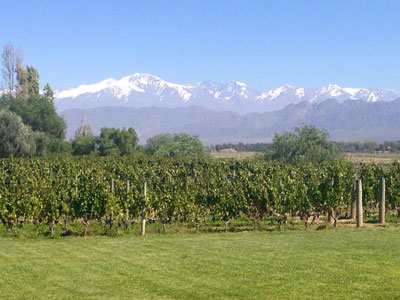 Vineyard with Andes Mountains
Photo by Liz Thach

Wine Tourism Advantages & Challenges in the Mendoza Area
As home to more than 400 bodegas (wineries) and with an international airport, Mendoza is a logical place for wine tourists to start. It has the advantages of large well known wineries such as Catena Zapata, Achaval-Ferrer, Norton, Trapiche and many others. It also has a large number of wine tour companies that can schedule and transport tourists to wineries in the Maipu and Lujan de Cuyo areas near Mendoza, and an hour south to the famous Uco Valley. Plentiful restaurants with excellent food at bargain prices and upscale hotels make Mendoza and the surrounding areas an excellent choice for wine tourists.
Challenges include the long flight in getting to Mendoza, which generally requires two stop overs for most American tourists with close to 20 hours of flying time. Driving can also be challenging, as roads are not well marked and traffic rules are often ignored. Finding the wineries can also be difficult, because signage is sparse in some locations, though better in others. Poverty is still a common sight, and so many wineries have large iron gates with security guards. Tourists generally need to call and book a visit in advance, or use a tour company to help them. Surprisingly, though food and wine prices are low, tasting/tour fees can be as high as Sonoma, ranging from $5 to $15 dollar a person.
Despite these challenges, most wine tourists find they enjoy their time touring Mendoza wineries where employees are well-trained and professional. Winery architecture can be impressive, ranging from Spanish, Mayan, modern, and small and modest. The annual Vendemia wine festival lasting 10 days is probably the largest and most extravagant in the world with hundreds of dancers, singers, and fireworks every evening.
In 2010 the National University of Cuyo and the Fondo tourism organization conducted a study and determined the economic impact of wine tourism was $31 million for Mendoza. Currently estimates indicate that more than 1.5 million tourists visit Mendoza wineries each year.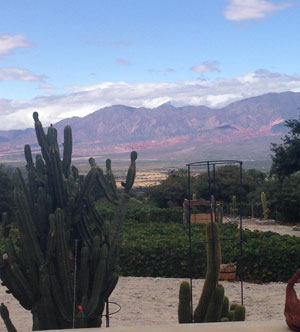 Cardon Cactus in Vineyards of Salta
Photo by Liz Thach

Wine Tourism Advantages & Challenges in Cafayete, Salta
Dubbed by many to be one of the most beautiful wine regions in the world, Cafayete is also referred to as a "paradise that is difficult to get to." Located in the Salta region in northern Argentina near the Bolivian border, it is home to the highest altitude vineyards in the world with vines growing at over 10,000 feet high.
The major challenge for wine tourism in this region is arriving. Flights only come from Mendoza twice a week, or visitors have to start from Buenos Aires to catch a daily flight. Upon arrival in the town of Salta, it is another 2.5 to 3 hour drive south before arriving in Cafayete where 19 of the 26 wineries of Salta are located.
Most visitors opts to stay overnight in Salta, and enjoy the beautiful central plaza with its historic European style buildings, beautiful pink cathedral, and outdoor restaurants and bars. Here meat-filled empanadas can be enjoyed for as little as fifty cents with a glass of cold Torrontes for $3.
Where Mendoza lacks wine signage, Salta more than makes up for it with the well-marked Ruta del Vino that runs south to Cafayate and into the Andes mountains to the West. The road travels from the lush green mountains of Salta, and soon enters red-rocked canyons that resemble a mini Grand Canyon. Eventually the route delivers tourists into a wide valley ringed with 12,000 to 14,000 foot tall mountains. Vineyards are everywhere, many filled with "cardons," giant Saguaro-like cacti. In the middle of the valley with two rivers running nearby is the small wine village of Cafayete.
Advantages of taking the long trek to reach Cafayate are that it is a friendly, clean, and safe town centered around a large plaza with outdoor restaurants and boutique hotels. Several wineries have tasting rooms just off the plaza, so wine tourists can walk to these, and then take a short drive outside of the town to visit others, such as Piatelli, Domingo Molina, San Pedro, and El Esteco. Tasting fees are more reasonable, and appointments are generally not necessary. There is also an excellent museum just off the square called Museo de la Vid y el Vino, where visitors can learn about the wines of Salta. The dry desert like climate generally means it is warm with 340 days of sun per year.
Conclusion
In analyzing two of Argentina's most famous wine regions, both have pros and cons regarding wine tourism. However, local governments seem to be very supportive of encouraging more tourists to come to the regions, and are working on solutions to address some of the issues.
About the Author: Dr. Liz Thach, MW is the Korbel Professor of Wine Business at Sonoma State University Wine Business Institute. She just returned from teaching as a Fulbright Specialist at the National University of Cuyo in Mendoza. She can be contacted at Liz@lizthach.com.