Using Social Media in China to Promote Wine & Spirit Brands
Before my recent trip to China to visit the Ningxia wine region, I did some research on China's use of social media and was surprised to learn two amazing facts from a 2012 McKinsey report: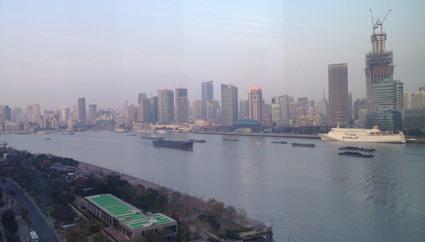 China has the largest Internet base in the world at 513 million people.
China is the largest social media user, with over 300 million people.
At the same time, the Chinese government is careful about the online applications they do allow their citizens to use. For example, Facebook and YouTube are banned in China.
Despite this, social media appears to be widely used, even to promote wine and spirit brands. In Shanghai I spoke with a representative from a social media firm whose full-time job is to promote and build brand recognition for three major alcohol brands. She said she helps establish new brands by utilizing four key platforms:
Chinese Website - Sets up a Chinese website for the brand, which includes their brand story, information on the drinks, recipes and links to the brand's Weibo and WeChat sites. She uses a software called Kawo that allows her to easily translate the brand's English websites, as well as Facebook and Twitter feeds. She then uses this information on the Chinese website, but modified for the Chinese market.

Weibo - Sets up Weibo site, which she said is similar to Facebook. The site includes some of the information from the brand website, but is primarily used for posting and communicating with fans. She tries to get people to "like" the brand by sending out brand information and chances to win a free iPhone if they like the page and get their friends to like the page. She posts on Weibo at least three times per day and responds to messages. Some people compare Weibo to Twitter, but it is not a true micro-blog, and functions more like Facebook.

Co-Marketing - She contacts other companies to establish co-marketing of sponsored campaigns in both online and offline event venues. For example, she may work with a local cosmetic company and bring her alcohol brands to their events, or vice-versa. This helps to create more buzz and is used by many companies in Shanghai. She said there are continual events that people can attend constantly in the city, and social media is used to promote them.

WeChat – She sets up a WeChat account for the brand. WeChat is the second most popular app in China and is a texting app but with many more features. Brands can also set up an account and try to get people to accept them. Once this is done, she can then send out short updates or links to stories on what the brand is doing. WeChat is becoming very sophisticated in that you can set up a home page with photo albums. You can also use telephone, video or walkie talkie (voicemail message) features. The newest feature is to link it to your credit card, so you can pay with your WeChat account.
On a personal note, I've had a WeChat account for more than a year now, but rarely use it in the U.S. However, when in China, I use WeChat almost constantly to communicate. It is also used for business meetings as well. What's nice about WeChat is that the texting is free all over the world as long as you have a WiFi connection.
I should mention that Renren is another Chinese social media platform that is also compared to Facebook. However, it is not used by businesses because it is mainly for university students. She mentioned that China is also looking at adopting LinkedIn or something similar to it.
After my visit here, I believe that China may be more advanced now in using social media for marketing purposes than the U.S. Interestingly, when I asked her how they calculated return on investment for social media activities, she responded, "Social media builds brands people love, not driving sales so we don't calculate ROI."
by Dr. Liz Thach, MW
Dr. Liz Thach, MW is the Korbel Professor of Wine Business and Management at Sonoma State University's Wine Business Institute. For more information, see Liz's recent blog postings on her December 2013 trip to Ningxia at www.winetravelstories.blogspot.com