Second annual winemaking and viticulture symposium set for 2014
Direct-to-Consumer topics added to educational sessions
December 20, 2013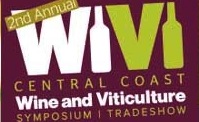 Paso Robles, CA – The second-annual WiVi Central Coast Wine and Viticulture Tradeshow/Symposium will be held March 19-20, 2014 at the Paso Robles Event Center in Paso Robles, Calif. WiVi was launched in 2013 to address the growing need for educational and supplier resources for the Central Coast wine industry and was well received by nearly 600 attendees. The WiVi show is the result of a partnership between Wine Business Monthly and Precision Ag Consulting.
The 2014 WiVi meeting will expand its programming to offer sessions on direct-to-consumer issues in addition to its enology and viticulture sessions – making WiVi the only comprehensive winemaking and viticulture symposium and tradeshow on the Central Coast.

"With the addition of the DTC (direct-to-consumer) sessions, WiVi now offers something for everyone in the Central Coast wine industry," says director Becky Zelinski. "The tradeshow will offer one-stop shopping for all segments of the industry and the sessions will cover everything from practical, applied information to the latest trends in winemaking, grape growing and tasting room sales."

The DTC sessions aren't all that's new for WiVi. There will still be two days of concurrent sessions, but the tradeshow will be held for one day only on Thursday, March 20 from 10 a.m. – 6 p.m. The cost of admission to the tradeshow is $25. Free tickets are available for members of participating Central Coast winery and grower associations who register by March 1, 2014. The tradeshow ticket includes a barbecue lunch from Cahoot's Catering and admission to the regional wine tasting on Thursday afternoon.

Other exciting changes for the tradeshow include a launch party on Wednesday evening for exhibitors and session attendees, more interactive demonstrations on the tradeshow floor, as well as concessions and a wine and beer garden throughout the afternoon.

The WiVi tradeshow is the largest industry tradeshow on the Central Coast hosting more than 125 local and national suppliers showcasing the latest tools and technology for winemakers, growers and winery staff.

WiVi is the only Central Coast wine symposium focused on region-specific issues and topics unique to the region and held its own backyard. The two-day symposium will feature three educational tracks which will address hot topics and regional-specific data for all three segments of the burgeoning Central Coast wine industry. The sessions will open on Wednesday, March 19 with a visionary state of Central Coast wine industry update, and then break into three educational tracks on viticulture, enology and DTC topics. Session topics will include research updates, practical and applied information, and educational tastings specifically targeted for winemakers and tasting room personnel.

One enology session that's unique to WiVi and specifically targeted for winemakers is the comparative wine tasting led by Wine Business Monthly's contributing writer and winemaker, Lance Cutler. This tasting has now become part of the Varietal Focus series that is published in Wine Business Monthly two times each year with one of them now featured at WiVi. The 2014 tasting will compare Grenache from different regions focusing on the differences exhibited in wines made in the French and Spanish styles.

WiVi, an abbreviation of the words WINE and VITICULTURE, is presented by Wine Business Monthly based in Sonoma and Precision Ag Consulting of Paso Robles. Wine Business Monthly is the industry's leading publication and its leadership brings the integrity and product-focused approach to WiVi. Precision Ag is a locally-owned viticulture consulting company that is well-respected for the valuable educational services it offers.

For more information about WiVi Central Coast or to inquire about limited supplier booth rentals and/or sponsorship opportunities visit www.wivicentralcoast.com or call (888) 974-WIVI (9484).
FOR IMMEDIATE RELEASE
November 20, 2013
MEDIA CONTACT
Becky Zelinski, WiVi Central Coast
T: 805-434-331, bzelinski@wivicentralcoast.com