Mastering Balance and Vineyard Expression through Lower Alcohol Wines
Napa Wine & Grape Expo Panel with Steve Matthiasson, Duncan Arnot-Myers, Jon Bonné, Paul Draper and Nick Gislason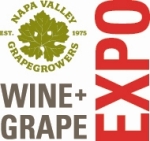 Everyone on the panel on low alcohol wines assembled for Thursday's Napa Grape and Wine Expo favored wines that were expressive of their vineyard sites. They all favored "scaled back," "non-gladiator" wines, wines that don't require "reverse engineering", (read: water/acid additions, de-alcoholization, or excessive manipulation) to achieve elegance, perfume, balance, flavor and aging ability.
Many factors have played into the current fashion of higher extraction and higher alcohol wines of the past twenty years. A significant factor, as one audience member suggested, is the influence of "two wine critics who cover Napa". These un-named wine writers have given lofty scores to their hefty favorites and this fashion-setting trend has tended to favor big impact wines, wines of high extraction and high alcohol in the marketplace- a marketplace that is insecure and looking for validation of their purchasing decisions.
The senior member of the panel in both age and experience was Paul Draper of Ridge Vineyards who explained that his orientation to fine wine came through his early education in wine based on classic wines of the post-prohibition era in California, vintages from the 1930s, particularly as exemplified by Inglenook and La Questa, as well as the wines of France's Bordeaux region from the late 1940s. Most of these wines were by today's standards lower in alcohol, not much above 12.5%. In Draper's opinion these were the classic wines that he strived to emulate when he began his apprenticeship at Ridge vineyards some 46 years ago.
He pointed out that these wines had aged extremely well over the decades. "What we found were that wines that were balanced going into the bottle stayed that way." Indeed, his 1971 Monte Bello Cabernet that placed fifth overall at the 1976 Steven Spurrier tasting in Paris, placed first in San Francisco's reenactment of this same tasting 30 years later.
Jon Bonné of the San Francisco Chronicle noted that today's American wine audience is becoming better educated and has much wider experience of a range of wines from both old world and new world sites. He noted that the dominant influence of the established press (one assumes he is also referring to himself) is today challenged by bloggers and social media, particularly among a younger and more widely educated, in terms of wine experience, audience. Bonné expressed the opinion that the acceptability of big, high alcohol wines is in flux- "in ten years the yardstick will change". He felt that this was already the case for Chardonnay and Pinot Noir, that consumers are seeking more balanced and lower alcohol wines.
Paul Draper urged winemakers to "not follow the international style"
Panelists and winemakers Duncan Arnot-Meyers and Nick Gislason in commenting on their predilections and winemaking styles also bowed to traditions, but not necessarily the same as Draper's. Arnot-Meyers said he started out making 15.5% alcohol wines because that was what he learned in his apprenticeship. But over the past twelve years he has begun to find that working with vineyard sites on the edge of climatic zones, where specific varietals are challenged to fully ripen each year, has led him to make more restrained wines that really worked for him and his partner at Arnot-Roberts. He mentioned a New York wine buyer who emphatically demanded more 88-point wines, decidedly outside the sweet spot of the "major Napa critics".
Gislason spoke of his obligation to follow his predecesors' style at Screaming Eagle, a cult wine that commands one the highest prices of any Napa Valley red wine. He cited that the Screaming Eagle wines of the 1990s had alcohol in the low 13% range, and were feminine with perfume. He looks for ripeness in the fruit, the kind of sweetness and flavor he would seek in a ripe peach. When challenged to talk about the numbers he volunteered that the pH's for Merlot were about 3.35 to 3.50, and "a click or two higher for the Cabs", but insisted that the numbers were simply for the records. Gislason said he makes his pick decisions principally on taste, with the wines flavorful, ripe and exhibiting the perfume and balance that is characteristic of the vineyard.
Matthiason suggested the keys to a more successful future, one reflecting more restraint, would be guided by a more judicious selections of clonal material
In response to a question about replanting Napa Valley's vineyards, moderator Matthiason suggested that the keys to a more successful future, one reflecting more restraint, would be guided by a more judicious selections of clonal material - - a return to 19th century European selections which he suggested were slower to ripen, as well as rootstocks such as St. George which is known to limit production, as opposed to the currently more fashionable and more vigorous 101-14. Such selections favor more restrained and balanced wines in his experience. Additionally, row orientation to eliminate early desiccation and advance ripening at lower Brix would also advance the cause of more balanced wines. A greater reliance on cover crops with less tillage were improvements he advocated from an environmental and sustainability perspective.
In summing up the future, Jon Bonné counseled winemakers to make "market-oriented decisions and to be bold, …everything is changing fast."
Understanding one's market and customers is key to every successful business plan. Draper mentioned that New York and the U.K. are a significant percentage of Ridge's market, about 20%. They are also two of the largest wine markets in the world. Draper urged winemakers to "not follow the international style" (bigger more extracted red wines of higher alcohol), but return to an earlier style, one that he has never departed from.
Based on the sentiments expressed by these panelists, it is safe to say that a return to tradition is upon us, at least in the high-end California wine market.