Wine + Grape Expo: A chance to taste wines from PD-resistant vines
At the Napa Valley Grapegrowers' Wine + Grape Expo on Nov. 14, Professor Andy Walker of UC Davis will discuss his and other scientists' research in developing wine grape vines that are resistant to Pierce's disease.
He will also provide a rare opportunity to taste wines made from those vines and blends with vinifera wines.
The latest selection of the vines, developed in five generations over 10 years, are 97% vinifera, but exhibit resistance to PD. They were developed with classical breeding techniques, not generic engineering, though they use modern marker-assisted selection (MAS) to speed results.
Up to now, growers have had to depend on controlling the insect vectors and eliminating host plants to control PD. Vines that would resist the disease would be a huge benefit, particularly in areas where PD is endemic like Texas, though it's also a big threat in California.
Walker notes that unintentional breeding occurred as soon as Europeans arrived in the southern US, resulting in grapes like Lenoir (also called Jacquez and Black Spanish), a V. aestivalis x V. vinifera hybrid that resists PD. Unfortunately, breeding in the southeast US was hindered by complex resistance controlled by multiple genes but one success was Blanc du Bois, a cross of Muscat with native Florida grapes.
Walker's early research included V. rupestris x M. rotundifolia seeds he received from Harold Olmo, but rotundifolia doesn't have the same number of chromosomes as vinifera, making it difficult to propagate. Modern technology determined that the seeds weren't the labeled mix, too.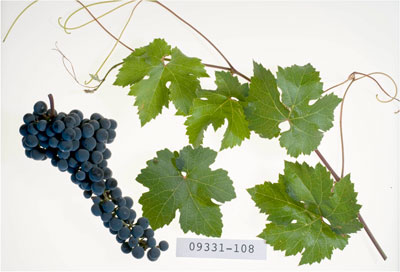 Zinfandel and Petite SIrah hybrid that's 97% vinifera. Zinfandel was the parent in the 4th BackCross generation and Petite was used as a grandparent. It contains about 3.5% V. arizonica.
Research, however, suggested that a single gene provide PD resistance. Efforts shifted to V. arizonica vines from the southwest and Mexico and it's been the focus of testing.
Researchers have made wine from 75%, 88% and 94% vinifera vines and compared them with wine from classic vinifera cultivars made at the same small scale. The results went from peppery, herbaceous wines with blue-purple pigments to high quality vinifera characters in ten years.
The tasting will demonstrate how the 94% vinifera PD-resistant selections work in 75/25% blends with vinifera varieties so that these selections (varieties when released) can be planted to reclaim the hot spots in vineyards infested with PD, then blended with the appropriate variety in the rest of the vineyard to produce wines.
Walker will also pour a red blend of three selections from the next generation (97% vinifera), two vinifera varieties made at the same small lot scale and blended with the PD-resistant grapes, and Lenoir and Blanc du Bois hybrids.
Walker has also developed PD-resistant rootstock selections and is working on breeding in added resistance to powdery mildew. This could help reduce the widespread use of sulfur on vines worldwide.
The Napa Wine + Grape Expo will be held at Napa Expo on Thursday, Nov. 14. It will include a trade show as well as seminars. Get details and register at www.napagrowers.org.