Jordan Winery Sales Team Brings Digital Wine List App to National Marketplace
October 16, 2013
PRESS RELEASE
HEALDSBURG, Calif. (October 11, 2013)—Maker of the most popular Cabernet Sauvignon on U.S. restaurant wine lists, Jordan Vineyard & Winery has expanded its sales and marketing expertise to include tablet technology solutions for on-premise beverage programs nationwide. In addition to Jordan's elegant Cabernet Sauvignon and Chardonnay, Jordan sales directors now offer restaurants a dynamic alternative to printed wine lists with the Tastevin app.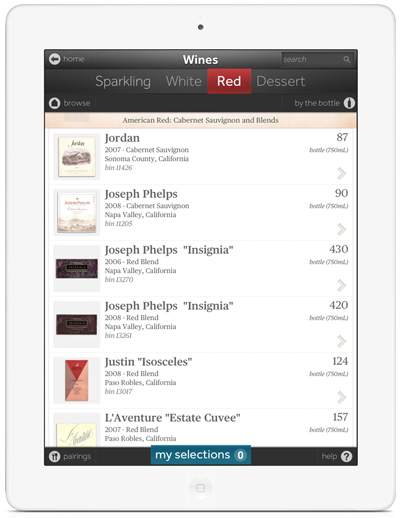 Currently used in 14 states and Canada, Tastevin was created by John Jordan, CEO of Jordan Vineyard & Winery, and wine technology entrepreneur, Josh Hermsmeyer, who saw an unmet need in the fast-growing tablet wine list market and created a second company to develop Tastevin. Tastevin is the most dynamic, comprehensive digital wine list solution in the marketplace.
"After four decades of selling wines to restaurants, we believe that offering Tastevin is a natural progression for Jordan as a thought leader in technology, and most importantly, as a trusted resource for delivering quality and consistency to our on-premise partners," John Jordan said.
Easy to use in an approachable format, Tastevin instantly disseminates tasting notes, labels, photos, and other rich media to iPads, integrates directly with all major POS systems to gather real-time sales data previously impossible to attain on-premise, eliminates embarrassing out-of-stock situations, streamlines inventory management, helps boost slow-moving inventory, aids staff trainings, and saves time, money and paper.
"We're excited to provide our customers with a tablet wine list resource that was built in the Jordan fashion—no compromises," says Chris Avery, national sales director for Jordan. "The research and talent that John and Josh have put into making this technology useful and affordable to restaurants is remarkable."
An overview of Tastevin's features and benefits is available at www.tastevinapp.com, and a free demo can be downloaded from iTunes at itunes.apple.com/us/app/tastevin/id464927864?mt=8. For more information, prospective customers may contact their Jordan regional sales director or email info@tastevinapp.com.
About Tastevin by Labrador OmniMedia
Founded in 2011, Labrador OmniMedia is re-inventing on-premise beverage sales with its Tastevin app. Headquartered in Northern California, the company is dedicated to creating technology that blends a dynamic user experience with unmatched systems integration, saving clients time and money while providing previously inaccessible sales data. Labrador OmniMedia clients include Auberge du Soleil, MGM International, Hyatt, Kimpton, Fairmont, Ritz-Carlton, JW Marriott, and other prestige hotels and restaurants in all major U.S. markets. For more information on Labrador OmniMedia's Tastevin app, visit www.tastevinapp.com.
About Jordan Vineyard & Winery
Jordan Vineyard & Winery lies tucked into the hills of Alexander Valley in Sonoma County, where the iconic Jordan chateau, inspired by the great estates of France, overlooks nearly 1,200 acres of rolling hills and vineyards with more than three quarters of the land dedicated to natural habitat. Today, second-generation vintner John Jordan continues to build upon the legacy of his parents, preserving the timeless winemaking qualities of balance, elegance and food affinity. For more information, visit www.jordanwinery.com.