Charles Banks Acquires Historic Qupé Winery in Santa Maria Valley Appellation
Banks becomes majority stake holder, with legendary winemaker, Bob Lindquist, remaining on board as partner
October 10, 2013
PRESS RELEASE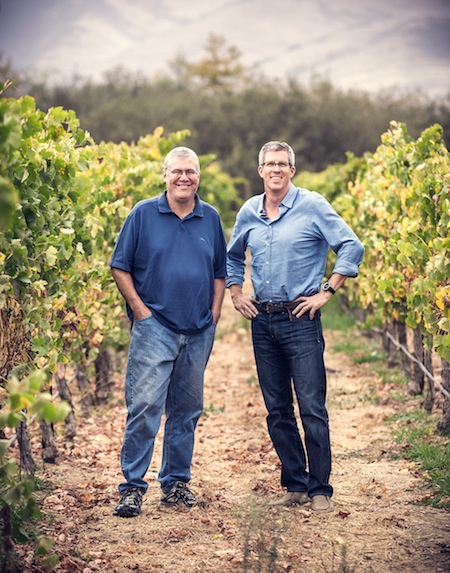 Bob Lindquist and Charles Banks, photo by Jeremy Ball
Santa Barbara County, CA- Charles Banks and Terroir Selections have acquired a majority stake in Santa Maria Valley's iconic Qupé winery, long considered one of America's finest Syrah producers. Founder and winemaker, Bob Lindquist, will assume the role of partner, while Louisa Sawyer Lindquist will continue to assist with sales. Moving forward, both parties are committed to improving quality at Qupé.
"I am thrilled to work alongside a gifted winemaker and legend like Bob Lindquist," says Banks. He continues, "Bob has been a steadfast visionary of Syrah for decades. Few have done as much as Bob to advance awareness for Syrah in the United States. I love Syrah and have wanted to work on a meaningful Syrah project for a number of years now. With an infusion of capital from Terroir Selections, Bob and I are both confident that we can strengthen Qupé's future allowing it to remain the benchmark in American Rhone-inspired wines."
Lindquist has long been considered one of Santa Barbara wine country's visionaries. While a tour guide in the late '70's at Zaca Mesa, Lindquist learned to make wine from his co-workers and friends; Jim Clendenen, who at the time was assistant winemaker, Ken Brown, who was winemaker, and Adam Tolmach, who was the enologist. All three, who became successful winery owners themselves, worked at Zaca Mesa during Santa Barbara wine country's nascent era.
Founded in 1982, Qupé will continue to share a winery with Clendenen's Au Bon Climat on the esteemed Bien Nacido vineyard; an agreement that was made between Lindquist and Clenenden in1989, when they brought their winery projects together under one roof. Lindquist and Clendenen continue to mentor a new generation of winemakers, including Paul Lato, Gavin Chanin, Gary Burk, Josh Klapper and Rajat Parr, among many others.
Banks adds, "My wife, Ali, and I have been in Santa Barbara County for 13 years, and we've set down some roots here, first with Jonata, and later with Sandhi and Mattei's Tavern (a four-way partnership between Ali and Charles Banks, and Emily Perry Wilson and Chef Robbie Wilson) and now with Qupé.
Qupé Winery will join Banks' Terroir Selections portfolio, which includes Sandhi (Sta. Rita Hills, with celebrated sommelier-turned-winemaker, Rajat Parr), Mayacamas and Leviathan (Napa Valley), Wind Gap (vineyard designates throughout California), Mulderbosch, Fable and Marvelous Range (South Africa); Maison L' Oree (France), and Cultivate, a philanthropically-minded brand sourcing fruit from around the world.