Wine Industry Financial Symposium Preview: Yields Increase but California Loses Market Share
Consumption Outpaces Production; Where will the Grapes Come From?
September 19, 2013
Higher yields have clearly helped offset a lack of supply in the past few years, but as new grape plantings fail to keep pace with increasing consumer demand, California's share of the U.S. wine market continues to fall. Those are some of the conclusions of a presentation that will kick off day two of the Wine Industry Financial Symposium in Napa next Tuesday.
The presentation, "Where Are the Grapes Going to Come From?" by David Freed, Chairman, The Silverado Group, points out that California's share of the U.S. wine market by volume declined from 77 percent in the year 2000 to an estimated 61 percent today, and is projected to dip to 57 percent by 2015.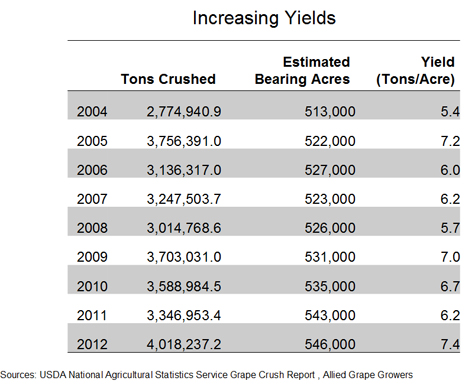 U.S. wine consumption has increased by an average of 2.9 percent each year for 22 years.
"We're not going to be able to maintain market share of growing U.S. consumption," Freed said.

While imports of bottled and bulk wine have filled a gap, increased yields have helped some too. In fact, government records show that average yields per acre in California have increased by two tons in the last eight years. There's some room to grow yields too, particularly in California's Central Valley as more growers move to boxed pruning their vines. Boxed pruning can increase yields by upwards of 25 percent.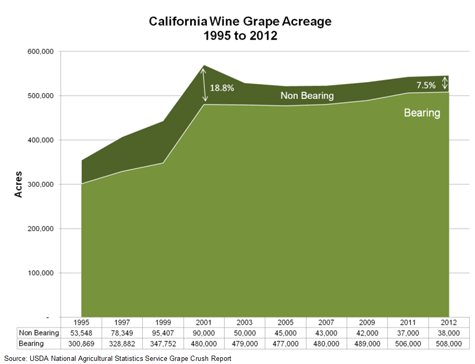 Freed thinks there won't be much new planting, though. Napa is basically planted out, Sonoma County is basically planted except in marginal areas, new vineyard development has stalled out on the Central Coast. (It's essentially on hold in Paso Robles because of concerns about ground water levels; Santa Barbara is sewn up in regulatory red tape, and the economics in Monterey are difficult because of fierce competition for land from vegetable growers).

The economics of acquiring and developing vineyard land in Lodi, the Delta and in the Central Valley (with water) have changed in the past eighteen months because of competition for land for growing almonds. Grapes take longer to develop in terms of waiting for a return and can't compete.

At the lower price levels, short harvests are increasingly made up with bulk imports from Australia, Chile, and Argentina.

"The safety valve, which has been the Central Valley, may not be there going forward," Freed said.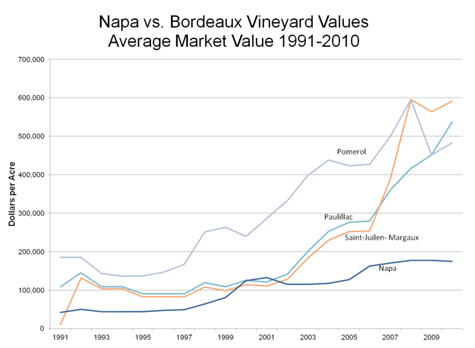 Meanwhile, Freed sees highly desirable vineyards becoming even more important for wineries needing to assure their source of grapes and their costs by owning or leasing, properties – a dynamic that will apply to the Central Coast. One need only to look at what's happening with vineyard values in the most sought after parts of France.

"I have a little bias here," admitted Freed (who is a grower) "but what's going to happen to California vineyards – to Napa – and to Sonoma vineyards – where you can't make a lot more, and you can't change the tonnage that much?"