Brown Marmorated Stink Bug in Sacramento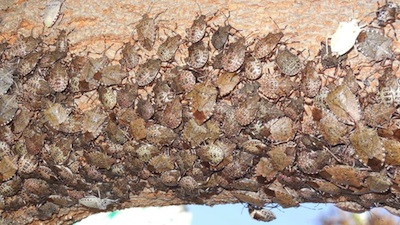 A residential area in midtown Sacramento now has a well-established population of brown marmorated stink bugs (BMSB) (Halyomorpha halys) on several blocks that cover up to half a square mile. UC Cooperative Extension's (UCCE) Sacramento County viticulture and pomology farm advisor Chuck Ingels informed local growers September 16 via e-mail that the bugs may have been here for one to two years. He said this is the first known reproducing BMSB population in California outside of Los Angeles County.
BMSB could feed on several dozen commercial crops grown in the area, including wine grapes, apples, pears, cherries, peaches, melons, berries, corn, and tomatoes, and according to Ingels, just about any plant with a botanical fruit, as well as ornamentals such as Paulownia, Catalpa, and tree of heaven. In 2010, the BMSB caused $37 million in damage to orchards in the Mid-Atlantic states. Recent reports indicate the BMSB is now in 39 states, including Washington and Oregon. It is also a serious nuisance pest, as it seeks out lights at night and aggregates in droves in sheltered areas during the winter.
The bug has a strong unpleasant odor when disturbed, a particular concern of the wine grape industry if bugs find their way into picking bins at harvest. Studies done in Maryland to evaluate BMSB aroma taints in wine grape juice showed that the bugs can add smell described as "crushed cilantro." Other descriptors included "skunky," "citrusy," and "piney."
After visiting the infested area in Sacramento, Ingels said, "I didn't have any problem finding them on trees and flying around, since now they are aggregating."
Ingels advised growers to be on the lookout for the BMSB. "Because they are strong flyers (up to one-half mile per day) it's likely a matter of time before they reach farms, perhaps one to three years," he said. He noted that several types of traps using sex pheromones are available from suppliers, such as one from AgBio, to monitor their presence and populations.
BMSB is not a serious pest in east Asia, where it originated, because of control by parasitic wasps. Collections of parasitic wasps (especially Trissolcus spp.) have been made, but it will take two to three years before they can be released in California, because of testing requirements. Parasitism is one of the best hopes for reducing populations.
Ingels said control of BMSB is very challenging. Some insecticides can be effective but must be applied frequently. Control for organic growers, and for home gardeners and residents can be especially challenging. BMSB seeks winter shelter, and large numbers can congregate on outside walls or inside homes. The bugs can travel long distances by hitching rides in vehicles, and as stowaways when furniture is moved. As a result, new infestations are most commonly found in urban areas. BMSB finds should be reported to the county agricultural commissioner, or a local UCCE farm advisor.
Ingels provided several sources and links for more information:
--A national web page, www.stopbmsb.org
--The UC IPM web page, with photos and life cycle information, www.ipm.ucdavis.edu/pestalert/pabrownmarmorated.html
--An online presentation by the primary U.S. research leader Tracey Leskey, http://stream.ucanr.org/fps_stinkbug/index.html
--An article written by Ingels in the county extension Tree & Vine Newsletter in January 2011, http://cesacramento.ucanr.edu/news/Tree_-_Vine_News