Maison Louis Jadot Buys Oregon Vineyard
Resonance Vineyard Represents First Move Outside Burgundy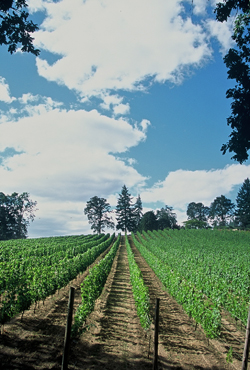 In its first acquisition outside of Burgundy, Maison Louis Jadot has purchased Resonance Vineyard in Oregon's Willamette Valley, a 20-acre vineyard in the Yamhill-Carlton AVA first planted to Pinot Noir in 1981 by Carla and Kevin Chambers. The move follows a string of acquisitions in Oregon, the latest being Jackson Family Wines' purchase of Soléna Estate.

Jacques Lardiere, former winemaker at Louis Jadot, will be responsible for all aspects of cultivation, vinification and aging of the wines, starting with the 2013 harvest. Maison Louis Jadot will initially use the Trisaetum Winery facilities near Newberg, Oregon for winemaking services.

"It's not easy to let go of a property you've invested your heart and soul in for 24 years like we have, but to be able to pass it to Jacques Lardiere and the team at Mason Louis Jadot is an honor," Kevin Chambers told Winebusiness.com. "One could hardly think of a better steward to pass the baton too. It's their first purchase of a vineyard outside of Burgundy, and for it to be Jacques' retirement project is additionally special."

Lardiere who just retired after 42 years, will be moving to the property and will overlap with Chambers, who's moving in early October. Chambers is set to close on another piece of property in the Amity Eola Hills – an 80-acre Christmas tree farm he plans to plant with Pinot Noir, Chardonnay and Riesling.
Chambers said Jodot has expressed plans to sustain the Resonance brand, making Resonance by Louis Jadot Estates LLC. "I think they will ultimately buy other vineyards," Chambers said. "But I think they want to digest this first. They'll digest this and I think they'll build a facility."

Robert Nicholson of International Wine Associates, Healdsburg, California initiated the transaction on behalf of Resonance Vineyard with Maison Louis Jadot and served as advisor to the Carla and Kevin Chambers. Peter Bouman of Oregon Wine Country Properties served as the Oregon real estate broker for the transaction.