Madeira Rising: Opportunities and Challenges for this Island Wine Region
It is reported that George Washington and Thomas Jefferson were great fans of Madeira—a fortified Portuguese wine made in the Madeira Islands. Today it continues to be popular with wine connoisseurs and collectors, yet is a relatively unknown wine category to millions of other consumers. This is one of the challenges—and also opportunities—the Madeira wine industry faces today.
History & Types of Wine
Madeira can trace its winemaking roots to the 16th century. Indeed it was created as a result of adding alcohol to still wine as a preservative when it was transported on trading ships from its island location in the Atlantic to the New World and West Indies. The movement of the ship, long hot days baking in the sun, and natural oxidation created a unique fortified wine that has pleasing notes of carmel, toffee, and dried orange with a refreshingly high acidity.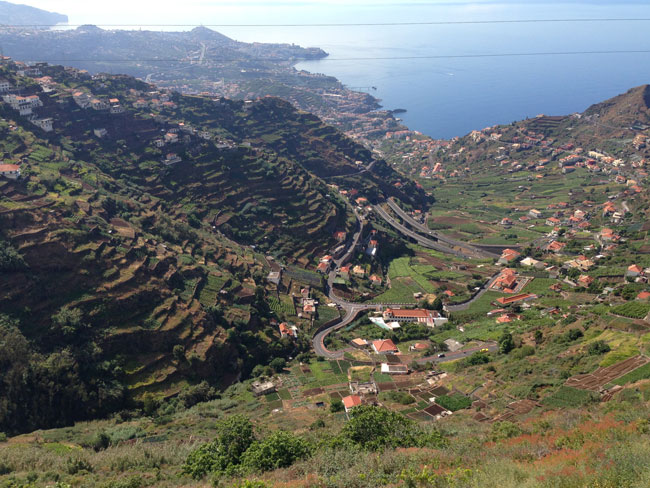 Steep Terraced Vineyards of Madeira. Photo Credit: Liz Thach
Today Madeira is made in a similar fashion through a process of heating the wine up to 50 degrees C (120 F) in an estufa system, or aging in large wooden barrels in sun-warmed rooms, which is referred to as the canteiro method. According to Henriques & Henriques CEO, Humberto Jardim, "We enslave the wine to all things wine doesn't like, such as heat and oxygen, until it finally gives up and says 'I'm Madeira.'" The result is a wine that can last for hundreds of years, and even after the bottle is opened, the wine doesn't spoil when exposed to air.
Madeira is made from five Portuguese grapes: 1) Tinta Negra Mole, which accounts for 85% of the production, and the much scarcer noble grapes of 2) Sercial, 3) Verdelho, 4) Boal, and 5) Malvasia. These latter grapes possess sweetness levels that range from dry to very sweet (see Figure 1), and make excellent aperitif or dessert drinks. Tinta Negra Mole is used to make a variety of styles, including high-end reserve wines, but is also the base for cooking wines.
Figure 1: Madeira Grapes, Styles & Aging Requirements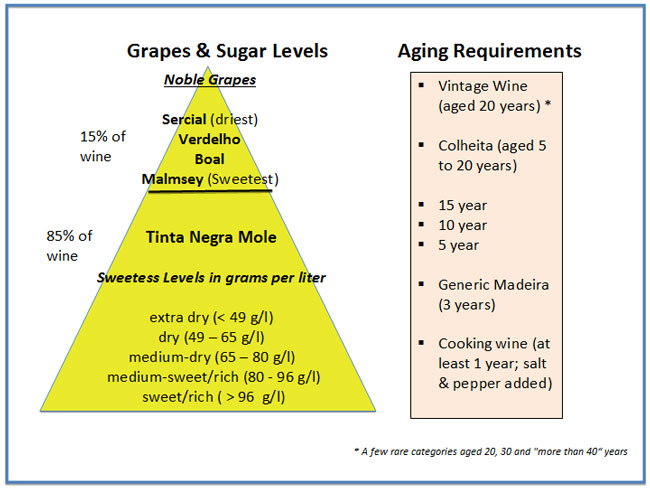 Madeira Wine Industry – Major Players
Currently the island of Madeira only produces 400,000 cases of wine, down from approximately 700,000 cases during the 1800's when Americans ordered and imported more Madeira than any other nation. Vineyards on the island total 420 hectares (approximately 1000 acres), and of these, only 60 hectares are devoted to the noble grape varieties.
There are 8 major players that are licensed to export wine and a handful of very small producers that only sell locally. The major producers, organized by size, are:
Madeira Wine Company – largest, with brands including Blandy's, Leacock's, Miles and Cossart Gordon; partial British ownership
Henriques & Henriques (H&H) - high-quality classic styles of wine, only producer to own vineyards (17 hectares); partial French ownership
Justino's – French firm, known for Broadbent series of wines
Barbeito – high quality terroir driven wines, as well as producer of Historic Madeira Series based on American cities; partial Japanese ownership
D'Oliveiras – oldest producer, known for traditional styles
HM Borges – small local artisan producer
J. Faria e Filhos – focusing on the local market
Madeira Vintners – new start-up with plans to focus on vineyard specific and terroir oriented wines
Challenges Facing the Madeira Wine Industry
Since it is part of Portugal, Madeira faces many of the same issues that other European wine regions face as the recession slowly eases, but they have several specific challenges:
Limited Vineyard Land – similar to the Champagne region, most Madeira producers do not own their own vineyards and must purchase grapes from small family farmers. However as other crops, such as bananas, are easier and faster to grow, the number of vineyards has decreased over the years. Furthermore, the government has regulations against vineyard expansion, so the price of existing vineyards, including the license to grow grapes, has risen exponentially. According to Paulo Mendes, CEO of Madeira Vintners, "vineyard prices with license now average 375,000 euros per hectare ($200,000 per acre)." This makes it challenging for wineries to expand or for new players to enter the market.

Very Little Promotion – though the Madeira wineries do work with Wines of Portugal to conduct trade shows in major cities around the world, in general there is very little promotion of Madeira wines compared to wines from other European regions. Because of this, a large majority of consumers have never tasted Madeira. During the recession this was quite challenging as wines sales decreased sharply, but are slowly on the rise now. A concerted public relations campaign would be beneficial for Madeira wines.

Lack of Industry Collaboration - The major Madeira producers have a long history, with many tracing their roots back to British management in the 1850's or earlier. They still operate in a highly independent fashion and do not feel a need to work together in a collaborative fashion, such as wineries in Bordeaux. Because of this there is no clear "Madeira brand message," which contributes to the lack of promotion issue.
Opportunities for the Madeira Wine Industry
Despite its challenges, there are several exciting possibilities that exist for the Madeira wine industry:
New Markets & Consumers – France, the UK, and USA are currently the largest customers for Madeira wine, but new markets are opening up in Japan, China, and other parts of the world. New consumers, with a taste for sweeter wines, are just beginning to learn about Madeira. If the industry were to sharpen their promotion skills, this opportunity could be expanded further.

Historic Inventory & Pricing – under Portuguese law, Madeira producers must always maintain at least 2/3 of their inventory for aging purposes. Because of this, the majority of Madeira houses have barrels of wine dating from the late 1800's, as well as their 5, 10, and 15 year old regulated labels. In addition, vintage wines, which must age at least 20 years before release, become available to the market on occasion and create joy in collector's circles. The cost to produce these wines many years ago was much less than today, so Madeira is often referred to as one of the best wine values. Therefore with proper promotion, producers do have the opportunity to raise prices at the higher end, and still be quite competitive compared to other fortified wines.

Innovation – for decades Madeira has been produced in the same fashion, but now signs of innovation can be seen amongst producers. The number of private labels for restaurants and retail stores has risen dramatically in the last few years, along with creative label design. Ricardo Diogo, CEO of Barbeito, is one of the trendsetters in this arena. "I believe in innovation," states Ricardo, "while still respecting tradition." In addition to the Historic Series he launched in the US market with partner, The Rare Wine Company, Ricardo has installed state of the art equipment in his new winery including robotic lagares in round stainless tanks. The industry is also considering adopting a solera system as a new style for winemaking. If this type of innovation continues and expands, new product categories may be produced and more consumers around the world will be introduced to this historic and delectable wine.
About the Author: Dr. Liz Thach, MW is the Korbel Professor of Wine Business & Management at Sonoma State University (Liz@lizthach.com). She has just returned from a trip to Madeira, where she experienced a rare meal of traditional Portuguese dishes paired with fortified and still Madeira wines. For more information, see: http://winetravelstories.blogspot.com and/or http://www.vinhomadeira.pt/.