Do Wine Franchise Laws Impact Wine Price and Consumer Choice?
Wine franchise laws are monopoly protection regulations to safeguard the distributor, and are currently in use in 22 US states. However, in the past decade or so, there have been multiple reports from wineries describing issues with distributors in wine franchise states as a result of these laws. Consider the following:
"I know a small winery who decided he just couldn't work with his distributor anymore because the guy was not doing anything to sell his wine. Therefore, he pulled all of his wine out of the state and decided to sit out for three years. It's rather sad for consumers to have nice brands like that leave."
In addition to reported issues of distributor non-performance, there has been speculation on whether or not wine franchise laws reduce competition, thereby negatively impacting consumers in terms of higher prices and fewer brand choices. Based on these questions, we decided to conduct an academic research study on the topic. In order to focus the research, we examined two states that were in close proximity to one another: Florida, a non-wine franchise law state, and Georgia, a franchise law state.
How the Study Was Conducted
The study was conducted in 2011- 2012, and was divided into three phases. The first phase included interviews with 14 wineries, distributors, and retailers doing business in Florida and Georgia. The second phase was a statistical analysis of Nielson Scantrack data for Florida and Georgia to determine wine brand availability and wine price points in both states. The final phase was an online survey of 401 consumers in Florida and Georgia to determine consumer satisfaction levels with wine selection and pricing in their state.
Interview Results – "There is an Issue"
Based on interview results, there was a general consensus that franchise wine laws do create issues. All of the wineries agreed that operating in franchise states, such as Georgia, created hardships for them. They reported they generally do not encounter these types of issues in Florida and other non-franchise law states because they can easily re-negotiate and/or terminate contracts with non-performing distributors. Major issues identified with wine sales in Georgia and other franchise law states are: 1) Difficulty in expanding an existing brand or introducing a new wine brand, 2) issues with a brand being traded to another distributor, and 3) costs associated with attempting to terminate a contract with a distributor.
When analyzing distributor and retailer responses, comments indicated they were aware of the issues that franchise laws created for wineries, however, they had differing perceptions on the impact of the regulations on consumers in terms of price and choice. Some believe that consumers may be negatively impacted, but they are not sure. Others see the different regulations as balanced out due to tax structure, demographics, and a healthy wine economy in both states.
Statistical Analysis of Wine Choice & Price in Florida vs. Georgia
Results of wine selection, or consumer choice, between states was measured by the number of unique wines available, identified by their store keeping unit (SKU). Our results show there were approximately 1,000 more unique wines available in Florida than Georgia in 2011. Interestingly, while on average there are approximately 27% more wines available in Florida than Georgia, at the lowest price points, where most of the wine consumption occurs; there are only a slightly greater percentage of wines available in Florida than Georgia. However, the increased variety is most prominent at the higher price points where, for example, there are 162% more wines available in Florida than Georgia.
The analysis of wine pricing in both states show, on first examination, that Florida appears to have higher prices than Georgia. However, because there is a much greater selection of wines available in Florida than Georgia, especially at higher price points where the difference in wine selection is most prominent, a corrected sample was analyzed only using wines sold in both states. This allows us to compare identical wines across states. Here the results show that for the two lowest price points, which constitute approximately 80% of all wine sales, mean prices are lower in Florida than in Georgia (see Table 1). The price differentials are statistically significant at the one percent level of significance for the "Under $6" dollar price point, but not for the "$6 to under $9" price point. For the two middle price points, mean prices are marginally greater in Florida, although these results are not statistically significant for the "$9 to under $12" price point but are statistically significant for the "$12 to under $15" price point. At the two higher price points, once again mean prices are lower in Florida than in Georgia, although neither result is statistically significant.
Table 1: Price Differential Regression Results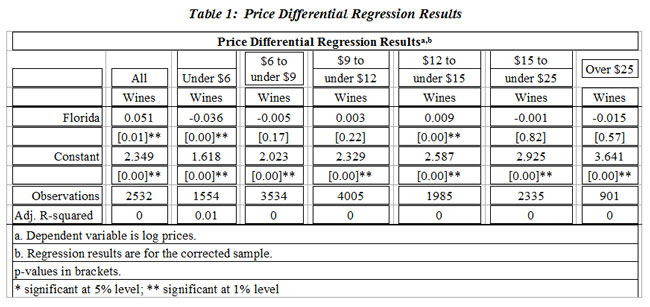 While the magnitude of price differentials may not appear large, the lower prices in Florida are surprising given the nearly 50% greater excise tax on wine in Florida compared to Georgia. Specifically, Georgia distributors pay a $1.51 excise tax on every gallon of wine, while Florida distributors must pay a $2.25 excise tax per gallon. Since the excise taxes are imposed at the distributor level, these raise the cost to retailers and ultimately to consumers and are thus reflected in the retail scan data. Despite the greater excise tax on alcohol, Florida wines remain marginally less expensive.
Consumers Do Not Perceive Difference in Wine Satisfaction in Florida Vs. Georgia
Of the 401 wine consumers who completed the online survey (200 from Florida and 201 from Georgia), results show no significant differences between respondents in terms of perception of wine availability or price. Consumers in both states felt that they were receiving good value for their money and felt that they had access to quality wines.
Implications

Though the results of this study cannot be generalized to other wine franchise law and non-franchise law states, it does show statistical proof that Florida offers more wine selection and lower wine prices on matching brands than Georgia. However as online survey results illustrate that consumers in both states are currently satisfied with wine choice and pricing, this begs the question of whether it is an issue or not. On the other hand, the study highlights that wineries are experiencing business hardships working in franchise law states, which drive some to pull their brands from the state. Therefore, though the consumer may not be aware of any disparities, it calls into question the fairness of the situation. Finally, this study implies that new wineries desiring to enter franchise law states should research regulations and potential partners very carefully before making a commitment.
About the Authors: All authors hold Ph.D.'s and are full-time professors at Sonoma State University Wine Business Institute from which they received a grant to conduct this research. No other outside sources of funding were used. The authors may be contacted at: Steve.Cuellar@sonoma.edu, Liz@Lizthach.com, janeen.olsen@sonoma.edu, and tom.atkin@sonoma.edu.
A full report of the research will be published in an upcoming issue of The International Journal of Wine Business Research (Issue 25, No. 2): "The Impact of Wine Franchise Laws on Consumer Choice and Pricing: A Comparison Between Georgia and Florida."