Allied Grape Growers founding president Robert "Bob" Charles McInturf Passes Away at 93
May 10, 2013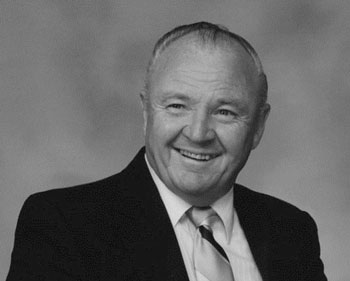 Robert "Bob" Charles McInturf, age 93, passed away in Rocklin, California on Thursday May 2, 2013 of natural causes.
He was born in Auburn, Indiana on March 3, 1920 to Charles and Bertha McInturf, the youngest of 6 children. After age 4 he was raised by his oldest sister Irene (McInturf) Peters also of Auburn, Indiana.
Following his graduation from high school Bob joined the U.S. Army Air Corp. in 1940, attaining the
rank of captain. He was stationed at numerous bases in the U.S. including his longest assignment in
Puerto Rico. While still in the service Bob met and married Rosalie Melba Hansen of Fresno, California on November 14, 1944. The first years of their married life were spent at various Air Force bases. Upon discharge from the Army Air Corp, Bob and Rosalie settled in Fresno, California where they resided for most of their lives.
Following the war Bob became involved with the family farming operation founded by his father-inlaw Wilhelm (Bill) Axel Hansen of Kerman, California. With vineyards of both raisin and winegrapes, the family farmed many hundreds of acres in both Fresno and Madera counties up until late 2007.
One of Bob's greatest passions in life was his support and belief in farmer owned Agricultural Cooperatives. Bob was a founding member in 1951 of Allied Grape Growers of Fresno and served for 36 years as their first president. Allied Grape Growers grow and supply winegrapes to wineries throughout the state. During this time Bob was also actively involved in Sun Maid Raisin Growers of Fresno and Kingsburg, California and served on the board of directors for many years.
Over the years Bob was appointed to many state and national agricultural positions. He served on the Board of the Ag Council of California for many years and as it's president. He also served on the Board of the National Council of Farmer Copperatives and as it's president for two years.

On several occassions Bob visited The White House in Washington D.C. meeting first with President Richard Nixon and later with President Gerald Ford. Bob was tireless in his promotion of farmer owned Agricultural Cooperatives and in the support of agriculture in general.

Following semi-retirement Bob and Rosalie joined the Fresno Danish Dancers and participated in Danish folk dancing events throughout the state including the Kingsburg Festival and in Solvang, CA. Bob and Rosalie loved to dance and they first met on the dance floor in 1944.
Bob is survived by his wife of 68 years, Rosalie McInturf; his son, Stan and his wife Dianne, his daughter, Cindy Rubio and her husband David. He is survived by his grandchildren Bonnie McInturf, Matthew McInturf, Nathan McInturf, Allison McInturf, Heidi (Rubio) Hale, Cori (Rubio) Hale, Garrett Rubio, Marlisse Rubio and Jordan Rubio. Great grandchildren are Micah McInturf, Ayla McInturf and Luke McInturf. Bob was preceded in death by his sisters and brother; Irene Peters, Margery Miller, Homer McInturf, Marie Blevins and Juanita Mc Clellan.
Visitation will be held Friday, May 10, 2013 from 3:00 to 7:00 p.m. at the Lisle Funeral home in Fresno, CA. The Funeral service will be held in the Lisle Funeral Home Chapel at 11 A.M. on
Saturday, May 11, 2013 in Fresno, CA. A short graveside service will be conducted at Belmont
Memorial Park for immmediate family following the chapel service.