Adelsheim Vineyard Completes Brand Redesign with Launch of New Website by Six Pony Hitch
Founding Oregon winery melds regional wine history and tourism with updated responsive design for mobile use on the wine trail.
May 07, 2013
Newberg, Oregon (May 3, 2013) – Adelsheim Vineyard announced the launch of its comprehensive new website design from Six Pony Hitch. The website is the latest development in a multi-year rebranding project undertaken by the founding Oregon winery in 2009.
"When consumers, members of the wine trade and members of the media visit our new site, we want to help them understand not only the extensive history of our company, but also how that history links to our vision and aspirations today and in the future," says president and co-founder David Adelsheim.
The new site is a rich history lesson on the growth of the Oregon wine community over the past fifty years from the first planting in the southern Umpqua Valley in 1961. "We designed the website to give users a feel for the place that makes these wines so special as well as to reflect Adelsheim's long history as a leader in Oregon winemaking," says Spider McKnight, owner of Six Pony Hitch.
Website Redesigned for Mobile Use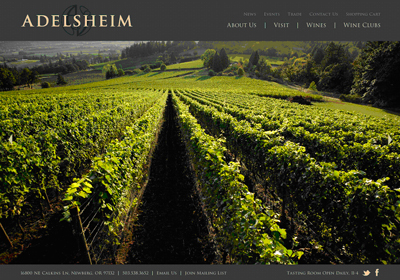 The site is optimized for mobile use via smartphone or tablet with 'responsive design' that automatically adjusts to fit any size screen. Links and tips for Oregon wine country visits to nearby luxury inns and farm-to-fork restaurants can be found by winery visitors planning visits with their mobile devices.
Other interactive elements on the site include ways to connect with the wines and the winery through the events calendar, shopping cart, or visiting the winery. There is also detailed information pertaining to clones, sustainability, winemaking and viticulture.
Wine club members will find a members-only area containing private news and events, as well as information on upcoming shipments. Trade and media tools are available on the new trade pages, including downloadable wine and personnel resources, logos and images.
"Six Pony Hitch did a great job making our site into a valuable resource for everyone from wine tourists planning a visit to Oregon's Willamette Valley to wine 'geeks' seeking details about various grape clones, varieties and wine industry lore," says Adelsheim. "It is an incredibly robust site."
About Adelsheim Vineyard
Established in 1971, the Adelsheim Vineyard estate has grown to include eleven exceptional vineyard sites in the Willamette Valley, totaling 229 acres. The recently expanded winery produces 40,000 cases annually. Committed to sustainability, Adelsheim is L.I.V.E. (Low-input Viticulture & Enology) certified in the winery and vineyards, and all of their wines carry the OCSW (Oregon Certified Sustainable Wine) logo.

Oregon wine industry leader David Adelsheim has worked throughout the years in four important areas to benefit both the Oregon and American wine industries: grape and wine research, wine labeling, industry education and promotion. Today, he leads a current generation of experienced wine industry professionals devoted to producing and selling wines of ever-higher quality with each growing season.
About Six Pony Hitch
Six Pony Hitch is an intentionally small shop that is fighting the good fight in Missoula, Montana and Portland, Oregon. The company specializes in wine and specialty foods as well as non-profit organizations. They partner with clients that they believe in to create the foundations of communication, what they call Brand Basics – Web design and development, Graphic Design, and Brand Diagnostic & Impact Assessments. For more information and a recent client portfolio, visit www.sixponyhitch.com.