Texas Update: Newsom Grape Day Focuses on Overcoming Difficult Conditions
and on mechanical harvesting
While it began as a meeting with fewer than a dozen growers eager to share and learn what little they knew of growing wine grapes, last week's Newsom Grape Day attracted about 230 Texas wine industry folks.
This 20th edition was kicked off by founder Neal Newsom and later an exhausted Bobby Cox, both lamenting the worst spring frosts they've had working with Texas grapes. There were nine freezes in Texas in April along with an unusually dry environment with little moisture to buffet the cold. "We get our vines to shoot and bud as late as we can and still got hit hard this year," Newsom said. "It's too early to tell with a month until preliminary estimates, but exponentially it's the worst year the High Plains has seen," Cox said.
Dr. Keith Striegler, Outreach Coordinator of the National Clean Plant Network and a consultant with Flint Ridge Winegrowing Services, led a session on mechanized cropping for reducing losses in adverse weather conditions. Speaking about balanced cropping, Striegler noted that exposed leaf area and fresh fruit weight affect vineyard productivity and fruit quality. Quality can be maximized when both sides of the relationship are measured, managed, and in balance. In a 2007 experiment in Crawford County Missouri Striegler experimented with differences in mechanical and hand pruning. Missouri had experienced its warmest and coldest periods in 118 years in 2007. Yield averages were higher through machine work over hand work in the experiment.
Greg Bruni of Llano Estacado Winery touched upon factors affecting clarification including variety and level of ripeness, method of harvest and transport, process methods and temperature, juice composition and pH, and heat/rain/plant stress. Bruni batch-processes, and said tank turnover time was four days in 2012 with the new method while it took ten days in 2010 with cold-settling.
Newsom said that that "Tempranillo is here to stay" that it's a consistent producer of high quality fruit coming from young vines with little disease pressure, and with high color and soft tannins. In this semi-arid climate excessive vigor isn't a problem, "we spoon-feed them the water they need" citing that it's winter-hardy and heat-tolerant. However it's prone to shattering and with its brittle wood is susceptible to wind damage. He thinks the 3700 ft. altitude is the overriding positive factor in the better Tempranillo of the High Plains. He thinks the variety responds more to weather than soil, a point echoed by other US growers invested in the variety such as Oregon's Earl Jones.
A panel with Dr. Ed Hellman, Cox, and Striegler covered the unusual frosts Texas experienced in late March until the record late frost and deep freeze occurred April 24. Hellman said that nothing special need be done save for "good management" saying that canopies will be "extra ugly." Striegler referred to his experiences with freezes in Missouri and Arkansas suggesting that growers need to plan ahead in thinking how they should farm for the vintage immediately in front of them or for the next year.
Cox echoed Striegler saying that "all the remaining fruit for this year should be well-maintained to keep our market." Hellman said the high sunlight intensity and heat the High Plains get make it the best quality region for Texas, and that the widespread devastation isn't ubiquitous as the three of them saw late budbreak varieties survive the freezes well i.e. Trebbiano, Picpoul, Malvasia, Marsanne, and Roussanne which bud later than Chardonnay and Viognier. He thinks double-pruning helps with some varieties but that everything should be done for later budbreak for sites which are frost-prone. "We saw more survivors on healthier canes and spurs than on weaker ones, so reducing the number of shoots gives leftover ones greater strength."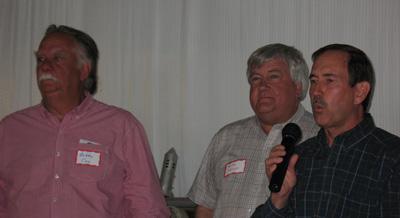 Bobby Cox (left), Keith Striegler (middle) and Ed Hellman (right)
Hellman, of Texas A&M's AgriLife program and Texas Tech, showed a list of 39 varieties which do well on the High Plains. "We need those with have higher yields, more consistent production in relation to later bud break, better quality, and better blends." Looking at grapes grown in Europe's warmer areas he recommended Counoise for its late bud break and heat tolerance though it oxidizes readily, Cinsault for its drought resistance and moderately late bud break, Carignan for heat tolerance and moderately late bud break, Graciano for its acid retention and mid- to late- bud break, Marsanne for its productiveness and moderately late bud break, Arinto for its acid retention and heat tolerance, Viura for its bud break, Fiano for its acid retention and heat tolerance.
Buffered by 2B Ranch's mesquite bbq, the wines enjoyed with lunch included Brushy Creek's Carignan, Duchmann's Vermentino and Aglianico, a private Tempranillo bottling from Newsom's son Nolan with Frank Garza, and a 2010 Graciano by the Johnsons of Alamosa Wine Cellars, a first in Texas for the varietal.
Newsom Scholarship annually receives $4000-$6000 in donor support, some of which is garnered by the silent auction a hallmark of Grape Day, and at which two recipients were awarded their checks by Newsom. Steve Newsom, no relation to Neal's family, announced that the first High Plains GrapeGrowers Music Festival will be held June 14-15 at the Mallet Event Ctr. in Levelland with Charlie Robison and others playing.