Comparative Wine Tasting is Grand Finale at WiVi, March 19-20
WINE BUSINESS MONTHLY Varietal Focus Series Goes Live at WiVi
February 27, 2013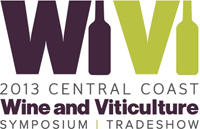 Paso Robles, CA – WiVi Central Coast, the industry's newest and largest tradeshow and symposium, will conclude the two-day conference with a special comparative tasting led by Lance Cutler, winemaker and WINE BUSINESS MONTHLY contributing editor.

Featuring nine wines from Paso Robles, Napa Valley and Washington, the finale session has limited space and is likely to sell out in advance. Presented by WINE BUSINESS MONTHLY and Precision Ag Consulting, WiVi will be held March 19-20 in Paso Robles, Calif. Attendees interested in the comprehensive program and the comparative tasting can register at www.wivicentralcoast.com; the special comparative tasting requires a separate ticket.
The Varietal Focus Series has become one of the most popular features in WINE BUSINESS MONTHLY. For each series, Cutler selects a varietal, picks three regions known for that variety and invites three winemakers from each region to participate. WiVi now brings this editorial series to life, providing Central Coast winemakers, winegrape growers and industry professionals an opportunity to taste and discuss red blends.
"As a winemaker for more than 30 years, nothing is more interesting than listening to winemakers talk about what they are trying to do and how they go about accomplishing it," said Cutler. "especially when you get to taste the wines and hear what they have to say about them."
Participants will hear from Paso Robles winemakers: Roger Nicolas of RN Estate, Guillaume Fabre of L'Aventure and Fred Halloway of JUSTIN Vineyards and Wines. Each will discuss their wine style and how the wine developed from the vineyard to the winery. Then you will taste all nine wines and experience first-hand the influence of terroir.
Wines included in the special comparative tasting include:
Paso Robles Flight:
• JUSTIN Vineyards & Wines – 2009 Isosceles
• L'Aventure Winery – 2010 Estate Cuvee
• RN Estate – 2009 Cuvee des Trois Cepages

Washington Flight:
• Baer Winery – 2010 Ursa
• Andrew Will Winery – 2009 Two Blondes Vineyard
• Rasa Winery – 2009 Perfect Union

Napa Flight:
• Cain Winery – 2007 Cain Five
• Bacio Divino Cellars – 2009 Divine Kiss
• Robert Craig Winery – 2009 Howell Mountain
Winemakers, viticulturists and industry business owners are invited to WiVi to network with their peers, hear industry updates and walk the sold-out tradeshow floor featuring 120 suppliers. Educational credits are available for all viticulture sessions. A complete schedule is available at www.wivicentralcoast.com.
WINE BUSINESS MONTHLY (WBM) is North America's leading wine media network. WBM's news site, WineBusiness.com is number one in visitor traffic and page views while WINE BUSINESS MONTHLY magazine leads the category in circulation metrics and advertising pages with a readership of more than 15,000 monthly. For more information go to www.winebuisness.com
Precision Ag Consulting is an agricultural consulting company that specializes in vineyard management, viticulture production consulting, soil fertility and irrigation management on the California Central Coast and San Joaquin Valley. For more information go to www.precisionagconsulting.com
MEDIA CONTACT:
Stacie Jacob, Solterra Strategies
T: 805-286-6874, sjacob@solterrastrategies.com