Monty Paulsen slated to be CapRock's new winemaker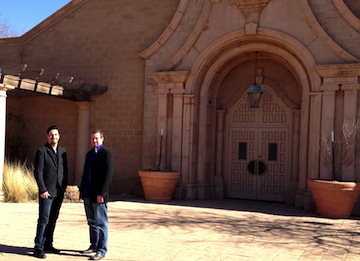 Texas's CapRock Winery has been sold, the second time in three years. The sale of one of Texas's largest wineries was finalized Friday to Gary Sowder (pictured, right) and Matt Hess (left), owners of Oregon-based Vineyard Agent company, from San Antonio's Jim and Cathy Bodenstedt, operators of MUY Brands of Texas and New Mexico.
The Bodenstedts had acquired it in 2010 via an auction held following the previous owners' having filed for bankruptcy in 2009, then a controversial offer made by New Mexico's Gruet winery.
Vineyard Agent had been actively researching Texas since 2010, calling it "a wine region we have been highly interested in. We were seeking a large-scale winery with the capacity of CapRock," Sowder told winebusiness.com.

With one of its major competitors in Texas the only one selling outside its border, when asked if he'd consider 'exporting' to other states Sowder said, "We are currently considering options of selling wine made of Texas fruit to other parts of the US. As wine consumption grows throughout the US, we think consumers will become much more willing to try wines from regions less known."
Napa Valley's Monty Paulsen is slated to be CapRock's new winemaker. Paulsen will continue to produce his Pat Paulsen Vineyards brand in Sonoma while assuming his duties at CapRock. Texas's Tom Sessi, previously with Gallo, Constellation Wines and Palm Bay International, will lead its sales programs.
Sowder's background is founded in creating startup companies in real estate and property developments before establishing Vineyard Agent as a full-service vineyard brokerage and marketing agency with its brand now associated with over $100 million of winery vineyard properties for sale in the U.S. Hess's background stems primarily in marketing and advertising in the wood products industry and real estate.