Steve Ledson Buys Mountain Terraces Vineyard
"This is going to produce some phenomenal wines."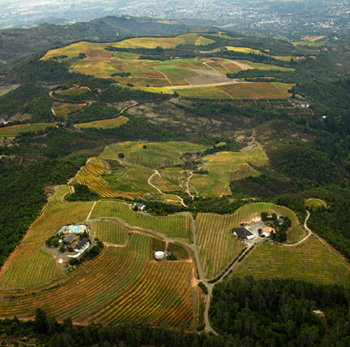 Winemaker Steve Ledson has quietly purchased a 125-acre parcel with 80 acres planted in vines atop the new Moon Mountain appellation above Sonoma Valley.
The vineyard, known as Mountain Terraces, sits at 1,800 feet on the southwestern slopes of the Mayacamas Mountains on the back side of Mt. Veeder, above the Sonoma Valley floor. Ledson purchased the vineyard from the Schaefer family earlier this month.

"It's a premier vineyard," Steve Ledson told winebusiness.com. "This is going to produce some phenomenal wines. I'm extremely excited about it."

Wineries such as Arrowood and Audelssa have sourced fruit from Mountain Terraces in the past, producing wines of elegance and complexity.

Ledson, a fifth generation farmer, has been making wine from the vineyard since 2010. He's known the Schaefer family since 2003. He will produce wine from the vineyard under a new name.
Plans call for replanting the entire vineyard within a few years.

"Everyone I've run into thinks it's just phenomenal," Ledson said of Mountain Terraces. "With the right rootstocks and clones and row direction, I think it's going to be over the top."

Ledson Winery produces about 40,000 cases of wine each year and its Zina Hyde Cunningham brand accounts for another 5,000 cases of wine from Mendocino. Virtually all of this wine is sold direct – none goes through three-tier distribution. The winery has more than 15,000 club members.
More news about Ledson Winery:
David Ramey, Andrew Bilenkij On Ledson Winery Team
Steve Ledson: Teaching by Example
Ledson plans new Kenwood winery